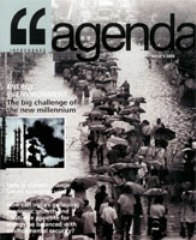 Introduction: Energy versus emissions: The big challenge of the new millennium
By Rakesh Kalshian
To maintain its economic growth rate of 8-10%, India needs all the energy it can get. But the momentum of economic growth overrides crucial environmental concerns.
Hotting up: The science and politics of climate change
By Aditi Sen
The world is hotting up. Climate systems are changing. The 1990s were the hottest decade ever, sea levels rose by 10-20 cm during the 20th century, and atmospheric carbon dioxide levels are 31% higher than in 1750.
Confused about climate
By Darryl D'Monte
Journalists reporting on the arcane science of climate and the environment have to grapple with new and often conflicting theories and findings from scientists and sceptical environmentalists virtually every month.
Low on fuel: Crisis ahead
By D Narasimha Rao
With costs of oil and coal rising, and crude imports growing, India is facing a huge energy crisis. Where does India's energy come from, and where does it go? If we are to reduce demand, boost efficiency and design small-scale, decentralised energy options, we must incorporate the consumer in decision-making
Mobility: At what cost?
By Chella Rajan
Transport contributes nearly one-fourth of the world's greenhouse gas emissions. In India, there has been a 200-fold increase in vehicle population between 1951 and 2002, placing a heavy demand on petroleum.
Climate's new trustees
By Richard Mahapatra
Piggybacking on the goal of reducing carbon emissions, multilateral banks including the World Bank and Asian Development Bank are re-orienting their lending priorities.
Hydropower is hot property again
By Shripad Dharmadhikary
Hydropower is riding the wave of climate change: it is touted to cut down the use of fossil fuels and sequester carbon in its reservoirs. The pace of implementation is being stepped up in India, with a planned 162 projects in 16 states by 2017.
A trading system based on hot air
By Rahul Goswami
Smoke and mirrors defines the world's newest commodities trading system, one in which India is a pivotal participant. In the name of sustainable development, Indian industry is claiming revenue through Clean Development Mechanisms, a key device of the Kyoto Protocol.
161 of 232 CDM projects in the Asia-Pacific are in India
By Rahul Goswami
India accounts for 161 of the Asia-Pacific region's 232 projects "in the pipeline". The 134 projects cleared so far amount to an investment of over Rs 10,000 crore in technologies and systems designed to reduce fossil fuel use, increase efficiencies of industrial processes and switch from fossil fuels to renewable sources of energy like biomass.
Flaws in the pro-nuclear argument
By M V Ramana and Suchitra J Y
Flailing nuclear establishments worldwide are using global warming as an opportunity to resurrect an industry that has collapsed because of its inability to provide clean, safe, or cheap electricity.
Are we headed towards CDM endorsements for nuclear energy?
By A S Panneerselvan
Will the Indo-US defence deal pave the way for India to get Clean Development Mechanism (CDM) endorsement for its nuclear programme? So far, nuclear energy has not been formally included in CDM credits.
'India has no choice but to increase emissions'
By Richard Mahapatra
Given India's limited energy options, its dependence on fossil fuels and the reality of global warming, nuclear energy and hydropower are serious options for India in future, says R K Pachauri, director-general of TERI and chairperson of the UN's Intergovernmental Panel on Climate Change.
Commoditising power
By Sudha Mahalingam
Power generation is the primary contributor to greenhouse gas emissions in India. But government policy, as stated in the Electricity Act 2003, fails to address the environmental concerns arising from the unbridled burning of fossil fuels
The power plant in your backyard
By G M Pillai
In the not-too-distant future, power plants will shift from large, remote centralised stations to rooftops, basements, backyards, or nearby hill ranges.
Waste-to-energy or waste-to-pollution?
By Gopal Krishna
Waste incineration poses serious risks to human health and the environment. It also violates international environmental norms.
Biofuels: A reality check
By Ranjit Devraj
President Kalam envisions millions of hectares of wastelands greened with oil-bearing jatropha. All the sugarcane-growing states are excited about bio-ethanol.
Is natural gas the fuel of the 21st century?
By Sudha Mahalingam
Natural gas is an efficient fuel, emits 60% less carbon dioxide than coal and 42% less than oil, and is available in abundance.
Falling off the map: Orissa's submerged villages
By Richard Mahapatra
In 1930, land records show an area of 320 sq km for the Satabhaya cluster of seven villages near Paradip in Orissa. Land records for 2000 indicate that this area has been reduced to 155 sq km.
Climate change timeline
1827: French polymath Jean-Baptiste Fourier predicts an atmospheric effect keeping the Earth warmer than it would otherwise be. He is the first to use a greenhouse analogy.
Posted by
Attachment