According to WASH watch report (2017), over 150 million people in India live without access to safe drinking water. A majority of these people reside in underserved or unserved sections of the society that lives beyond the pipe. As a result, they are dependent on water sources that are not safe for drinking, leading to waterborne diseases. Diarrhoea continues to be a leading cause of death in children below the age of five. As per data, approximately 321 children deaths are reported every day in India (WHO, 2015). 
Bad economics, poor infrastructure and a lack of reliable and sustainable water sources are challenges faced by these communities. It is essential to find a solution that can be easily replicable and can be executed at scale. To address these challenges, we need to focus on helping these underserved communities through a structured, innovative and collaborative solution that leverages technology. This will, in turn, drive transformation at the grassroots level and provide the communities with safe drinking water that is easily accessible and free from contamination. 
Piramal Sarvajal, an initiative of Piramal Foundation, is a mission-driven social enterprise, committed to design and deploy innovative solutions to provide affordable access to safe drinking water in underserved areas. Today, Sarvajal is reaching out to approximately 600,000 people daily through 1400 touch points across 20 Indian states.
Piramal Sarvajal Technology 
Piramal Sarvajal has pioneered the deployment of remotely tracked and decentralised drinking water purification systems that allow for greater accountability for day-to-day operations. Sarvajal developed first-of-its-kind solar powered, cloud-connected, smart card-based automatic water vending machines, popularised as Water ATMs. Piramal Sarvajal has been granted two patents in USA for the above mentioned technologies. By leveraging these innovations, it has been able to successfully demonstrate sustainable community-level decentralised drinking water solutions built upon the foundation of quality control, operational accountability and price transparency. Cashless transactions, off-grid capability, pay-per-use methodology, 24x7 service availability, user-level transaction mapping, real-time impact monitoring and provision for targeted subsidies are the unique advantages offered by this solution. 
The technologies used at Piramal Sarvajal are: 
Water Purification Plants: Sarvajal's purification model is agnostic of the method of filtration, utilising purification technology as per the source water. Sarvajal water is purified through a site-designed five-step filtration process including media filtration, micron filtration, reverse osmosis (RO) filtration and UV purification.  
Soochak Controller: 

Piramal Sarvajal leverages telecom technology to make 'Locally Operated-Centrally Managed' public service delivery more accountable. The technology innovation comes from being able to have operational oversight and provide proactive service support across a widely distributed network of local solutions. Soochak, a patented remote monitoring device developed by Piramal Sarvajal enables real-time monitoring, process controlling and data tracking for multi-location operations. This Programme Logic Controller (PLC) based device is installed in each water purification plant and tracks the plant's functional status to ensure machine health of the units and the quality sensors assure product quality. Soochak's unique ability to remotely monitor and control purification plant operations enables the effective and efficient deployment of resources. 
Automatic Water Vending Machines: The Sarvajal Water ATMs are made of concrete and are robust structures that are cloud-connected, solar powered and RFID enabled that dispense water through RFID card or coin. The operation involves the machine checking the card balance and captures each transaction in real-time through cloud connectivity using GPRS mechanism. Transporting water from the purification site to the ATMs requires a modified tank-mounted vehicle that would collect water from the site of purification and fill the ATMs through no-touch transfer mechanism. As soon as the water level goes down a certain limit in the ATM, an alert is generated and the ATM gets refilled by water carried by the vehicle from the plant site. The Water ATMs dispense flexible volume of water ranging from 0.1 to 20 litres through a single transaction. Piramal Sarvajal's water ATM can be custom designed to be installed at the plant site or as a standalone structure at a distance from the plant site.
Serving the underserved in urban areas 
In urban India, more than 20 percent of the population is beyond-the-pipe (BTP), which means that they lack access to safe drinking water. Usually, these BTP communities reside in slums that lack basic civic amenities including water. These urban water woes have created new categories of the underserved, calling for customised and pioneering solutions. 
In order to serve non-piped areas within a cluster, Sarvajal leverages its unique "Hub & Spokes" model designed to serve areas that may not be well equipped with power or piped water supply. It comprises of a single water treatment system in the community with decentralised dispensing units in a co-centric pattern. This is achieved through the installation of state-of-the-art purification units, with standalone solar-powered water ATMs. Purification technology and capacity of the purification unit is chosen on the basis of the quality of water available and regularity of power supply/target population respectively.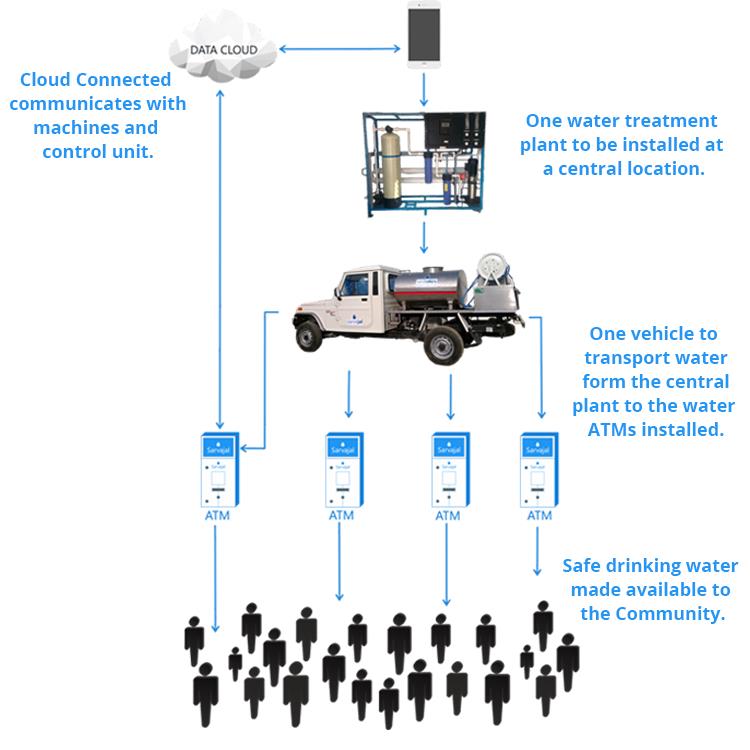 The water at the point of dispensing meets the IS 105000 standards of drinking water quality. The entire setup is enabled by remote monitoring that provides real-time data on quality and quantity parameters including volume, total dissolved solids (TDS) of water and can track each individual transaction. 
Piramal Sarvajal has pioneered the Hub & Spoke business model and has installed it effectively in seven resettlement colonies (slums) at Delhi with the support of Delhi Jal Board.  Its experience in Delhi has shown that this model contributes to a greater degree of resilience compared to grid/network solutions especially in times of disaster or man-made service disruption.  After Delhi, Bhubaneshwar is the first Smart City to set-up a 'Hub & Spokes' water ATM project and has partnered with Piramal Sarvajal to set up the decentralized safe drinking water solution through 4 Hub Purification Units and 40 ATMs. 
Posted by
Attachment