Gulam Mustafa owns around five acres of land at Digalhati Moynaguri village in Coochbehar district of West Bengal. The 34-year-old has switched to "smart farming" to minimise labour cost and water use. Water crisis is a serious problem plaguing the farming community leading to large scale migration of farmers to cities and even farmer suicides. 
Gulam has great faith in technology as a tool to revive the fading fortunes of farmers. He believes adopting the latest farming technologies can also help them to increase their share of profits. 
The farmer says that he has been using rice transplanter to transplant seedling into his paddy fields for the past four years that has not only helped him reduce the cost of labour but also the water required for farming. "The rice transplanter has been of immense help as the rice seedlings are transplanted here with the help of the machine after being brought from outside. It not only saves the labour cost required for tilling the land but also brings down the usage of water to a minimum as there is no need to keep the farmlands drenched for days as in traditional method," he says.
He claims that smart farming also leads to an increase in productivity. "Technology also helps in enhancing productivity. I had conducted a test trial by growing pulses for almost four years and had found the yield to be higher by at least 10-20 percent than what is achieved in normal farming," he says.
Saving water and labour cost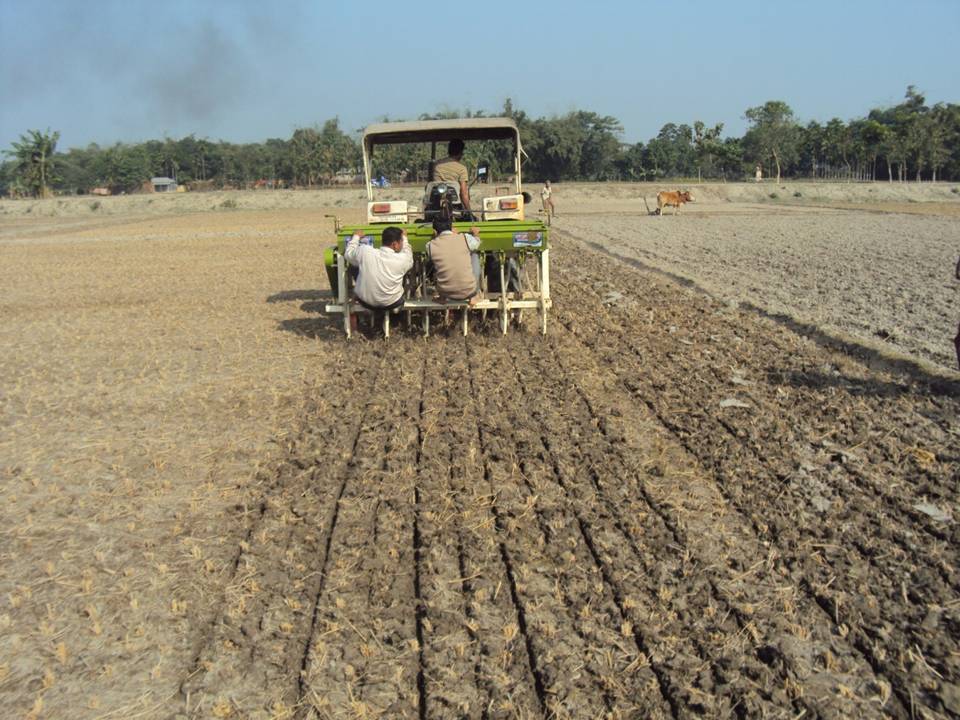 Echoing a similar sentiment, Noor Hussain, a farmer in the same village, says that smart farming is the future considering water resources are depleting fast and the cost of farming is escalating. He says, "We need to provide nearly two hours of water to over one bigha (four bighas equals to one acre) of land against seven to eight hours required in traditional farming. A lot of water is saved this way," he says. Another aspect is the unavailability of cheap labour.
"Labour is not cheap anymore and often timely sowing is not done because of unavailability of labour. Timely utilisation of resources obviously leads to an increase in productivity and an increase in our income," he says.
According to Noor, productivity has jumped from 15 quintals to 19 quintals in one bigha of land which has enhanced the income by Rs 2000. 
Apart from rice transplanters, the farmers are also using zero tiller machines which increase the amount of water that infiltrates into the soil and raises organic matter retention and cycling of nutrients in the soil. A zero tiller mostly consists of a seedbox, fertiliser box, seed and fertiliser metering mechanisms, seed tubes, furrow openers, seed and fertiliser rate adjusting lever and transport-cum-power transmitting wheels.
This revolution in farming has been brought mainly by the efforts of Satmile Satish Club O Pathagar, a Custom Hiring Centre (CHC) that has been engaged in providing training and machines on rent to the farmers since 2014 under Sustainable Resilient Farming System Intensification (SRFSI) programme. The project, conceived by Australian Centre for International Agriculture Research (ACIAR), has been running in India, Nepal and Bangladesh. Apart from Bengal, a similar project is also running in Bihar. 
"It is necessary to lay emphasis on conservation and agriculture and smart farming is the way ahead. We are trying to train farmers and motivate them to switch to smart technology. The North Bengal Agriculture University which is the implementing agency of the project contacted us and asked us to explain the concept to the farmers. At first, the farmers were reluctant to switch from traditional method but regular training and assurance that it would not only save water but would also help them in increasing productivity convinced some of them to come forward and use machines," says Amal Roy, secretary of the club who claims to have trained 10000 farmers and have brought 30,000 bighas of land in smart farming since 2014. Moreover, farmers do not have to bear the fuel and maintenance cost as it is borne by the service providers at a nominal rent of Rs 500 per bigha of land. 
More resilient seeds used
Over the years, the farmers have grown wheat, pulses, jute, mustard and other varieties with the help of advanced technology. Besides, the club also set up a rice seedling unit where the seedlings are grown and transported to the farmers before being transplanted with rice transplanter. "The seedlings are manufactured in our land with minimum use of water which is required for sprinkling, unlike traditional method where the fields are kept wet for days by farmers causing unnecessary wastage of water. The seedlings grown here are of better quality with better resilience and can easily survive floods because of their longer shelf life. The seedlings normally have a shelf life of around 110-150 days. Those grown here need just 12-14 days to be ready for sowing as compared to the normal method that needs at least 45-55 days for the seedlings to grow," claims Mijanur Rahman, the field technician. 
He also claims that farmers need to give just 90 minutes of water to the fields as compared to seven to eight hours in traditional farming. "The cost of production is also low as 20 trays of seedlings are required to be transplanted in one bigha of land. The total farming cost for one bigha is around Rs 1500 which includes Rs 700 for the seedling tray while in the traditional method, the cost is around Rs 3000-Rs 3500. The low cost obviously leads to a rise in income of the farmers and yield is also around 20 percent higher than normal farming. Even the tilling of land can be completely avoided by using machines," says Mijanur.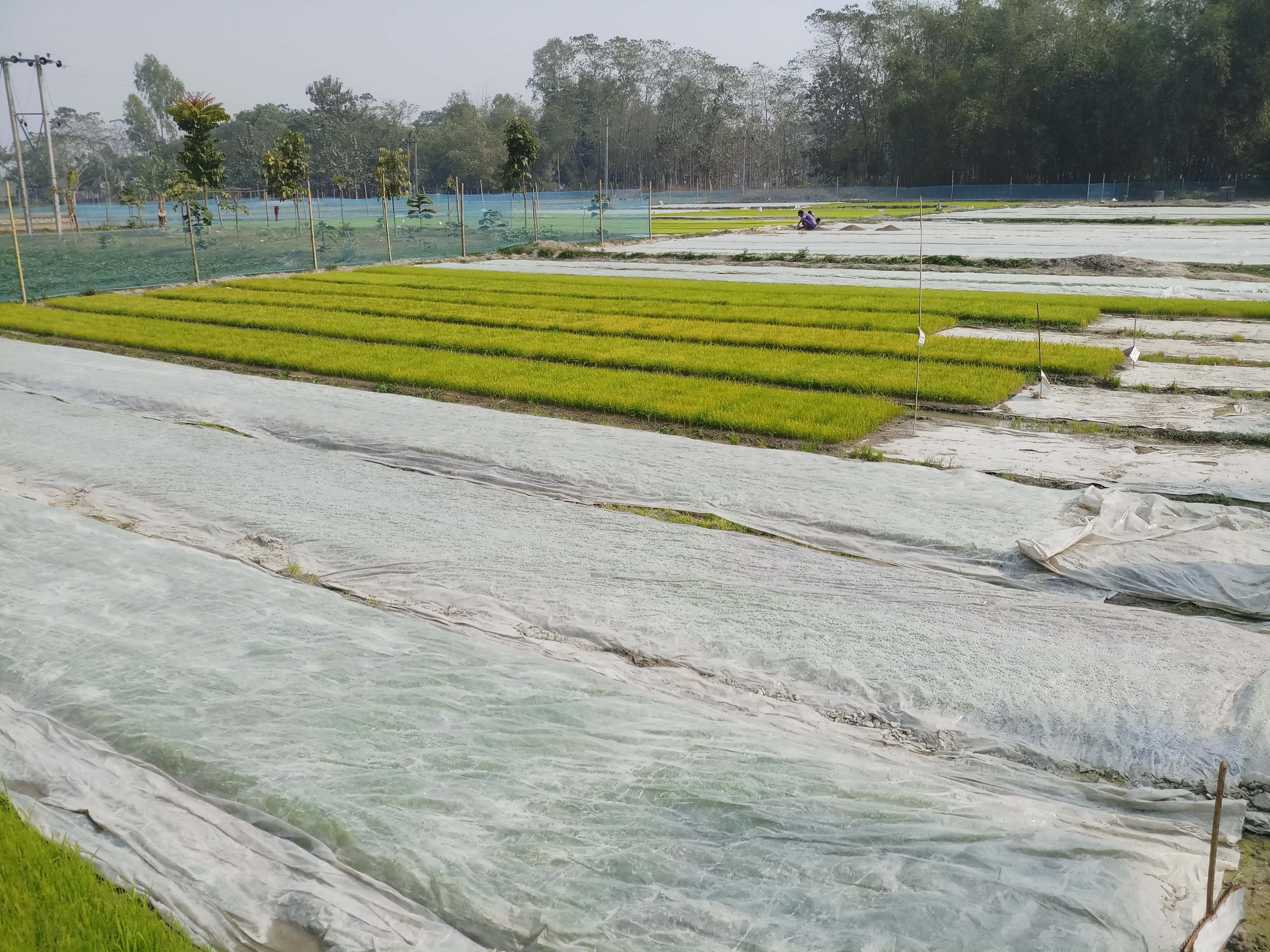 At present, the project is operational in 11 blocks of Coochbehar district, Alipurduar, Falakata, Malda and Jalpaiguri district. 
Farmers in Bardhaman, known as the rice bowl of West Bengal, has welcomed the concept of smart farming and claimed that it would be a huge hit in their district that suffered massive farmland losses due to the shortage of rainfall last year. "The groundwater is fast depleting in the district and a trailer was clearly visible last year when the shortage of rains led to a tremendous loss to the farmers. The poorly designed check dams and their lack of proper maintenance have added to our woes. The administration has also failed to provide us solar-run cello pumps forcing us to take on rent the diesel-run pump sets to draw groundwater for the fields," rues Moloy Kumar Hazra, member of Galsi Sobuj Sathi Farmer Producer Association (FPO). "We had to shell out Rs 5,000 for every 40-50 hours of water drawn from the ground that is also fast depleting because of the extensive use of pump sets. Smart farming seems to be a good alternative that might change our lives," he adds. 
Bardhaman had received around 180.8 mm of rainfall, far below the normal of 279.4 mm in September in 2018.
Even the government officials in Bardhaman are impressed by the technique and wants to adopt it. "The zero tiller machine is very useful as it penetrates into the ground for just 2.5 inches for sowing as against the normal tilling where land is penetrated for around six inches. The mixture of seed and fertilisers are done in a row and in a systematic way that prevents the wastage of water and also helps in retaining the texture of the soil. It is also a good initiative for saving the environment," says Sukanta Mukherjee, assistant director of agriculture, Kalna Sub-division in Bardhaman district.
Rice requires a substantial amount of water for planting. Minimising cost is the first step in increasing the income of the farmers. 
Posted by
Attachment