Scanty rainfall, depleting groundwater levels, barren farmlands and mass migration of farmers to cities for better livelihood--this is the reality of most of rural India today. Many parts of India are witnessing this growing trend of farmers leaving their lands in search of jobs in cities. Andhra Pradesh is no different with several districts of the state seeing a rising rate in outmigration of farmers. Around 4.87 lakh people are reported to have left Anantapur district as per last April's count by the Alliance for Sustainable and Holistic Agriculture (ASHA), a pan-India confederation of farmers' organisations. That's more than 10 percent of the district's population!
Amadagur mandal in Kadiri district is the worst hit and many villages here stand deserted. In Thimmirikuntapalli village, on the other hand, more than half of the houses are abandoned and some are in ruins. Those who still live there can't recall the last time it rained.
The solution to this never-ending water problem was proposed in the form of Handri-Neeva canal which is aimed at irrigating six lakh acres in four districts of Rayalaseema and 3.45 lakh acres in Anantapur district alone. The Rs 11,600-crore project, launched in 2000, aims to build a 550-km canal to carry water from the backwaters of Srisailam reservoir on the Krishna river at Malyala to Chittoor district via Kurnool, Anantapur and Kadapa districts.
It will use a combination of reservoirs, tunnels and pumping stations to lift water across the high ridges along the route. The canal will feed existing tanks which are used for drinking water and irrigation in the drought-prone Rayalaseema region, and draw nearly 40 billion cubic feet of water from the Krishna river a year. The canal, however, is still some way from completion.
Depleting groundwater, no rains
In the drought-prone villages of Andhra Pradesh, farmers cultivate groundnut because it requires little water. Anantapur district was once known for its bumper groundnut harvests. Things have changed now. Where farmers cultivated the crop on more than seven lakh hectares until a decade ago, they cultivate barely 70,000 hectares now. The region has received no rain in the past few years and the water table has dropped.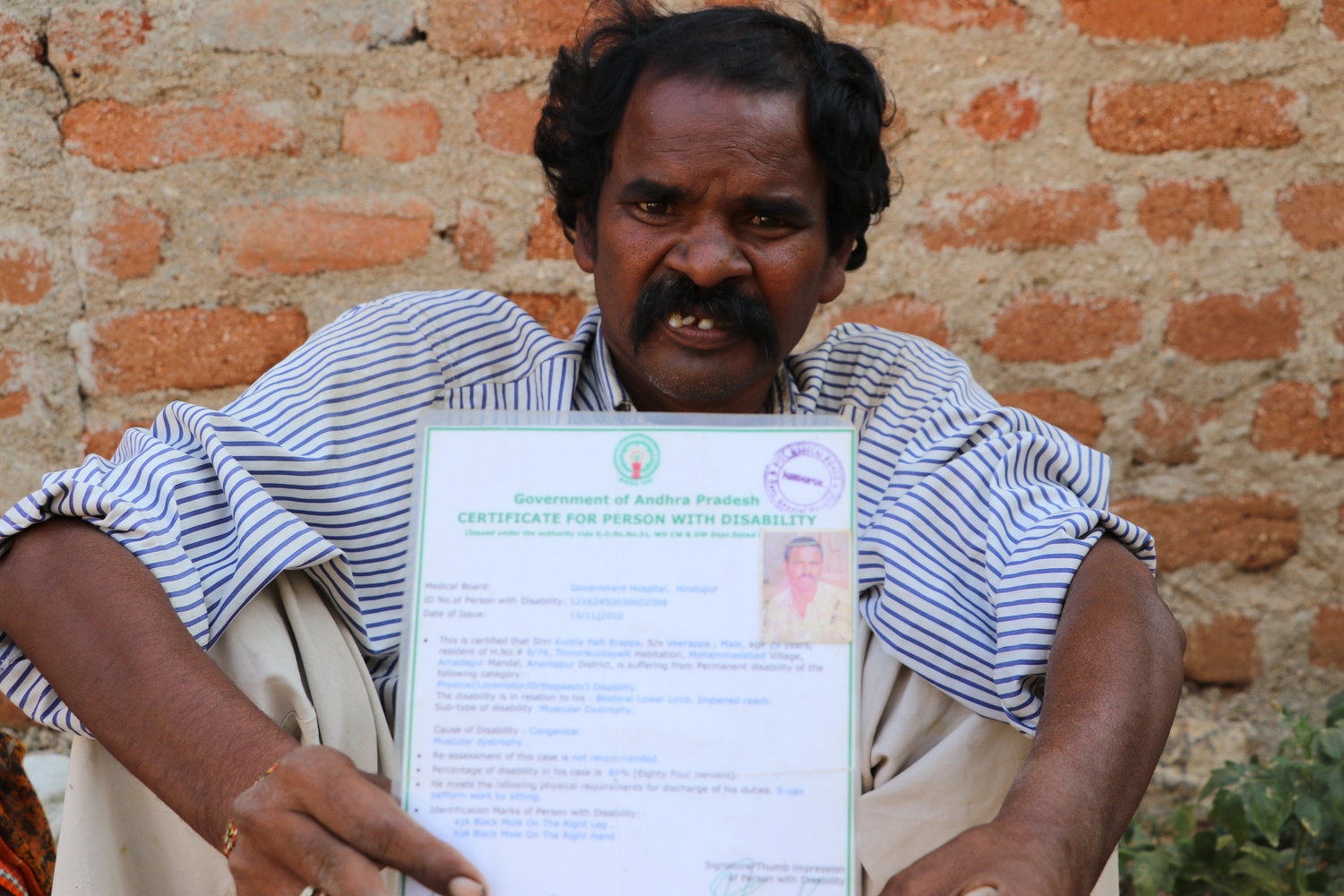 According to ASHA, about 42 percent of the borewells in the region have dried up. K. Veerappa (45), stayed behind in Thimmirikuntapalli with his wife and father, unable to migrate owing to his disability. He says his family got borewells dug on their land but found no water. They are now left with no source of income and depend on subsidised food rations and a pension.
Villagers migrate to cities
Most of the villagers have migrated to cities such as Bengaluru, Kochi, Chennai and Coimbatore, where they take up menial jobs to make ends meet. One of them is G. Ganganna, who works as a daily-wage labourer in Bengaluru. He owns two acres of land in the village but water scarcity and repeated crop failure have forced him to move out five years ago. 
M. Eswarappa who owns five acres, K. Eerappa and K. Gangulappa who have three acres each back home and a landless labourer, C. Ramappa have all had to quit farming and move to Bengaluru, where they work now with the municipality as labourers. "I have six acres of farmland in the village. But due to lack of rainfall and other water sources, I have left it uncultivated and migrated to Bengaluru along with my wife and children," says Eswarappa. 
Ramappa, who migrated to Bengaluru five years ago, described how he borrowed money at 25 percent annual interest to buy groundnut seeds for sowing and hired bulls to till the land in the hope that his financial situation will improve with a better harvest. He says instead he was left with Rs 20,000 in hand and Rs 50,000 debt. He says to clear the debt, to meet household expenses and to pay for his children's schooling, he had to seek work elsewhere.
"No one is concerned about us except during elections. A few politicians visit the place to ask for votes. Our government doesn't even know what difficulties we are facing in another state to earn our livelihood. We feel like we are abandoned," rues Ramappa.
Many migrant labourers like him work for Bengaluru's municipal administration while women work as domestic help. The forced migration has turned their world upside down. Lakshmi Narayana, a migrant labourer who now works as a waste collector for Bengaluru municipality, laments how they are forced to clean human excreta to eke out a living.
Children drop out of school, get married off
When Eswarappa moved to Bengaluru with his family five years ago, his daughter Suchitra, a class IV student, had to quit school. Rosiah, the headmaster of the Amadagur government school, says the drought has affected not only the farmers but also their children. He says many children are unable to attend school as their families migrate from village to village. "Those who join schools in Karnataka face a lot of difficulties as they don't understand Kannada. Many farmers marry off their daughters at a young age, worried about their financial security," he adds.
There are many families where only the male member has moved to another city, leaving behind his family. While Ramanjulu has moved to Bengaluru for work, his wife Thulasamma stayed back in Thimmirikuntapalli for their children's education. Now, he rarely gets to visit his family.
K. Gangulamma, an elderly resident of Thimmirikuntapalli, says her son and his wife live in Bengaluru now and she has been forced to live with her brother after her house collapsed. Like her, there are many senior citizens in Andhra Pradesh's villages who find themselves abandoned.
Some farmers change with time to survive
Some farmers, however, have stayed put and found ways to work around the acute water scarcity in their villages. These farmers--mostly from villages in districts like Thammaiah Doddi, Gundumala, Neelakantapuram and Nijavalli--have sought help from the Centre for Sustainable Agriculture (CSA), Hyderabad to gradually shift to poly-cropping and multi-cropping under zero budget natural farming (ZBNF). They are also adopting techniques like farm ponding, bunding, and check dams to conserve rainwater for agricultural purposes. 
"Anantapur is the second driest area in the country due to uneven distribution of rainfall. So, we have introduced poly-cropping through which farmer grows multiple crops in the same field," says G.V. Ramanjaneyulu, executive director of CSA. "The advantage of this technique is that crops can be grown with less water and if one crop fails, other crops will stand. Over the last few years, we have seen good results and migration has been reduced to an extent," he says.
"The migration of farmers due to water scarcity is a forced migration from rural areas to urban cities," says well-known water conservationist Rajendra Singh. "I started construction of check dams in Alwar district of Rajasthan to conserve rainwater. This model is time-tested, we have used it for 35 years and we've been able to recharge groundwater and stop evaporation of water. Also, the communities have to plan the crop pattern according to the rain pattern."
Dr Y.V. Malla Reddy, director of Accion Fraterna Ecology Centre in Anantapur which is actively involved in people's empowerment through natural resources management says, "As a part of our watershed programmes, we encourage farmers to start non-farming jobs and petty businesses so they needn't depend on water to earn a living." 
The reality is that the sooner the farmers adapt to the changing scenario, the sooner they can return to their farms and resume the lives they are being forced to abandon.
(Mahesh Bacham is a Bengaluru-based freelance writer and a member of 101Reporters.com, a pan-India network of grassroots reporters.) 
Posted by
Attachment