In India, women often travel long distances to fetch water. This in turn affects school attendance for young girls, and has a domino effect on other development indicators. Women and girls are an important stakeholder to be considered in the design of interventions and programmes to ensure access to safe water for all.
On International Women's Day today, we take a look at the critical connects between gender and water.
Pipara women realise pipe dream
Pipara village in the parched Bundelkhand region stands out for its uninterrupted water supply. The village has its women to thank for it.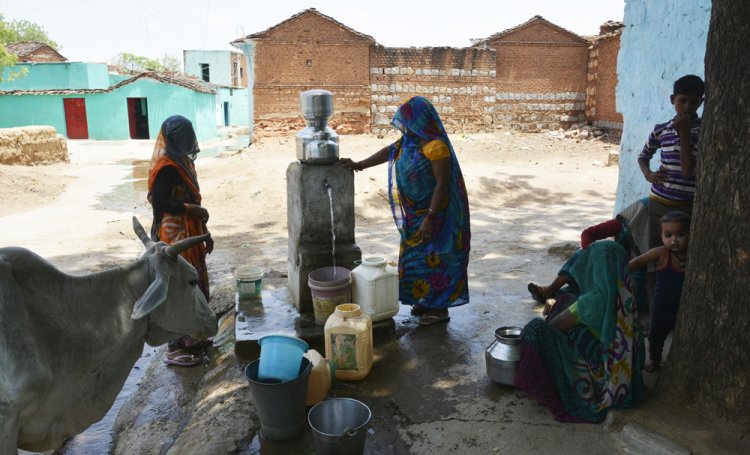 A large number of villages in Bundelkhand, a hilly area divided between the states of Uttar Pradesh and Madhya Pradesh experience frequent droughts and an acute water crisis every year. Women in the village have to spend as long as four to five hours each day to secure drinking water. However, Pipara village from Niwadi block in Tikamgarh district of Madhya Pradesh stands out as a unique case where its residents have changed the water situation in their village by managing their water resources well. And they have the women in their village to thank for it!
It all started with Sheena Vishwakarma, a woman in her 50s from Pipara, who took the initiative to change the water and sanitation situation in her village with help from some Self Help Group (SHG) members. Sheena is an active member of Ram Raja Tejasvini Swayam Sahayata Samuha, an SHG working in Pipara. In 2005, she got an opportunity to associate with a project by an NGO named Development Alternatives (DA) during the SHG training. Sheena, along with other women who were concerned about the water situation in their village requested the DA staff to help them build the necessary infrastructure for water and sanitation.
Persuading men in the village was not an easy task - they were not pleased with female leadership and increased participation of women in community activities. Women persisted and convinced people in the village to contribute to the project cost by providing free labour services. The villagers also requested DA to support them financially by providing building materials and essential equipment. The overall cost of providing pipe-water supply to Pipara villagers was Rs 3,35,403. The community and other donors contributed 32% of the cost and DA contributed the rest.The government also chipped in and helped the community in identifying the aquifer in the Pipara primary school premises and also dug a borewell for the community.
The effort demonstrated that it is indeed possible to overcome hurdles, when women can get together and work for the well being of a community.
Read the original article in full here
When women came together for water
This video tells the story of the women of Podapathar village in Himgir panchayat in Odisha who, through their collective efforts, managed to improve the drinking water situation in their village.
The women of Podapathar village in Sundargarh district of Odisha are an inspiration, thanks to their unwavering determination to improve the drinking water situation in their village.
Earlier, the women had to fetch water for domestic use at 4 am. The nearest drinking water source was 1 km away. "In 2002, the panchayat installed two hand pumps at Podapathar but the water from the hand pump was not fit for drinking," says Dutiya Kisan, a woman in her 50s.
In the last 15 years, the government installed three hand pumps in the village but the water, with a foul smell, was not fit for drinking. The villagers were desperate to improve the situation but didn't know how to go about it. In 2016, help came in the form of Atmashakti Trust, an NGO working on community development issues in Odisha and Uttar Pradesh. Atmashakti helped the women of Podapathar to constitute the Mahila Sangram Samiti, a people's organisation, to solve their community problems.
Since drinking water was the primary problem in the village, the women got together under the banner of Mahila Sangram Samiti and forced the government to implement the drinking water scheme properly. 
What do rural women say about sanitation?
Women, who need safe sanitation the most, are often left out of crucial sanitation-related decisions at households.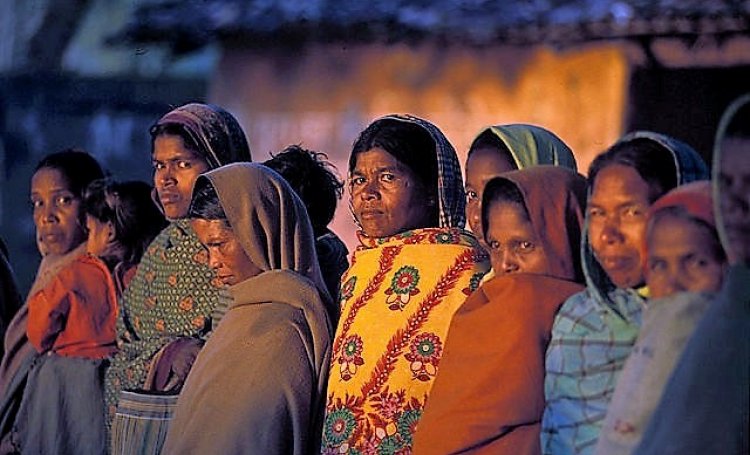 While women are known to suffer more than men when they have poor or little access to sanitation, little is known about the extent of participation of women in sanitation related decisions at the household level in India.
A study from rural Odisha finds that men of the household have an upper hand in all decisions on everything from health care, access to water supply and daily household purchases to visiting family and friends, house repairs and buying livestock. Women only got to decide daily meals, where men weren't involved at all.
In sanitation-related matters such as latrine building too, it is the men who take crucial decisions like site identification, raw materials needed for construction, arranging masons for latrine building and investment. Latrine installation is perceived as expensive, so men who control the household budget, are many a time not keen to build it or prefer to keep it unfinished or nonfunctional while some wait for government subsidies to build them.
Women face a number of barriers in voicing their needs and power hierarchies at the household level together with their economic status, influence their level of agency in participating in such activities that directly affect them. Often, sanitation interventions directed at rural households overlook such social and political dynamics as well as deep seated gender inequalities at the household level
It is important that interventions aimed at sanitation promotion and behaviour change take into consideration dynamics within families, and unequal power relations between men and women.
Farm women in India - often overworked and with poor health - have no claim on lands or any sense of agency. Their voices need to be heard at the policy level, and their needs considered too.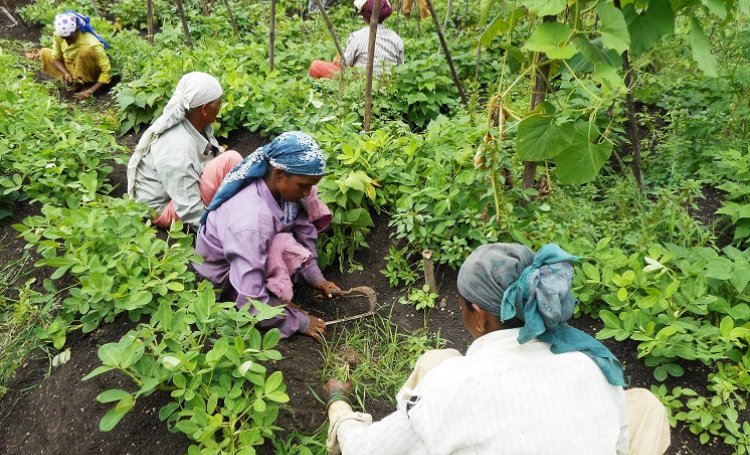 Agriculture is undergoing a radical change in India with more and more rural men migrating to bigger cities for work, leaving women, children and elderly behind to take care of the land and agriculture. This puts an extra burden on women who have their hands already full with household chores.
With no ownership rights on the land that they toil on, many of these women work as  agricultural labourers for as long as 14-18 hours on an average daily with agricultural activities almost taking equal time and energy as household activities. However, in spite of the amount of work they do, women are often paid less than men and their participation in household and agricultural decision-making continues to be poor.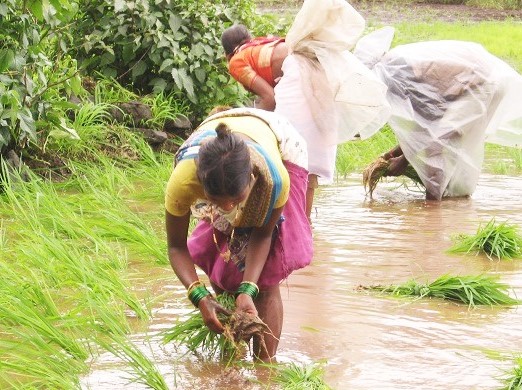 Most of the activities done by women are labour intensive and require constant bending or squatting leaving them with severe pain in their legs, neck, hands and back. Over exertion, inadequate nutrition, lack of rest, multiple pregnancies along with anaemia and calcium deficiencies can all lead to aches and pains and fatigue among women. Long hours of squatting also lead to chronic backache or disc prolapse.
Farm women's work continues to be officially unrecognised and factors like poor literacy, lack of awareness, poor decision-making capacity, limited access to land prevent women from adopting new technologies and participating in agricultural markets. Although policies and legal frameworks exist, these have failed to challenge existing gender norms and women's economic-dependence issues.
Gender-sensitive agricultural policies and laws supporting the livelihood security of women need to be urgently devised to help the farm women.
Posted by