India is heavily dependent on groundwater use. Domestic use, agriculture and industry all rely on groundwater extracted by means of pumps, wells and tanks. This  dependence is illustrated by falling groundwater levels. Frequently, this overuse and consequent decline trigger conflicts.

Despite this, cases of efforts towards community management of groundwater development are not as prevalent as those towards watershed management. There are several reasons for this, chief among which is the 'invisibility' of this resource. When the limits of a resource are the subject of speculation rather than of scientific  evaluation, the concept of the 'tragedy of the commons' is  only too easily applied. Besides this, the other challenges of community groundwater based management are as follows: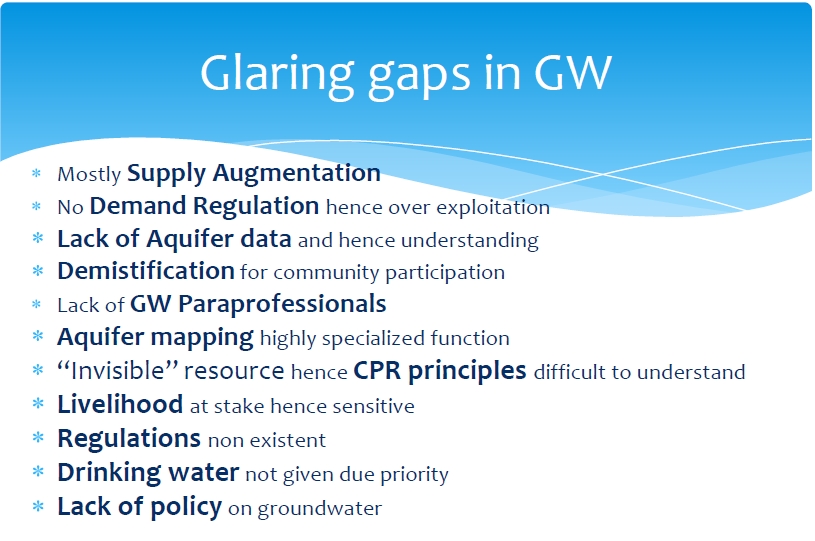 Challenges of community based groundwater management (courtesy:Rahul Bakare)
There are however some instances in this country of a village managing its own groundwater resources in a negotiated manner with a scientific base. One such example is the village of Randullabad in the Koregaon Taluka, Satara District, Maharashtra. ACWADAM began work here in 2010 as part of the nation-wide Participatory Groundwater Management initiative. It initiated the following tasks:
• Geological and hydrogeological investigations
• Aquifer delineation
• Formation of water user groups
• Support in developing water sharing mechanism for these groups
• Working towards drinking water security
• Awareness generation and sensitization of the community
The work carried out by ACWADAM in the last three years and its results are best described by the Sarpanch of Randullabad, Dr. Prajakta Jagtap.
In this she explains the groundwater situation in the village prior to ACWADAM's intervention. She also details the work done, including the collection and sharing of data, and the use of external funds to implement water conservation measures. The importance-and rarity- of sharing data  is starkly illustrated when Dr.Jagtap says, 'This is the first time that we received such good information about our own village.'
This village proves that communities, if provided with the necessary information, are able and willing to manage their water resources in a participatory and negotiated manner. This is the mechanism of groundwater management that will enable India to meet its groundwater crisis. The question that remains is, will other villages rise to the challenge?
Posted by
Attachment