Take a walk through the maze of lanes at Seelampur in north-east Delhi, you could see small children rummaging through electronic waste that has made its way here from all over north India. They segregate end-of-life electrical and electronic products, prise them apart, put them through acid wash and also burn circuit boards in the hope of extracting precious metals. From old electronics to spent batteries, they handle all items that head to the waste pile with bare hands.
Electronic devices have become smarter and more affordable. But our need to have the newest device is damaging not just the environment but the health of many people who handle e-waste for their livelihood.
Children exposed to these are prone to suffer from life-threatening health problems, says a study published in the Indian Journal of Occupational and Environmental Medicine. India is the fifth largest producer of e-waste, with the sector showing a growth of 30 percent per annum. It is likely to generate 52 lakh metric tonnes of e-waste by 2020 as per an ASSOCHAM-cKinetics study.
The informal sector
It's not easy to make your way to the garbage dump sites at Seelampur. People here have a deep-seated distrust of outsiders, particularly those from the NGOs or the media. I pretend that I am here to dispose of electronic devices. After an hour of wandering, I find a father-son duo willing to speak to me. The father introduces himself as Salim and is unwilling to disclose his real name. He says his son is Ahmed. After tea and some exchange of trivia, they show me dismantled refrigerators, washing machines, computers, televisions and mobiles tossed in the trash here. I also get to sneak a peek at their workshop, which doubles as their home, where e-waste is dismantled.
Salim says, "I know that we are handling e-waste in an environmentally unfriendly manner. The poverty and corruption in my village in Farrukhabad in Uttar Pradesh pushed me to make the move to Delhi and look for wage labour work in this waste dump here. Initially, I worked on unloading cartons of electronic junk from vehicles but now I am working as a smelter in one of the small plants nearby. The wages are paltry that range from Rs 200-400 a day."  
"My son, who is 22 now, used to work with me earlier. Now he, along with some of his friends, work as a technician at a centre where they recycle and resell old phones that have been trashed at an e-waste collection centre in north Delhi," says Salim. The father is proud of his son's workspace, a warehouse where he does a desk job and uses fine-tipped screwdrivers and itsy bitsy screws to dismantle the electronic products. GIZ, a German environmental protection organisation has provided them training on storage, segregation, and dispatch of e-waste to dismantlers and recyclers, says Ahmed.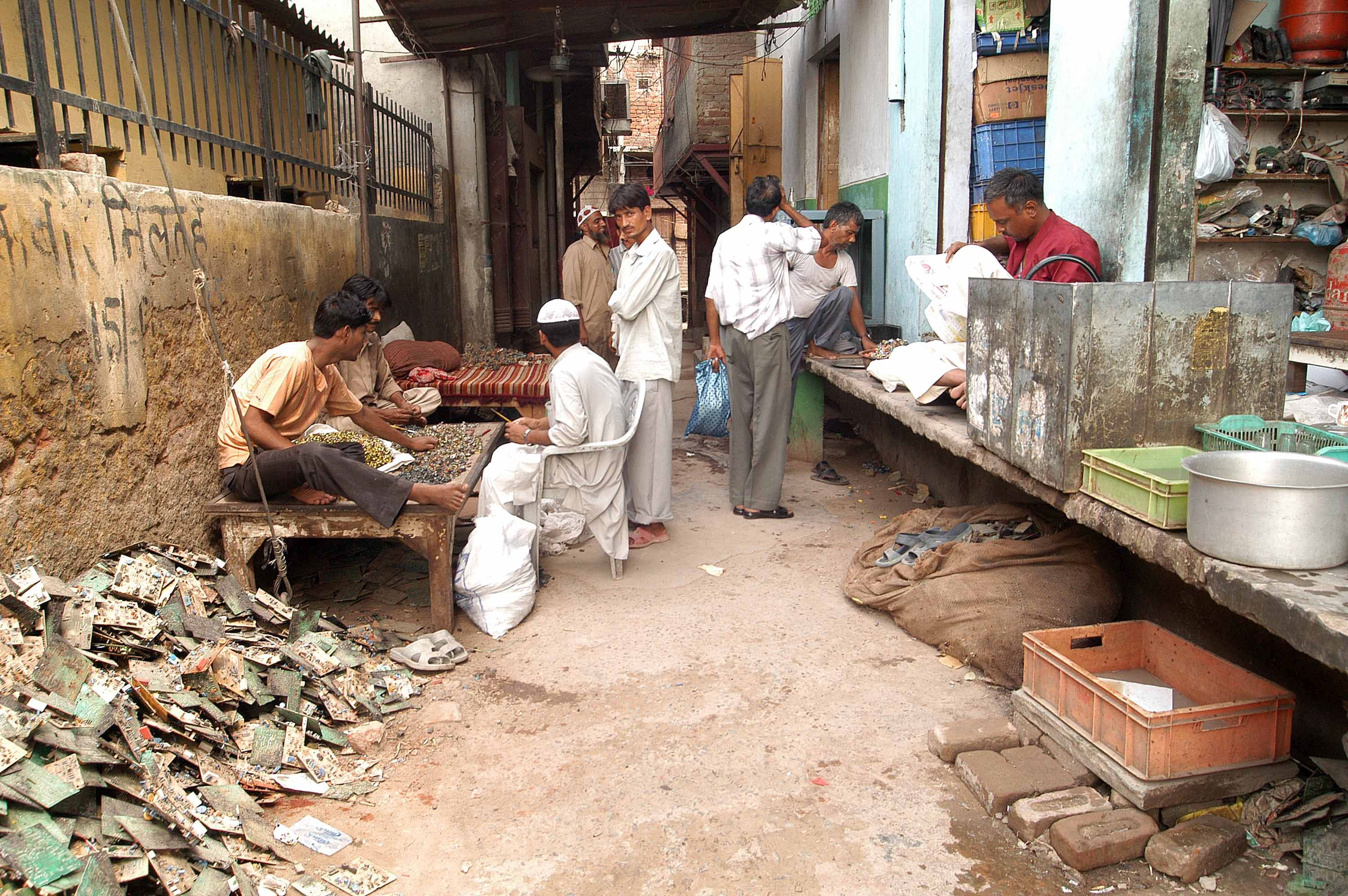 Toxins flow free
Ahmed shows me the spot where e-waste gets dumped into a nullah (drain) where corrosive chemicals like nickel, cadmium, mercury, and lead leach into the soil and the water table below. Seelampur is a part of the Shahdara basin in Delhi which is below the high-flood level of the river Yamuna. Being a low-lying area, it floods every year. From here, raw sewage from the Seelampur drain, full of acid wash from the e-waste dismantling units, flows into the Yamuna. This drain, in addition, takes away the leachate from the unregulated and mismanaged dumps here, polluting the Yamuna.
I take out my camera in the hope that I could click some pictures. But Salim is having none of it. He wouldn't want their livelihood policed unless I mobilise readers to provide for them in the event of these units getting busted. A quarter of India's "three million tonnes of e-waste generated every year is dumped in Seelampur", as per Toxics Link, a Delhi-based nonprofit working on research and policy advocacy on e-waste. Salim knows about the e-waste disposal chain in and out but shares little.
I go to Mayapuri, an e-waste recycling hub in west Delhi that shot to fame in 2010 when a scrap dealer died due to radiation from seven Cobalt 60 radioactive pencils that were found in the junkyard. This toxic horror forced the authorities to take the situation seriously and prompted the Ministry of Environment and Forest, Government of India to notify e-waste (management and handling) rules in 2011. Despite the law prohibiting all unauthorised collection and dismantling of e-waste in the city from May 2012, its disposal in solid-waste landfills and its handling in the informal sector continue.
I see two young men in an animated conversation. They fall silent when they see me approaching them. After a few tense minutes, they say, "We live in constant fear of the police who arrest us at will. This sort of reporting may create empathy but what about our livelihoods?" They agree that this is a classic case of endemic public health crises and government mismanagement. They, however, ask, " The employee safety regulations and organisation of this sector are good goals but how many people can the formal sector employ?"
The formal recyclers
The state believes the solution lies in formalising the e-waste sector in India which comprises numerous importers and service providers. GreenTekReman Pvt. Ltd in Naraina industrial area is one such waste recycler firm. "We are a pan-India company providing electronic waste management services with a recycling plant at Greater Noida. We source our raw materials from corporate clients like HCL, Wipro, Infosys, Tata Sky, IBM, Tata Technologies and Birlasoft," says Surabhi, the sourcing coordinator at GreenTekReman.
Surabhi adds that the company has clearances and certifications from the state pollution control board as well as the Ministry of Environment and Forest for safe disposal of e-waste. Secure data destruction is another important service that they offer. GreenTekReman does not let perfectly good parts go to waste and has vendors who, after a bit of refurbishing, send unwanted electronic products to the right people. This way, they recycle e-waste and keep them out of the landfill.
Farah Zahoor who is dealing with sales in 3R RecycleR, a Delhi-based waste recycler firm says, "Apart from the corporate sector, we also deal with household e-waste. Whenever there is e-waste that can be recycled, we pass along the bits and pieces to vendors who restore them to working order. Unlike the informal sector, companies like ours that are into certified e-waste recycling deal with toxic chemicals in safe ways." Only items that cannot be repaired are disposed of through the recycler.
As I walk through the city's Mayapuri and Naraina industrial areas, I become increasingly aware that the temptation for formal sector recyclers to go for cheap, illegitimate ways of e-waste disposal cannot be ruled out completely.
E-waste comes from abroad, too
"There are some e-waste recyclers both in the formal and informal sector who deal with imported products," Farah says. India, along with its neighbours, Pakistan and Bangladesh, is the world's e-waste scrap yard where shipments from all over are brought in through both certified and clandestine partners. The subcontinent is full of dealers hungry for the West's e-waste.
Vinod Kumar Sharma, who has been researching e-waste at Toxics Link says the informal and illegal recycling network is big in Delhi. "As per the Government of India's e-waste (management and handling) rules, both dismantling and recycling are not allowed inside Delhi. The alleyways of Mayapuri, Seelampur, Mustafabad, Turkman Gate etc., however, are full of units where metals are smelted," says Sharma.
"A whole lot of people are involved in dismantling and recycling and all this happens under the garb of refurbishing and even donation of electronic and electrical products," says Sharma. While this means there is an extraction of resources that won't have to be dug up fresh from a mine, it poses a public health problem. Whether it is nickel, cadmium, silver or lithium (the main ingredient in cell phone batteries), all of these have been linked to the damage of the nervous system and vital organs.
"There are strict laws prohibiting the import of e-waste since 2011. Dismantling is done openly in places like Seelampur and the extraction is done thereafter. Whatever is useful is extracted and the discarded material, often containing toxic heavy metals, is dumped into the water drains," says Sharma.
As people go crazy behind the newest gadget in the market, there is e-waste getting piled up at the other end. "The good thing is, collection centres have proliferated. While there were barely eight collection centres before 2010, they have increased to over 150 now," says Sharma.
Cheap e-waste recycling robots are being devised in the West to do away with human labour in the sector so that the human health is protected. In a zero job growth economy, however, that is not a viable option. Is there no way out of this situation?
Posted by
Attachment