A recent report by Shailendra Yashwant for Oxfam India looks at India's ingenious ways of harvesting, storing and distributing water from the Kuhls in Himachal Pradesh that channel water from Himalayan glaciers, and the Dongs of Assam to the Aghers in Arunachal Pradesh, the Pynes of Bihar. India has traditionally built Bandhs of all sizes and varieties that channel water from its rivers, monsoon runoff and nearby hills and elevated areas.
Integrated water management in India has never been more relevant than it is today. India is facing an unprecedented water crisis, with certain estimates indicating that water demand will exceed supply by a factor of two by 2030 if we continue with a "business-as-usual" approach. Now is the time to promote more decentralised but integrated water resource management and delivery, that prioritises bottom-up processes of water governance with the active participation of women and youth who are key stakeholders in how water is managed today and in the future.
To find a way forward and meet the challenges, India has to look at its rich traditions of water conservation and sustainable use, in the culture of ponds and lakes and in the wisdom of communities. 
The solution to India's water crisis lies in reviving drying rivers, ponds and lakes and restoring ecosystem services, including traditional and indigenous water management practices. Some of these traditional water management practices, documented as part of the Oxfam Transboundary Rivers of South Asia [TROSA] programme, highlight ways communities have been maintaining and restoring water ecosystems to ensure water security and equity at the local level. The urgent need to adapt and respond to the impacts of climate change and flood and drought patterns require action at all levels; the revival of traditional water institutions and the willingness to learn from this traditional wisdom is critically important.
The worst impacts of the unfolding climate crisis, on both people and ecosystems, will be felt through its effect on water. Some areas will become much drier, some wetter.
A number of these ancient water harvesting and irrigation practices have survived the test of time and many social upheavals, continuing to give sustenance to communities through periods of water scarcity. The traditional practices featured in 'Water Wisdom' illustrate the urgent need to re-engage communities in water management, using simple, low cost, traditional, and highly efficient systems to ensure water security.
Kuhls of Himachal Pradesh and Uttarakhand
Spiti, one of the least populated regions in the world, is located at a mean elevation of 3000-4000 meters in the Himalayas. This rugged and desolate region receives scanty rainfall and yet agriculture is the mainstay of the local economy thanks to the ingenious Kuhl irrigation system that carries water from glaciers to the villages.
Tapped from the head of a glacier, Kuhls are diversion channels that bring water over long distances, running down steep mountain slopes and across crags and crevices, to large tanks in the villages. 
Water is collected in the night, and the next morning, it is diverted to the fields as required. This cycle is repeated daily. The Kuhl also have moghas (kuccha outlets) that draw out water and irrigate nearby terraced fields. A typical community Kuhl can serve approximately 6 to 30 farmers and can irrigate an area of 20 hectares.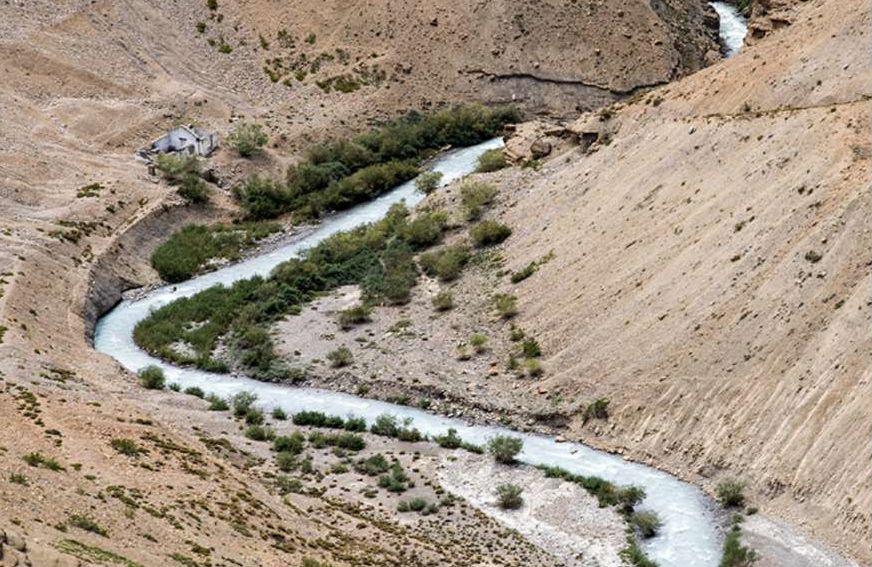 Between sowing in April and harvesting in September, water is available for approximately 70 days. All available and accessible patches of lands along various snow streams and rivers are cultivated. Barley fields near potatoes and green peas are sown in May, and the crop is harvested at the end of August.
In the lower valleys of Himachal Pradesh and Uttarakhand, besides irrigating the fields, Kuhls carry water to run the flour mills, known as gharaats. Villagers use homemade wooden wheels as turbines to run the mills.
Aji of Arunachal Pradesh
Ziro Valley, inhabited by the Apatani tribe, lies tucked in the lower ranges of the eastern Himalayas at a height of 5600 feet in Arunachal Pradesh. The Apatani, also known as the Tanni people, practice a centuries-old method of water harvesting for irrigating their highly efficient rice-fish culture fields, called Aji.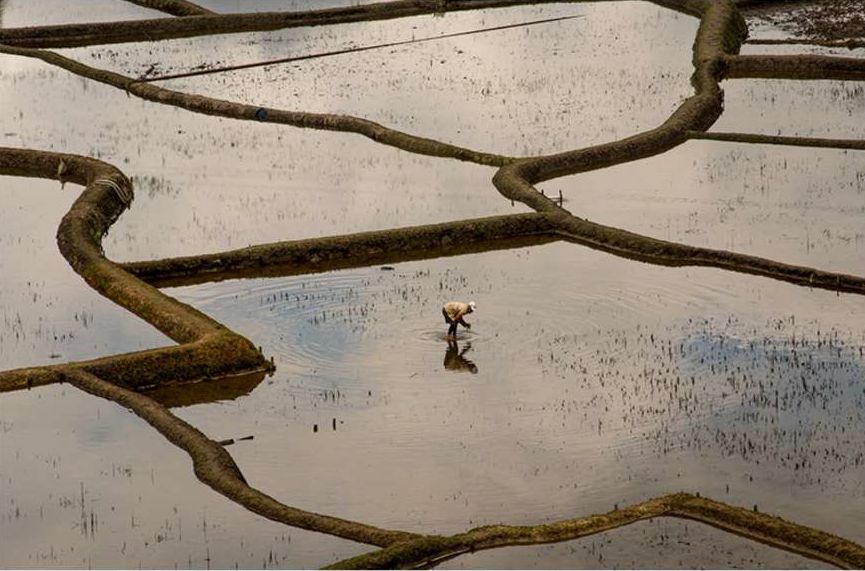 Apatanis tap the small streams and springs from the hills around the valley and divert the flow of the water to their fields by making temporary bunds (Aghers), which act as barriers and provide storage.
Multidirectional channels (Siikho/Parkho/Hehte] are made out of the main channel to provide water through an intricate web of contour dams that divide the plots along the gentle gradient of the valley. Bamboo matting supports the bases of the bunds, and all plots have inlets and outlets made of bamboo to control the flow of the water.
This unique system of irrigation enables the Apatanis to grow two crops of rice - Mipya and Emoh, and one harvest of fish (Ngihil). Rice production usually varies from 3-4 tons a hectare, and fish production is around 50 kilograms per hectare.
The community takes collective responsibility for the management and maintenance of the system, and all beneficiaries contribute towards repairs, cleaning, and upkeep of the channels. Every year after the Mloko festival in March, the Apatanis and agricultural worker organizations, locally known as Patang, begin agricultural activity by repairing dams, cleaning channels, releasing irrigation water and preparing rice seedlings.
The full report can be accessed here
Posted by
Attachment