Springs, symbols of life, freedom, spontaneity draw unique images in our minds – of a bubbling rush of water rolling boisterously, snaking over rocks, picking up pebbles and sand along its path full of jumping fish, occasional frogs, insects, algae – surrounded by green wild bushes and thick vegetation.
Indeed, springs have been a part of our culture and history - bumbling springs considered as symbols of aplenty, of fruitfulness of nature, supporting the life, food and survival of numerous plants and animals residing in and near the spring waters.
Springs in India
There are about 5 million springs across India and they support the water needs of more than 15 percent of rural and urban populations. Even water schemes in rural areas in the country use springs as a water source. Being a main source of water for about 200 million people in India, they are the most important source of water in the Himalayas, and also one of the important water sources in the Eastern and Western Ghats.
However, in spite of being a source of water for many settlements and hosting unique biodiversity, the management of springs continues to be poor in India. Springs continue to dry up due to increasing demand for water, ecological degradation of mountain areas and unsustainable land use.
Springs are formed when groundwater emerges and flows on the surface. Natural springs have a unique ecosystem of their own, are rich sources of drinking water and are known to support a wide range of plants and animals in their waters and in the surrounding areas.
Perennial springs provide water to other water bodies such as lakes, wetlands, rivers and coastal ecosystems in India. All major rivers in India such as the Ganga, Krishna, Godavari, Narmada etc have their origin in springs.
Springs are  known by various names in different parts of India. They are referred to as dhara or naula in Uttarakhand, chasma in Jammu and Kashmir, chumiks in Tibet and Ladakh, mul in Nepal, jhoda in Bengal, or jhara in Maharashtra. Springs have been revered since times immemorial in India and a number of temples, kunds were built around such springs.
Many communities have also assigned sacred spaces to springs and the surrounding forests. These are referred to as sacred groves and have been assigned local names in different parts of the country such as 'devrai' in Maharashtra, 'kavu' in Kerala, 'sarana' in Jharkhand and 'devara kadu' in Karnataka.
Cities are killing springs!
But urbanisation has completely changed this. How do springs in the city appear? Most have been destroyed. Some that survive look dead, feeble like waters in a gutter, laden with filth, waste and sewage – submerged by huge ugly buildings that are parched for water.
Few survive - gasping for breath while cities continue to grow oblivious of the hidden treasures that springs harbour- a splash of nature in the maddening rush and cacophony of the smoke filled and cemented world we call as the city.
A spring in Bavdhan, Pune cries for help
One such spring survives at Bavdhan in Pune, a growing city that is gradually submerging all its springs under constructions that the city prides itself on – giving it the questionable status of the most livable cities in Maharashtra, at the cost of its valuable water resources and fast shrinking groundwater levels!
Shailendra Patel, known as Kaka in the area, is on a mission to save this spring since the last five years. The spring stands the constant risk of being buried under new constructions springing up in the area, but for the painstaking efforts made by Shailendra Patel to save it. What is inspiring is his passion not only to save the spring, but also his persistence and increasing dedication to convince, cajole people and make them understand the importance of saving the spring and respecting the valuable water source that he refers to as a gift from mother nature – to be revered and celebrated.
He often does this by gathering people who visit the spring, especially women who come there to get water from the spring and praying near it as onlookers observe and join, at times wondering! And the spring never disappoints them, it never stops – it keeps flowing incessantly – a wonder of nature indeed!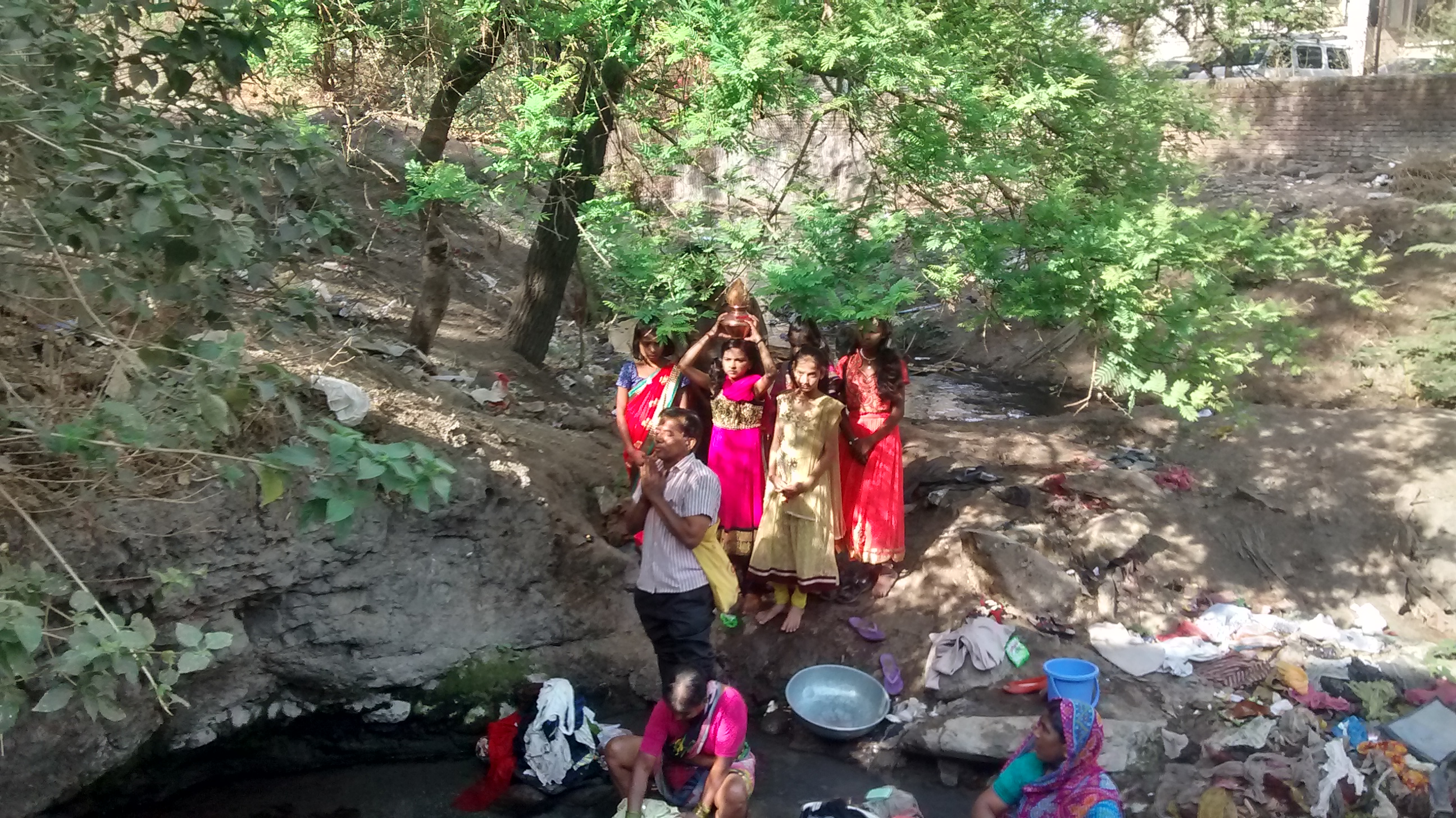 Patel has not stopped at this. He has persuaded and written several letters to authorities, officials, ecologists, geologists, historians highlighting the plight of the spring - urging them to come and visit the spring site and for the need to protect it and to ensure that enough voices are generated to help in keeping the spring alive.
And his persistent efforts are now gradually seeing results. A number of experts, geologists, historians have now visited the site, and agree on the importance of saving the spring.
On receiving consistent letters from Shailendra Patel, officials from the Maharashtra Water Resources Regulatory Authority (MWRRA), Groundwater Survey and Development Agency (GSDA), and Sub-Divisional Officer (SDO), Maval-Mulshi, have visited the spring site and have now declared it a water source and notified to protect it. Regarding this, instructions and orders have been issued to the Municipal Commissioner, Pune, the local body responsible for the protection of springs.
Nature lovers in Pune too have demanded that the spring site within the municipal limits at Bavdhan be declared as a protected area in the Pune city development plan and notified in the government gazette.
A paper released by the Deccan College Postgraduate Research Institute has identified the spring as a rare 'water yielding contact spring' that is now in the danger of disappearing if attempts are not made to protect it.
A committee was set up by the Maharashtra Water Resources Regulatory Authority to protect these water resources. It also includes the Pune Municipal Commissioner. The committee has directed the municipality to give its time-bound program and asked the municipality to take up the responsibility of conserving and protecting the spring.
As per the rules of the Maharashtra Ground Water (Development and Management) Act, 2009, the committee has ordered the municipality not to allow construction and development work in this area, informs Patel. This is because the latest development plan of Pune Municipal Corporation shows this as "Yellow Zone" or residential zone and the land now is classified as private land where constructions are in full swing, with the threat of the spring being submerged under the debris remaining constant!
Shailendra Patel argues, "We have city development plans that show plans for new roads and infrastructure. Can't the government protect this small area around the spring while planning infrastructural developmental projects? We demand that the stream be included in the city development plan as a protected area" he adds.
Springs, treasure troves of biodiversity
While the need for saving the spring is urgent and dire, Patel points at one of the most fundamental questions related to natural resources that our cities have. Whose water is this, what do we do with the spring as a commons resource?
While the spring has been identified as an important drinking water source for community use, Patel adds, "I do not want the corporation to install tankers and take away all the water and use it as a commodity to be distributed to people. Can't we retain the spring as it is? Can we retain it as a biodiversity park, a natural one where it is left undisturbed, like a patch of green in the midst of the city? The spring currently yields 1 lakh litres of water that can quench the thirst of around 25,000 people. A part of the water can be filtered and used by local people in times of scarcity while the rest of it can feed into the Ramnadi", he says.
"Can we set an example for others to follow? What is more important is to prevent construction debris and soaps and detergents to get into the spring and preserve its water quality and biodiversity" he adds.
Biodiversity hotspots such as these need to be preserved in the city and an evaluation of their ecosystem services a must to increase public awareness and encourage future generations to understand the value of natural resources such as these.
While the talk on sustainable development of cities and the importance of preserving biodiversity and sustaining ecosystems gathers steam in recent years, it is time to put this into practice – by saving the springs such as these and its habitat – to save the city and its people!
Shailendra Patel argues "Three apex bodies like the Maharashtra Water Resources Regulatory Authority (MWRRA), Groundwater Survey and Development Agency (GSDA) and Revenue Department have notified the spring to be a protected area and orders have been sent to the Pune Municipal Corporation to protect the spring by demarcating it in the city development plan and notify it in the gazette. I sincerely urge them to take action as soon as possible else there is a danger that the spring will perish soon."
Is the government listening?
This video below made by Tushar Sarode and Shatakshi Gawde documents the efforts made by Shailendra Patel
Shailendra Patel can be be contacted on E mail at this address: shailendrapatel1258[at]gmail[dot]com and Mobile: 9420218037
Posted by