Last year, on August 22 outburst of an artificial lake near Rumbak region impacted the villages of Rumbak and Zingchen in the Union Territory of Ladakh. As per the authorities this flood was a result of "an outburst of a glacial lake formed on the peak of a mountain towards the upstream of village Rumbak." There was reportage about this low-scale disaster in local newspapers and channels and some national news portals also reported the event.
Two months later, in October, I visited the region on an assignment to understand how the local communities were recovering from this event and to understand the rebuilding process. In this memoir, I pen down my attempt to reach Rumbak village from Leh town and what I saw and lived for a few hours.
I left my house early in the morning. After this incident happened, I started reading about what Glacial Lake Outburst Floods (GLOF) meant. I realized it wasn't only me, except a few people around, no one was aware of what exactly GLOF meant. Many believed that these events are flash floods caused by excessive rain or cloudburst.
According to National Disaster Management Authority (NDMA), a GLOF, as the name suggests, is created "when water dammed by a glacier, or a moraine is released suddenly. Some of the glacial lakes are unstable and particularly moraine-dammed lakes are potentially susceptible to sudden discharge of large volumes of water and debris which causes floods downstream i.e., GLOF". GLOF, as per UNDP, have the potential to release millions of cubic metres of water and debris, leading to the loss of lives, property and livelihoods amongst remote and impoverished mountain communities.
As I travelled towards Rumbak on the undulating mountain roads, I thought about how climate change is going to impact us. Going by the reports I read, climate change is making glaciers retreat increasing the threat of GLOFs in the Himalayas.
The recent increase in temperature due to global warming has melted the glaciers all around the globe and in mountainous regions like Ladakh and Uttarakhand, it has resulted in the formation of glacial lakes. These glacial lakes can at any time burst and cause damages that we cannot even imagine.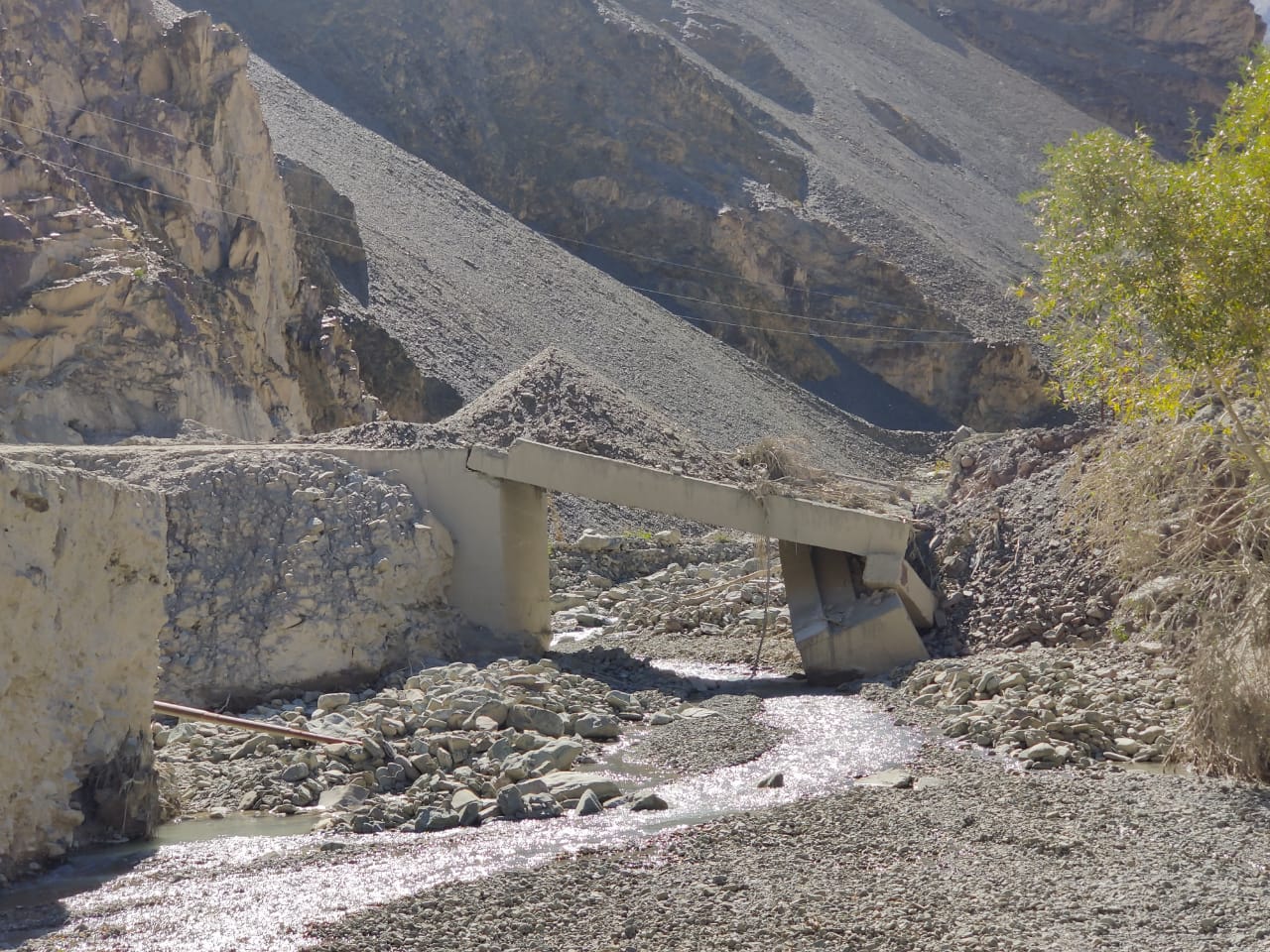 As the vehicle entered the outskirts of the village, signs of destruction started becoming visible. Parts of roads had been completely destroyed. It appeared as if the roads had been literally dug by the water and snatched away. I saw uprooted trees all over.
There were damaged electricity poles and debris all around and a broken bridge. Was Yeti (also known as the Abominable Snowman - a legendary creature that is said to inhabit the upper reaches of the Himalayas) there, trampling these trees, roads, poles, and agriculture fields? I asked myself.
That bridge, lies there completely damaged, mocking the development that does not take into consideration the environmental factors of this fragile ecosystem. I cannot even fathom the pressure with which water must have attacked this village gulping down everything that came in its way.
Even though two months had passed since the disastrous event, the impact was still fresh. I reached a point where a section of the road was completely destroyed, and one had to trek for an hour to reach the village.
With no promises of transportation facility to return to Leh, I had to give up on the idea of trekking to the village as it would have gotten too late by the time I would have returned from Rumbak.
But I saw two JCBs working on filling up the road at this point. There was a visible rush as the work was being done. My guess was - as the winter was soon going to descend, continuing work in extreme weather conditions would not be feasible. Winter in the villages of Ladakh is quite harsh. No one should take this season for granted. The beauty of snow-clad mountains should not overpower the challenges it throws at its own people.
As I started returning, I met an old man – a local from Rumbak village, who was on his way to Leh. I started having a conversation with him asking him about the fateful day when the GLOF had happened.  He informed me that this glacial lake had been there for several years now. It took 8-9 hours to reach the lake on foot from the village. The villagers were aware of its existence.
The day it happened, the sky was clear and there was no rain. Although there was no loss of human lives, infrastructural damage was evident. Apart from roads and the bridge, five culverts, five water flour mills, fields of alfalfa grass which is fed as fodder to the livestock and many poplar trees were damaged.
"As the road is blocked, we now have to take essentials to the village with the help of donkeys and horses. Since winter is approaching, we can take a sigh of relief as the water left in the lake will freeze and we do not have to fear another catastrophe," shared the old Ladakhi man.
To my surprise, I was told that this was not the only lake in proximity to this village. According to this old man, there were several such lakes surrounding the village. Although their size is small but given the rate at which our climate is changing, and the way increase in temperatures is causing glacial retreat to happen at a much faster rate, these lakes have the potential to pose a threat to this region in future.
The old man told me how there is no phone connectivity in these villages. The only source of communication for them is the satellite phone. After this unsuccessful attempt to visit Rumbak village, I traced my journey back to Leh. I couldn't stop but think if it's actually a bane to reside in areas, which suffer the consequences of the action of others.
The writer is an independent writer from Leh, Ladakh. Share your feedback on features@charkha.org
Posted by