Council on Energy, Environment and Water's (CEEW) interactive guidebook 'A rooftop solar for every home in India: Report to organise local solarise campaigns' builds on the experience of organising and delivering the Solarise Delhi campaigns. It presents a simple to understand yet comprehensive how-to guide that can help local actors design and organise their own Solarise campaigns.
With relevant examples, pro-tips, checklists, and helpful frameworks, the guidebook is filled with actionable information and deep insights on campaign design, management, and execution. Community-based campaigns like Solarise Delhi are highly effective at motivating consumers to adopt rooftop solar.
How to address key challenges
Several challenges and unforeseen circumstances can hinder the smooth running of large campaigns such as Solarise. Here we list some major challenges and how you can address them. Some of these issues might also be red flags, signalling you to take notice and begin course correction. Use this as a guide and assess your own campaign's challenges to reach an effective solution.
Solar ambassadors not participating actively: Ensure that the solar ambassadors are motivated individuals who are personally interested in RTS. Residents who already have RTS are ideal for ambassadors. Include them in the campaign right from the planning stage and make them feel responsible for the campaign's success. Ambassadors who take this responsibility as a job rather than volunteer work are more likely to actively participate in the campaign.
Low consumer response and participation: Ensure that you have understood the target consumers and their preferred modes of communication. Communicate with them using multiple communication channels such as WhatsApp, SMS, posters, flyers, and social media and observe the reach for each channel. You can then increase communication through the preferred channels. Also, check the tone and content of your messaging with the solar ambassadors, and ask them to amplify your messages. Another way to increase consumer interest is through in-person events, if possible.
Vendors not being responsible: All the campaigning efforts will be futile if the vendors are not able or willing to close the leads generated through the campaign. Ensure that your partner vendors are as invested in the campaign as you. You can conduct special training sessions for the vendor sales representatives to familiarise them with the campaign's offerings and terms and conditions. While the individual installation size may be low, the vendors should be apprised of the bigger benefits of investing time and efforts in community-based campaigns such as reduction in cost of consumer acquisition.
Leads not converting into installations: If your leads are not converting into actual installations despite all efforts, it's better to start talking to leads directly to understand their concerns and requirements. This feedback can be crucial for course correction or providing additional benefits that may convince the potential customers. Begin this process early so the changes can be incorporated in later campaign activities. For example, providing financing options such as solar loans, or an upfront discount by the vendor (if possible) may help close some leads.
Coordinating among diverse stakeholders: Solarise campaigns require support from various stakeholders across the RTS ecosystem. This includes national and state authorities, regulators, local discoms, RTS developers, and RWAs. It is sometimes difficult to bring all stakeholders to the same page for achieving a common goal. To ensure coordination, clarify stakeholder expectations, roles, and responsibilities right at the planning stage. Maintain regular interaction with all the stakeholders through all hands meetings during the campaign execution. This ensures quick identification and resolution of issues and facilitates communication.
Key highlights
The guidebook presents ways to build a community of rooftop solar users by leveraging trust and peer-to-peer influence.
It provides a systematic framework for organising Solarise campaigns by guiding you in planning, designing, managing, and executing your campaign.
It also helps troubleshoot common issues and ensure consumer motivation is converted into action.
The guidebook gives pro-tips distilled from the experiences of the Solarise Delhi team to help provide nuanced insights into successful campaign design and execution.
The campaign framework helps build a step-by-step process for organising Solarise campaigns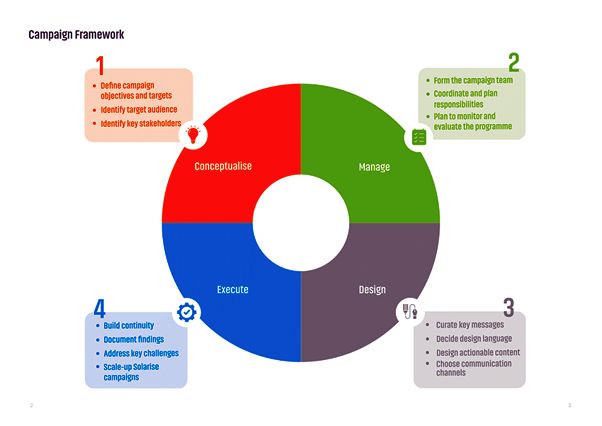 Solarise campaigns are effective as they leverage community trust and focus on providing high-quality information and services dedicatedly to a community. These features make Solarise highly customisable, modular, and scalable. You can opt to hold multiple campaigns in the same community—like an annual campaign or hold multiple simultaneous campaigns in different localities— like Solarise Safdarjung and Solarise Karkardooma as part of Solarise Delhi.
Here are some tips that can help scale-up Solarise campaigns sustainably
Identify potential communities for scale-up based on key parameters such as the presence of rooftop solar (RTS) systems, level of awareness, and consumer interest.
Identify and empower local solar ambassadors who can champion RTS in their communities to aggregate demand from within the community.
Secure the support of relevant local stakeholders such as Resident Welfare Associations (RWA) leaders, discom, RTS developers, and local government agencies.
Identify community needs and expectations and customise the Solarise campaign accordingly. Ensure that the campaign team and volunteers understand the local context clearly.
Keep the design language and tone of all campaign content consistent to make it easier for consumers to recognise the campaign.
Build resources such as websites or handbooks that consumers can use once the campaign is over. This will help maintain support for consumers.
Ensure that the campaign team has the bandwidth and the skills to execute the campaign successfully.
This Solarise Guidebook is a powerful tool to help organise dedicated community-based campaigns, in partnership with local utilities, to accelerate rooftop solar adoption.
The guidebook is available here
Suggested citation: Gupta, Akash Som, Ananya Dhanuka, Bhawna Tyagi, and Neeraj Kuldeep. 2022. A Rooftop Solar for Every Home in India: Guidebook to Organise Local Solarise Campaigns. New Delhi: Council on Energy, Environment and Water
Posted by