One of the key goals of every participatory program on water and sanitation is the creation of awareness, leading to behavior change. Every practitioner and civil society organisation (CSO) working in the space is conversant with the standard techniques used in these processes.  INREM Foundation, a CSO based out of Anand, Gujarat is disrupting this space by bringing in several unique ways to do information, education and communication (IEC), behavior change communication (BCC) and even capacity building.
The author spoke to Dr. Sunderrajan Krishnan, Executive Director, INREM Foundation to understand more about one such innovation used by them and other NGOs working on water quality - the safe water learning cards.
Safe Water Learning Cards help divide complex safe water topics into basic concepts and solutions which can be actioned and are available in most of the local languages across India.
Let's see how INREM has used these cards in their outreach efforts.
Why was there a need to bring in these 'Safe Water Learning Cards' for dealing with the issue of water quality?
It had been a couple of years since INREM had initiated the Fluoride Knowledge and Action Network (FKAN). We were interacting with a lot of people who worked on the fluoride issue and we realised there was a wealth of knowledge built from many themes and sectors. When we tried to put together the things that were happening on the ground, things became quite complex.
At the same time, people came forward to be a part of the FKAN and understand and work on fluoride issues. Some of them were activists, while some were from different organizations working on fluoride-related issues. These people were generally in the age group of 25 to 35 and some beyond that. They became our first batch of FKAN Fellows.
The idea for safe water learning cards was born when we were preparing to conduct a five-day training program for the Fellows. We started wondering if we can think about breaking everything there is to know about the issue of fluorosis into small pieces of content like flashcards, audio/video messages.  We also realised that different people in a room had different experience levels and contexts. We wanted to see how to cater to all of them seamlessly.
The fellows were trained using a set of 72 cards divided across themes on fluoride. To our delight, they also used the cards to bring an understanding of the issue and what can be done with communities they worked with. Used well, we found these cards can help communities talk to each other about the water quality issues they are facing and share the knowledge that they have.
Can you talk me through how these cards were created?
We started making a list of things that were generally discussed on the safe water issues and ended up with a lot of topics and subtopics related to water quality. Different ideas emerged and a template was created. It was then tested out with different groups, to understand what was the best way to use such cards. Around this time, we heard about the energised textbooks that were becoming part of the National Teacher's Platform/Diksha's work from the Diksha and EkStep Foundation.
This changed our whole thinking about accessing content. By connecting the cards to specific digital content through QR codes, we realised that it is possible to access content whenever needed and the content could be constantly uploaded. Safe water cards with QR codes were then tested in a few sessions and we saw that it led to an increase in learning outcomes.
As we used them in all our interactions, the demand for the cards to be in languages other than English started coming in.  The cards were translated, in several cases using volunteer help, and are now available in regional languages like Hindi, Assamese, Telugu, Kannada, Gujarati, Bengali, Odiya and Tamil. A Safe Water Learning App was also created.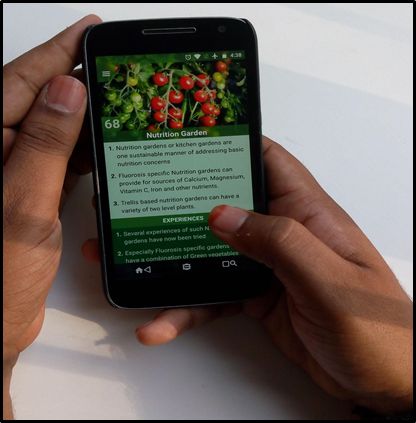 How do these cards get disseminated and who is the target audience?
Safe Water Learning Cards were mainly deployed in INREM's district water quality platform locations. Initially, the audience was comprised of the Fellows of FKAN. The idea was also to see how the fellows further train the community members through these cards. The Village Water and Sanitation Committee members, community members, and school students found it useful. The cards became the means to reach the front-line workers and then to the communities. It also started becoming base content in many of INREM's virtual trainings.
How do these cards get used in a session?
The first thing we do is to identify which cards to use - e.g. an iron and bacteria-affected area might not need to know much about salinity, at the beginning. Generally, 20-25 cards get used in the session. They are circulated in small groups of 5-8 with 1 minute each for reading them. This is followed by a facilitated discussion for about 15 minutes. It takes around 1.5 to 3 hours to do one learning card session with a batch of 30-40 people. Based on the local needs and curiosity, learners can access digital content from the cards by scanning the QR codes when the session is complete.
Do your learners enjoy using these cards? Is there a way you can keep track of whether people are referring to them post a session as well? 
The cards are only as successful as the participation in the room. Learners need to read and understand what they say. These cards have more of a human to human connection which makes them more useful and personal for the learner. Through the QR codes, we get to know how many people are using them even when they are not in a learning session.  We are now trying to understand how it drives action on the ground.
What is the future for these learning cards?
We need to start thinking of content on 'water quality and safe water' as a whole. The idea is to involve experts and practitioners in the sector during the creation process itself. The cards can be further contextualized for training the frontline workers of the related programs such as the Village Water and Sanitation Committees for Jal Jeevan Mission, health workers for National Programme for Prevention and Control of Fluorosis (NPPCF). We also want to use these cards as tools to carry Behavioral Change Communication (BCC) messages.
Author: Neha Pawar works as Officer Operations at Arghyam
Posted by