I am in the middle of nowhere, out on a field visit to understand how fluoride, a deadly contaminant in groundwater has been afflicting people in some of the worst affected villages in Nalgonda, Telangana. I am thirsty as hell and would do anything to find a seemingly elusive little glass of water, but I can't.
Restless as I am, with my thoughts running wild, I get out of the car and start walking.
I move around and not very far away, I see a child lying on a cot, unable to move, get up or walk. I glance around and am able to see a few more children moving around me this time. But, they are doing so with extreme difficulty with their legs severely bent. Can this be for real, I ask myself. I look further and find that these children are everywhere!
Unable to bear what's unfolding in front of my eyes, I investigate further and learn from people standing nearby that the extremely high levels of fluoride in the area's groundwater has been causing this peculiar disease that has led to their bent legs and twisted bones.
Fluoride, I come to understand from locals here, has entered people's bodies through the water that they have been drinking for ages. After entering, it has accumulated parasitically in their bones, eventually causing their degeneration in the most destructive way. Over a period of time, there has been very little strength left in the bones to bear the weight of their frail bodies.
A look at the India wide situation on fluoride indicates that according to the latest government data, 9,660 of the country's habitations are affected by fluoride, which is out-and-out alarming!
Fluoride generally sits on rocks in the lower depths of groundwater, where it interacts with the gushing water and finds its way into it. This is the same water most rural Indians rely on for drinking.
A WaterAid India report (2009) says that almost 80 percent people living in rural areas in our country use borewells primarily because of limited choices.
This number I am sure has soared further by now, a startling disclosure considering the fact that fluoride is found hidden deep inside groundwater.
What makes things worse is that according to the United Nations, Educational, Scientific and Cultural Organization's (UNESCO) World Water Development Report, India is currently the largest extractor of groundwater in the world. Fifty-four percent of India's groundwater wells have declined over the past seven years alone, which is a shocking statistic. Yet, there is a marked reluctance to acknowledge the seriousness of the situation.
If you track the problem over a period of 40 years of its existence, there has been a manifold increase in contamination, with the exploitation of groundwater having increased with each passing year all over the country. Yet, there are no signs of abatement.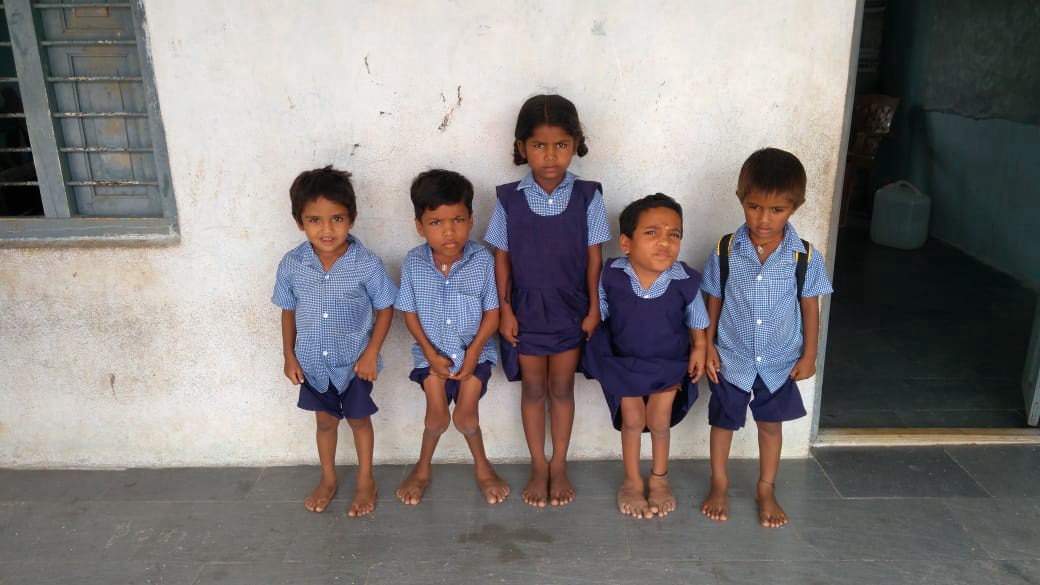 There have been heart-wrenching stories of despair coming out from all over rural India, making one feel as if time has simply stood still for these people.
Life has been often illogical, paradoxical, and just downright hard for these people. If they don't drink this water, they recognize that they will be at risk and will pretty much die of thirst with limited options. If they do, they will become disabled.
Suvarma (name changed) from Nalgonda had been perfectly fine some 10 years ago. Her legs have now become a tangled mass, so much so that you are scared of touching them lest the bones under the skin crackle!
If you compare her photos from then and now, you will be shocked. You can barely recognize that she is the same person, and it's so disheartening.
Then there is Bannama (name changed), Suvarma's sister who had looked fine at the time I visited her some time ago. Fluoride had just begun to assimilate in her bones.
I remember doctors then warned her that it won't be long before fluoride takes full effect on her body. Soon she stopped walking, and couldn't be operated upon as her bones were too fragile for the procedure.
Bannama can't walk now and can't comprehend what has struck her.
Seeing both their children get to this has been nothing short of a nightmare to both their parents.
Rintu (name changed) is a 10 year old from Jhabua, in Madhya Pradesh. The last time I had met this boy, he had been walking with a stick in his hand almost defiantly, making a statement to everyone that he will overcome this. Fluoride sadly won after he fought a long and spirited battle against it. Today he struggles to even get up from his bed.
Piped water with all its promise has reached just 20 million households till now in the country. There have been technical difficulties aplenty and the supply has been erratic.
If you look at the health side of the story, there are hardly any mechanisms in place at existing health facilities, where a growing number of these people potentially need to be referred to. Doctors aren't simply equipped to understand this problem.
Necessary nutrients like calcium, magnesium and vitamin C can play a part and resist fluoride from staying on in the body and help flush it out while it's still in the bloodstream much before it reaches the bones. But, adequate nutrition has been lacking in many government nutrition programs targeted for children through mid-day meals and anganwadis.
So, what can actually be done for the people who continue to be badly affected?
There are some successful experiences of trying "a consistent integrated safe water and nutrition" approach with children in Tapatjuri, Assam and Jhabua, Madhya Pradesh. These can work, but they have to be closely orchestrated at each level of administration, with a planned and well-conceived understanding developing between different departments, particularly because of the multifaceted nature of the problem. Working on these important fronts needs to be done with an added element of raising awareness as well, i.e. making people believe that what they are faced with are "real" problems that have really bad consequences for them.
Only if people are aware that this is a real threat, will they be mobilized enough to take a stand on these issues. We also need solid data, to help communities make a case for the problem.
If undertaken well, few of these things can be a groundbreaking final frontier that breaches across the problem's geographic territories and helps make the glass of safe drinking water no longer elusive!
Vikas Ratanjee, Policy Advocacy and Partnerships Manager at INREM Foundation has been instrumental in the formation of the Fluoride Knowledge and Action Network, a nationwide movement on getting policymakers and larger civil society actors together to focus on the issue of mitigating fluorosis. 
Posted by
Attachment