Over the years, the Himalayan climate has grown warmer, there are higher incidences of short but intense monsoon and hailstorms. The pressing disaster occurrences are floods and flash floods, landslides, avalanches, extreme temperatures, earthquakes, and drought which is increasing the vulnerability of its ecosystem, and people residing in these areas whose lives, property, income, and health are severely compromised during such events.
While resilient infrastructure enhances disaster preparedness, it will be important to observe if science communication can play a role in alleviating loss and damage. This is studied by comparing two incidents of flash floods in the Garhwal region of the North Indian Himalayas that have occurred more than a century apart.
Kedarnath Disaster, 2013
Kedarnath, Uttarakhand was affected by two distinct events in the summer of 2013. First, a minor flash flood from the Saraswati catchment was recorded at 1745 hours on June 16. Second, a flood-cum-debris flash flood was recorded at 0645 hours on June 17 due to the overflowing of the Chorabari lake. The overflow of the lake is attributed to more than adequate precipitation in the region since June 6 that increased the lake volume and led to a peak discharge of 1352 cumecs and an avalanche that led to the breaking of moraine dam.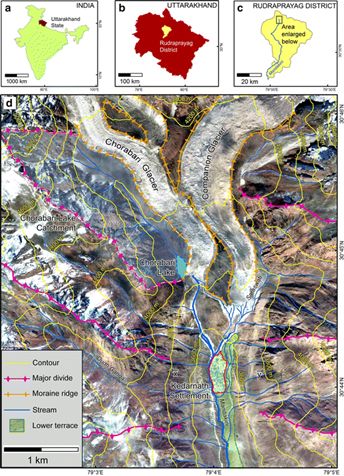 While the cause of the flooding was meteorological in nature, the loss of properties and lives was attributed to a lack of disaster preparedness and uninformed and unmindful urban development in and around the temple town. Structures were built at the edge of the riverbanks, heavy construction was done on unstable and landslide-prone areas, lack of update on the status of Chorabari lake due to uncalled rainfall, and lack of immediate communication of the incident relayed the disaster. The incident claimed the lives of more than 5000 individuals and affected lakhs of people in the region.
Gohna Tal Flood, 1894
In stark contrast, during the overflooding of Gohna Tal, Uttarakhand in August 1894. The lake was created after a couple of landslides and rock movements blocked the Birahi Ganga river in September 1893. The lake eventually overflowed a year later causing the infamous 1894 Uttarakhand floods.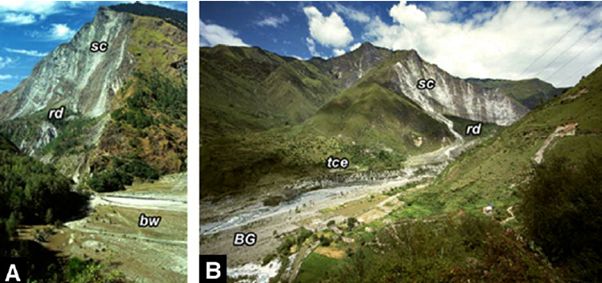 As the lake was developing in 1893, the British administration (at the time ruling India), started observing the water levels to assess the breach. As a precautionary measure, they marked the possible range of water rise level 60m higher than the normal range using masonry pillars. Several diversions were also constructed along Badrinath temple to minimize the impact of the outburst flood.
The administration had deployed a soldier with an equipped telegraphic system where the first breach of the lake was communicated with the sound of the bell. This information was then communicated to downstream areas through telegraph, crackers, drums, etc. The flood had destroyed properties as far as in Haridwar. However, only five people died in the incident, and they were the ones who insisted to stay below the dam.
The two responses and preparedness of a similar disaster in a similar range present two very different results.
Science vs. communication
The challenge with staggering resilience is not lack of knowledge. There are various scientific agencies in place (both regionally and internationally) that actively study geological, hydrometeorological, and atmospheric changes and create a repository of information. However, communication lags:
After the Chamoli disaster in 2021 (Uttarakhand floods), experts confirmed that there are methods to study glacier and glacial lake changes that are apt enough to generate warnings in the events of GLOFs and flash floods. Nepal had installed them a decade ago, however, most of the Indian Himalayas have failed to translate this knowledge into deploying an early warning system.
In the case of the 2013 Kedarnath tragedy, the Indian Meteorological Department (IMD) had issued a warning of floods, however, the information did not reach people stuck in the valley.
Comprehensive repository created by centers such as Uttarakhand Space Application Centre and ICIMOD, that are only accessible to the communities in an academic and intellectual circle and are not translated into policies, action points, or educational material.
Bhutan is the only country to adopt an integrated GLOF risk reduction method under the UNFCCC National Adaptation Programs of Action (NAPA). With increasing temperature, there is an increase in the number of glacial lakes in the Himalayas which are at risk of overflow, severely affecting downstream communities. However, it has not been committed to the NAPA by any other Himalayan country.
Capitalizing on science communication
The above two cases clearly indicate how science communication plays an important role in reducing the loss and damage from disasters. Now there is a need for the dissipation of science into pieces of knowledge relevant to various institutions that deal with disaster-preparedness, management, reduction, and adaptation. Data generated can be used to study trends, projections, vulnerabilities, and economies of states to better plan risk management.
It is also important to understand what information the community wants during emergencies. Announcing an emergency intimates them for some action but what actions are desirable in order to contain the disaster? If they vacate their residence, where do they go? How best do they manage their livestock? What urgent actions would protect their business, and property to some extent?
Another crucial angle in addressing information dissemination is the capacity building of children and youth. Integration of Child-Centred Disaster Risk Reduction (CCDRR) is a long-term resilience development strategy by UNICEF that focuses on enabling children in understanding emergency, disaster, preparedness, and action.
What's next?
We clearly have means to science and means to communicate, but we have not prioritized integration of the two as well as community engagement for the disaster risk reduction. If the two tales have taught us any lesson, it is that a lot of damage and loss can be avoided if only the upcoming disaster and what to do with that knowledge are informed properly to the masses. Science communication is a collaborative discipline that requires interdepartmental, interagency, and multilateral cooperation, starting with local, state, and national departments to acknowledge and engage each other in their policies and action plans. 
References and further readings
Changing Rainfall Patterns in an Era of Climate Change: A Multiparameter Spatiotemporal Analysis of Trends & Impacts for India. Patel et al. 2020
Glacial Lake Outburst at Kedarnath, Indian Himalaya, Das. S.et al. 2015
About the authors
Ishani Palandurkar is a graduate student at the Nicholas School of the Environment, Duke University pursuing a Master's in Environmental Management and specializing in Environmental Economics and Policy. Ishani is a Policy Researcher and has worked in the space of global climate policies, air pollution, energy access, and sustainable livelihoods for marginalized communities. She also works in policy research on Disaster Risk Reduction and Transboundary Resource Management in the Hindu Kush Himalayas.
Praharsh Patel is a PhD scholar of Environment and Natural Resources in the Department of Energy, Environmental, and Food Economics at the Pennsylvania State University. Praharsh is a Policy Researcher, Data Scientist, and the Founder of Prayaas: The movement for grassroots changes. He has undertaken research on water, food, agriculture, and livelihood domains. He has lead projects related to water management, rural livelihood, and agriculture marketing, efficient water utilization, groundwater sustainability, waste management.
Posted by