There is good evidence that frontline workers have proved to be gamechanger in the delivery of services like health and integrated child development services (ICDS). However, the sanitation sector was bereft of any frontline workers for ensuring effective delivery of sanitation services as till the Nirmal Bharat Abhiyan, there was no workforce below the block level.
The gram panchayats were not linked with the district plans. There was no mechanism to measure the increase or decrease or the possibility of slip back of rural households with defunct toilets or toilets no longer in use or extinct. 
Thus, there was a huge gap below the block level and a demonstrated need of having someone at gram panchayat level who could talk to the communities about the benefits of sanitation and involve them in the planning and implementation of the mission. This is reflected in poor progress on sanitation till 2014, with only 39% households having access to sanitation services.
What changed?
Basic services demand community engagement and participation. Sanitation especially needs frontline workers as it demands work both on infrastructure and behaviour change. Behaviour change can only be accomplished if there is a frontline worker, who can support villages to build new norms.
The Swachh Bharat Mission launched in the year 2014, which had an ambitious target of making the country Open Defecation Free (ODF) realized the need of bridging the gap between service providers and the community through a trained frontline worker. As per the Swachh Bharat Mission (Grameen) guidelines, swachhagrahis are its foot soldiers and are the motivators for bringing about behaviour change concerning key sanitation practices in rural India.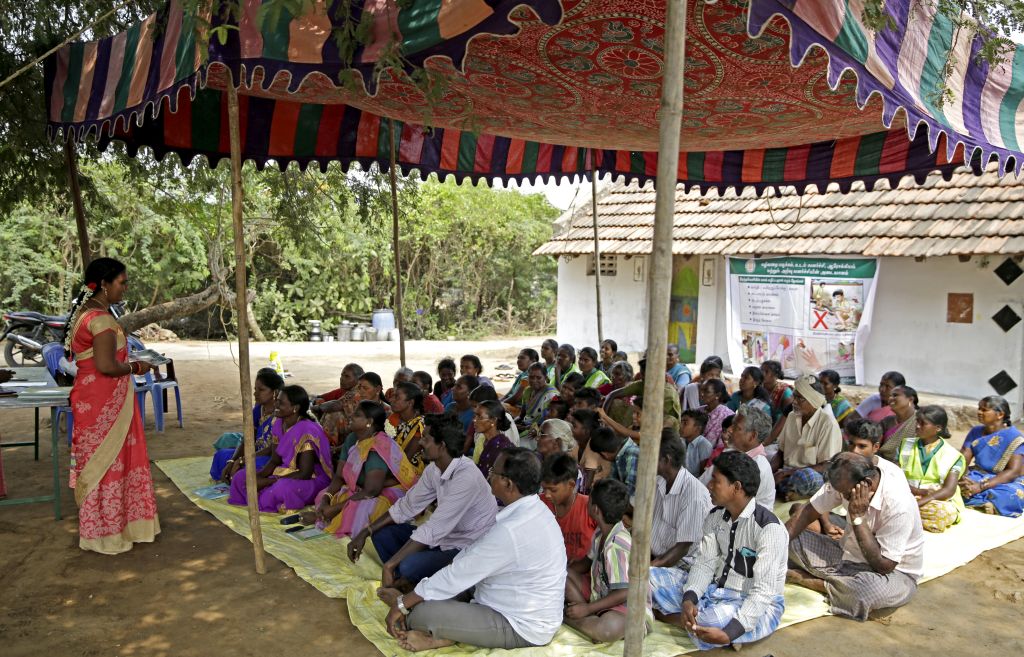 Every village should ideally have at least one swachhagrahi, with preference given to women candidates. A swachhagrahi is a volunteer who can belong to any background, including a local ASHA worker, ANM, Anganwadi worker, and staff, water lineman, pump operator, member of NGO/CSOs, youth organisations or any community member from the villages to work on a community approach to sanitation as there was a demonstrated need of having frontline workers who could trigger action within the communities.
The country witnessed how sanitation programs success rests on the social behaviour change through the Swachh Bharat Mission!
The role of swachhagrahis is one of the key factors in achieving the ODF status and sustaining it through post-ODF activities. They are the frontline workers of the Swachh Bharat Mission and the key pillars of interpersonal communication at the community level.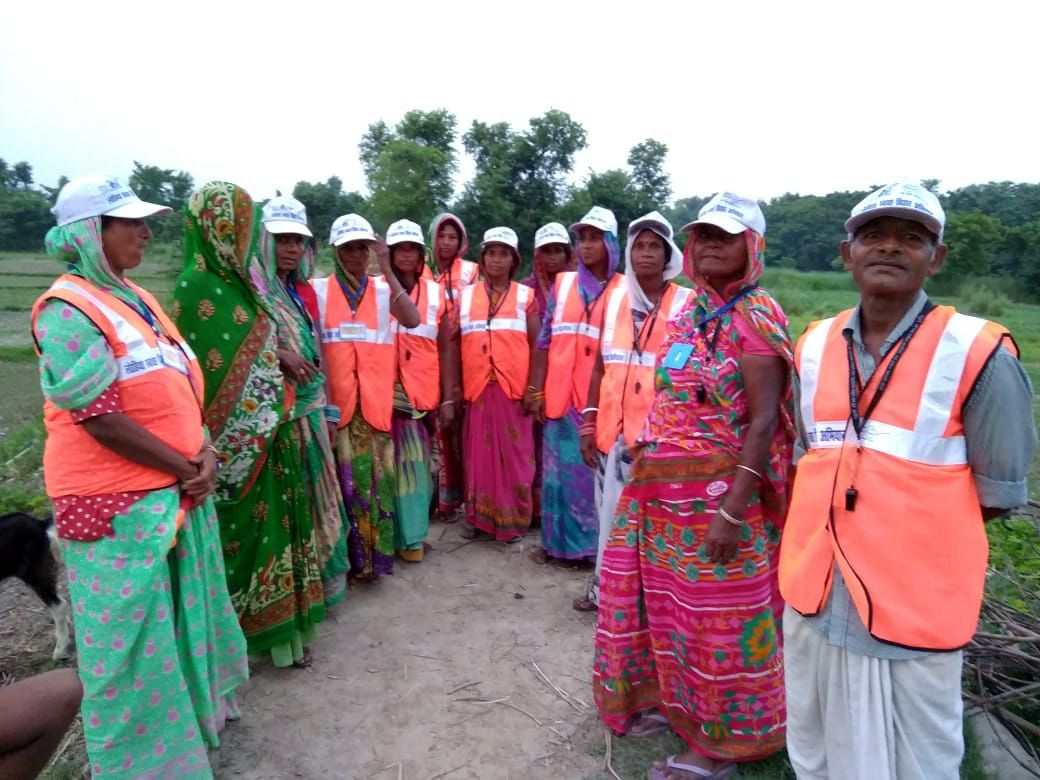 How?
The kind of communication expected during interpersonal communications and door to door visits called for intensive training of swachhagrahis. So, there was a need to build the capacity of the swacchagrahis to equip them to not only communicate effectively but also be available with answers to questions related to the toilet technology, incentives from the government etc.
The swachhagrahis also had to be enabled with a variety of communication tools to motivate the community members to construct and use toilets. The swacchagrahis do require ready content to speak and encourage dialogue with community members to ensure certain uniformity in messaging as well as avoiding missing any important content during the discussion.
Some critical activities performed by the swacchagrahis are:
Facilitate community triggering sessions in assigned villages using Community-Led Total Sanitation (CLTS) approach.

Participate in and support the Gram Panchayat (GP) in the preparation of a timebound village-level action plan to eliminate open defecation. 

Conduct household visits to generate demand for toilet construction and use and raise awareness about safe sanitation and hygiene. 

Mobilise and support the community for the construction of household toilets of good quality.  

Provide information on appropriate toilet technologies and support in supply chain management. Monitor the quality of construction of toilets and support in training and coordinating with masons.
The role of swachhagrahis remains critical even after the country is declared ODF, as they play a crucial role in sustaining the ODF status of their villages. The sustained engagement with the swachhagrahis, by recognising and further enhancing their skills, are also crucial for the sustainability of the Swachh Bharat Mission.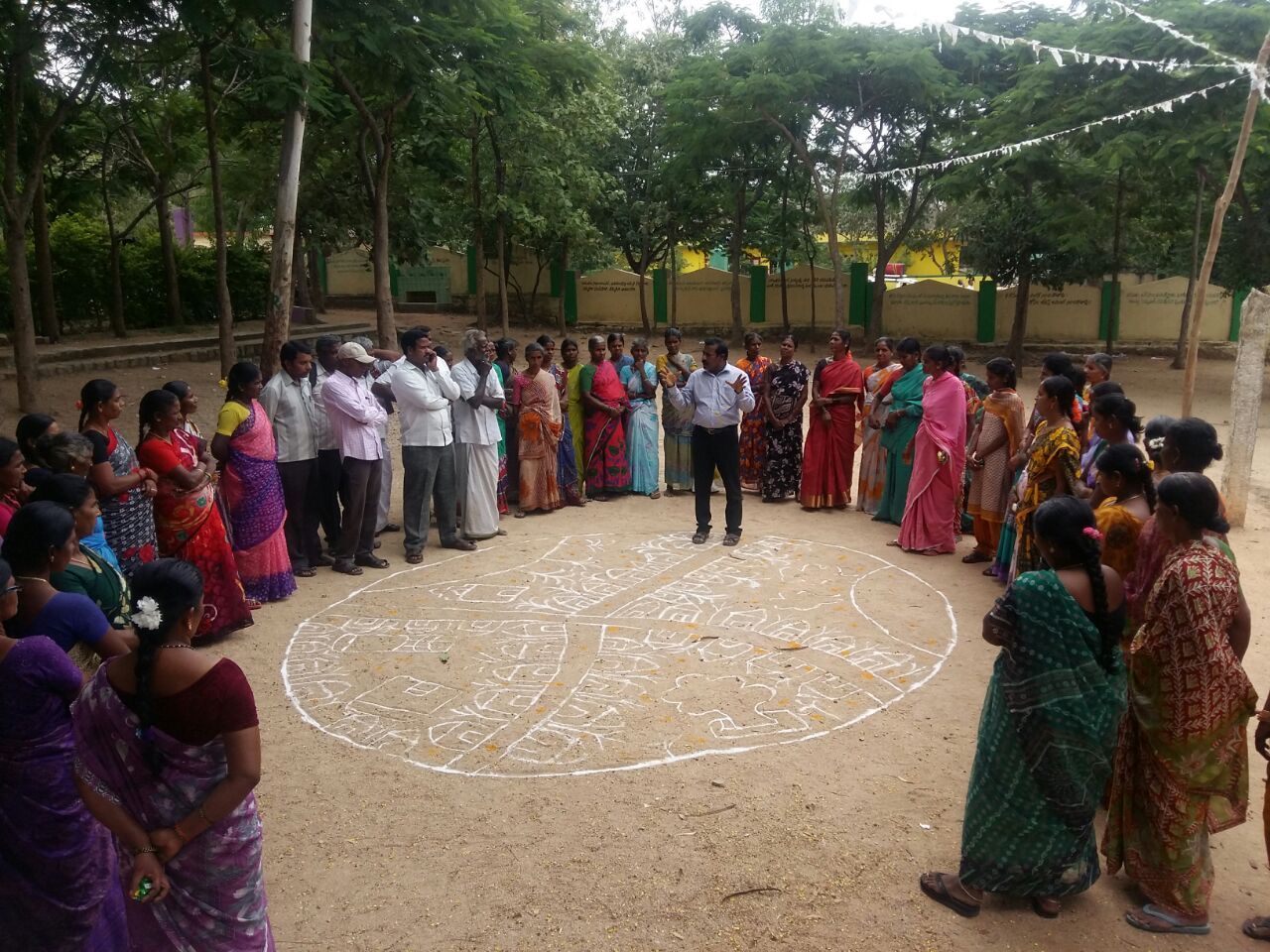 The practices related to the recruitment and deployment of swachhagrahis varied across states in India. Some states had issued dedicated guidelines/government orders for engagement of swachhagrahis, made provisions for timely payment and getting them engaged continuously.
Incentives were provided to swachhagrahis with demonstrated skills and requisite capacity (successful completion of five days CLTS training and other mandatory training as recommended by Gol) for carrying out certain activities, to be certified at the district level. There is a need to further enable these frontline workers to earn recognition for their knowledge and skills and leverage them in other/future programs related to water and sanitation.
Thus overall, the state governments need to create an enabling environment for the skilled frontline workers to be engaged and sustained on a long-term basis. This could lead to better livelihood opportunities for the swacchagrahis. A sustainable sanitation ecosystem is necessary to ensure a strong and healthy population!
The Government of India has taken a conscious decision to strengthen services related to water and sanitation. The focus is on ensuring the sustainability of gains made. This would require continuous engagement with the communities to ensure that there is no slip back and communities continue to practise improved behaviours. This responsibility can be best accomplished by swacchagrahis.
Both Swachh Bharat Mission and Jal Jeevan Mission are community centred, and demand-driven programs. Through the guidelines, it is reflected that communities plan, implement, operate, and manage the services. Swacchagrahis appear to be the only workforce at the field level, which can support the government's lofty ambitions. The cost of not having a trained workforce to achieve the objectives of these schemes would be stupendous. 
Also, an important development has happened in the sector. The 15th Finance Commission in its recent report has allocated over 2.3 lakh crores for rural local bodies and it is recommended that 60% of rural local bodies' grants from the central divisive tax pool be spent on water conservation, drinking water provisions and manage household waste and excreta management, including maintaining the ODF status achieved under the Swachh Bharat Mission.
So, if we have frontline cadre like swachhagrahi further trained on all these aspects, it can help in local level planning and implementation of the water and sanitation-related works at gram panchayat level.
Further the gram panchayats can then decide on the incentive-based payments on the completion of work by the swachhagrahis. For example, if the village action plan for ODF+ is made, then the swacchagrahi gets 'x' amount of payment. Further, when the swacchagrahi selects the site for constructing a soak pit, then he/she gets 'y' amount of payment. In this way, the swacchagrahi cadre is not just involved in planning, but is also pushing and driving the action on ground. 
This new development in the sector could lead to a long term sustained engagement of the skilled workforce for water and sanitation.
What next
The 15th Finance Commission provides a window for providing incentives to frontline workers, as 10% of total funds are allowed for meeting the administration related costs. Details indicate that skilled resources could be hired to support planning, implementation, and operation & maintenance. This must be effectively utilized to institutionalise the deployment of frontline workers to support the delivery of sanitation and drinking water.

The frontline workers need to be made mandatory for supporting and supervising all community-level planning, implementation and operation & maintenance related works.

The skilled personnel can also be provided with a fixed remuneration which would lead to a long-term engagement for carrying out the water and sanitation-related works on the ground.

It would be useful to have 50% of frontline workers as women so that the special needs of women and children can be integrated into the planning and implementation.

There is also a need for customized training to frontline workers on inclusion, service delivery and gender.

Likewise, in future, if any water or sanitation-related scheme arrives, the districts would have a cadre in place at gram panchayats to plan, implement and monitor it.
Author
Neha Pawar works as Officer Operations at Arghyam
Acknowledgement: The author acknowledges significant support provided by Mr Anand Shekhar - Team Leader, Swachh Bharat Mission (Grameen), in the form of discussions and guidance on this article. 
Posted by