Churerdhar, a mountain village in Uttarakhand suffered from a lack of safe potable water. Here, hand pumps used to dry up in the summer and a natural spring 1.5 km away from the cluster of homes that housed 300 people, was the only other source of water. That was its plight in 2002. 
Existing water sources 
The usual solutions were to tap natural water resources to provide gravity-piped water supply or to collect rainwater via Rain Water Harvesting Tanks (RWHT) in villages where there were no potential natural resources. However, the process overlooked many needy villages in an area where rainfall was scanty and there were no perennial source of water.
A different perspective
Churerdhar was one of the overlooked villages until 2003, when the Tata Trusts' decided to intervene under the drinking water supply intervention. Without an available natural water supply above the village to implement the gravity-piped water scheme, the initiative decided to construct 59 RWHT of 7KL (7,000 litres) for individual households.
However, changing precipitation patterns and adverse climatic conditions have necessitated the finding of alternate solutions to meet the demands of the community. Many discussions and much research later, dialogues with First Solar and Tata Power Solar came up with a cost-effective solution that was implemented by Himmotthan Society and Himalayan Institute Hospital Trust (HIHT).
Sunshine water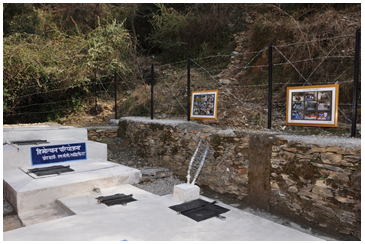 The Solar Lift Drinking Water Scheme implemented in Uttarakhand is the first project of its kind, and has the potential to become a long-term solution to implement anti-gravity water schemes, especially in regions where hydroelectricity is a major problem.
Under this scheme, water is collected in the source collection chamber and after a three-step filtration process, a 710-metre pipeline carries the pumped water to a height (water head) of 186 metres at the rate of 38 lpm. Two solar off-line grids comprising 50 solar panels of 77.5 watts (Wp) each, have been installed in Churerdhar. Together, the panels produce 3,750 Wp which enables the pump to function and push the water towards a Clear Water Reservoir (CWR) where water is chlorinated and from there people collect it.
Economics & health effects
The scheme has not only provided drinking water to the village, but also reduced the women's workload considerably. "The incidence of water borne diseases will also decrease," they say. Moreover, the use of solar energy saves Rs. 37,000 on electricity bills on an average per annum. Post-implementation maintenance is being taken care of by the villagers with the support of Himmotthan Society.
The Village Management Committee collects user charges on a monthly basis to meet basic expenditure such as chlorination, insurance and operational charges. Rs. 84,000/ has been put into a fixed deposit, and that functions as a reserve fund for Operations and Maintenance. A village maintenance worker named Ramlal has also been appointed at a cost of Rs. 1,000 per month.
A successful solution
The collaboration between the villagers, trusts, Himmotthan Society, First Solar and Tata Power Solar has changed the face of Churerdhar. The scheme was officially inaugurated by the Chief Secretary of the Uttarakhand Government, Secretary and Chief Accountant of Sir Ratan Tata Trust on March 7, 2014. The success of this project has inspired government officials to think of using solar energy to solve the problems of drinking water in the mountains.
A little support does go a long way in helping a community help themselves!
Posted by
Attachment