India has over 2,50,000 Gram Panchayats, which manage the governance of over 6,64,000 villages spread across the country. The institutions of self-governance - Panchayati Raj Institutions (PRIs) were given constitutional status through the 73rd Amendment. This was done to empower communities to participate in the local development process driven by local needs. Several functions are entrusted to the PRIs, including, agriculture and allied sectors, land improvement, minor irrigation, forestry, drinking water, sanitation, and health. While the Constitution provides processes and mechanisms to strengthen local governance, there continue to be gaps in the capacities of "doers" who leverage the available resources to drive the development.
The Ministry of Panchayati Raj has had several programs in the past such as the Rajiv Gandhi Panchayat Sashaktikaran Abhiyaan (RGPSA) to strengthen PRIs and address the critical gaps that constrain their functioning. Other programs of State and Central government which are centered on community participation have also attempted to build capacities of PRI functionaries and community leaders for their meaningful participation in programs.
However, with every new program, there appears to be a cycle of finding the right people, training them from scratch, and expecting them to achieve planned outcomes - without bridging the existing gaps in communication, coordination, skills, recognition, and incentives.
Some programs of government and NGOs are attempting to solve these issues with the aid of technology. One such program is the Odisha Livelihoods Mission (OLM), which has partnered with the Foundation for Ecological Security, a non-profit working towards ecological restoration to build capacities of its Krishi Mitra cadre at scale using digital content and periodic virtual interactions that ensure unfettered knowledge access, peer-to-peer learning, timely resolution of queries, and footprinting of trainees through digital attestations. Hindustan Unilever Foundation and Arghyam are supporting some of these efforts.
One of the participants of this learning journey is Kalyani Dash, a 28-year old frontline worker, who has been working as a Krishi Mitra for the last three years in Koroda village of Nayagarh district in Odisha. She was one of the members of an SHG promoted by OLM when she applied for the Krishi Mitra role with an aspiration to work for the community while building her own career as a trained community resource person. Currently, she works with 150 households in the village directly and trains them on chemical-free farming techniques, water secure crop production, efficient water use in agriculture for a sustainable farming future as well as kitchen and nutrition gardening to ensure a regular healthy diet for the community.
To gain the community's trust has not been quick and easy. When she started on this journey, it was normal for her to hear comments like "What can an inexperienced novice girl teach us that we already do not know?" - especially from older male farmers. When she shared these experiences with her peers from other villages in group meetings, other Krishi Mitras also shared similar challenges. The group members motivated one another so that they could keep going. "We never lost hope and we stayed the course," she says.
She underwent several training sessions in the last few years on topics including sustainable agriculture, digital-enabled data collection, nutrient management, organic farming, integrated pest and disease management, use of digital tools, crop water budgeting, harvesting and storage of produce. While these training sessions helped her improve efficacy, she also acquired multiple skills which can be used in other programs and roles. The use of a smartphone to collect and upload village-level data and attend virtual meetings, groundwater games, community mobilization, water budgeting are some of the skills that she can make use of if selected as a resource person for other programs such as Jal Jeevan Mission.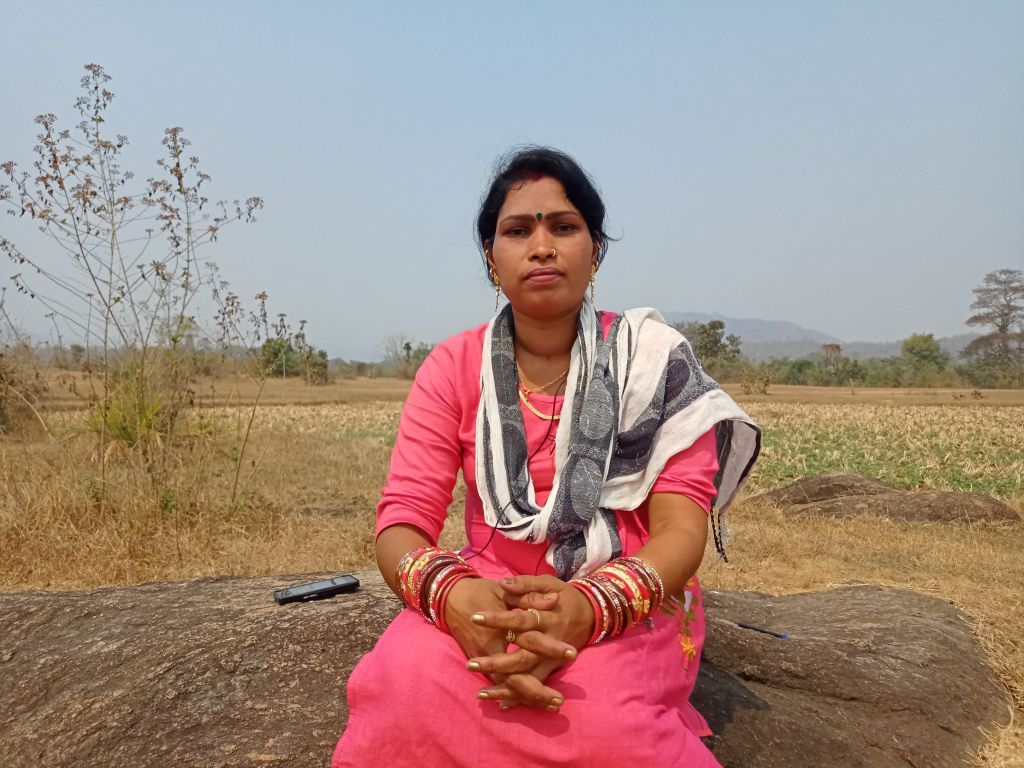 Also a popular folk singer of the village, Kalyani says, "As we learn more, our ability to resolve queries of fellow farmers increases and it makes us more confident. It also enhances the trust that the community places in us and our abilities. Things are changing, and this new model of learning is ensuring that if I face a challenge today, I can solve it tomorrow by asking my peers or experts on virtual sessions. There is no looking back now."
She was married off at the age of 15 and this journey to become a confident, independent woman has by no means been easy. Managing the daily domestic chores and taking care of the family while fulfilling responsibilities as a Krishi Mitra and learning and upgrading her skillset constantly is more challenging than it might seem. Short virtual training sessions, which she can attend from the comfort of her home, have come as a big relief for her. She no longer has to worry about missing physical training sessions when it clashes with an important activity at home.
Kalyani, and thousands of other community champions, aspire to work with their communities for a better future and secure livelihood opportunities for themselves without having to migrate to cities for work or depend on the income of other family members. Kalyani wants to learn computer usage now and also understand advanced farming technologies. She would also like to become certified agriculture and water management professional and get engaged with future programs of NGOs and government.
Can the large scale government programs help aspiring and hardworking community champions like Kalyani excel further? Can they recognize them for their skills, knowledge, and experience? Can these skills be showcased by them to get further job opportunities and build their livelihoods? Wouldn't it be a win-win for the programs if they can leverage such trained professionals and achieve better program outcomes without having to build capacities from scratch every time?
Kalyani's journey is a case-in-point for the efficient use of technology in training human resources. It is a story of an aspirational woman who has found an opportunity to learn and grow despite the limitations posed by the circumstances. Millions of such community champions hold key to managing our natural resources and ensuring meaningful community participation in programs. Would the program designers and proponents of participatory natural resource management be amiss if they are not able to engage these PRI leaders to actually execute what the 73rd Amendment set out to do?
Watch Kalyani Dash talk about her work:
Manisha Shah works at Arghyam, Bengaluru. Saswatik Tripathy is associated with the Foundation for Ecological Security. Views expressed are personal.
Posted by