In the scorching heat, villagers stood with glasses of water in their hands and smiles on their faces in an eagerness to offer all that they had with utmost kindness to bring comfort to people on a hot summer day, oblivious to the quality of water they were offering. The water which looked clean actually wasn't, as their stained teeth betrayed their beaming smiles, indicating a condition they were unaware of.
Water woes 
Nuh (earlier known as Mewat), a small district in Haryana, is home to more than a million people. Located at just about 140 kilometers from the capital of India, the district is still ailing with lack of a proper water supply system. The population here has to rely upon groundwater, which is assumed to be the purest form of water available locally. But the deeper one goes, the more contaminated the water was.
For those dependent on groundwater, the water is now being extracted from greater depths. As a consequence, water that is being used and consumed is often salty in taste and contaminated with fluoride, the reason behind their stained teeth and lives.
Fluorosis cripples and the village poor 
Fluorosis, caused by excessive ingestion of fluoride, is often considered to be a dental condition. Dental fluorosis is mostly a cosmetic condition arising due to excessive ingestion of fluoride during the period of permanent teeth formation.
Stains, irregularities, and pits are common manifestations of dental fluorosis. Sometimes a tooth is lost due to cavities. However, a society stricken with poverty, having a multitude of development priorities, doesn't pay much heed to stained teeth. But what if more is at the stake? 
"Yeh ungli seedhi nahi hoti, haath seedhe nahi hote, paaer isse aage mudte nahi hai" (My fingers don't stretch straight, my legs don't fold properly), grieved Rajni, after having walked into the room one step by step like a child learning to walk, with a slightly bent back.
In a village where almost every other person finds it a bit difficult to walk, joint pain is attributed to age and other factors. People have been living with the pain and accepting as a natural manifestation of their age. But at twenty, Rajni's pain cannot be attributed to her age, for the pain seems far beyond that age.
Another condition of fluorosis is skeletal fluorosis, a bone and joint disease also caused by excessive ingestion of fluoride.
Skeletal fluorosis develops over time, beginning from a young age, as had been the case with Rajni. Having set into her feet and knees at about seven years of age, skeletal fluorosis has made a room in her life, making for a permanent stay.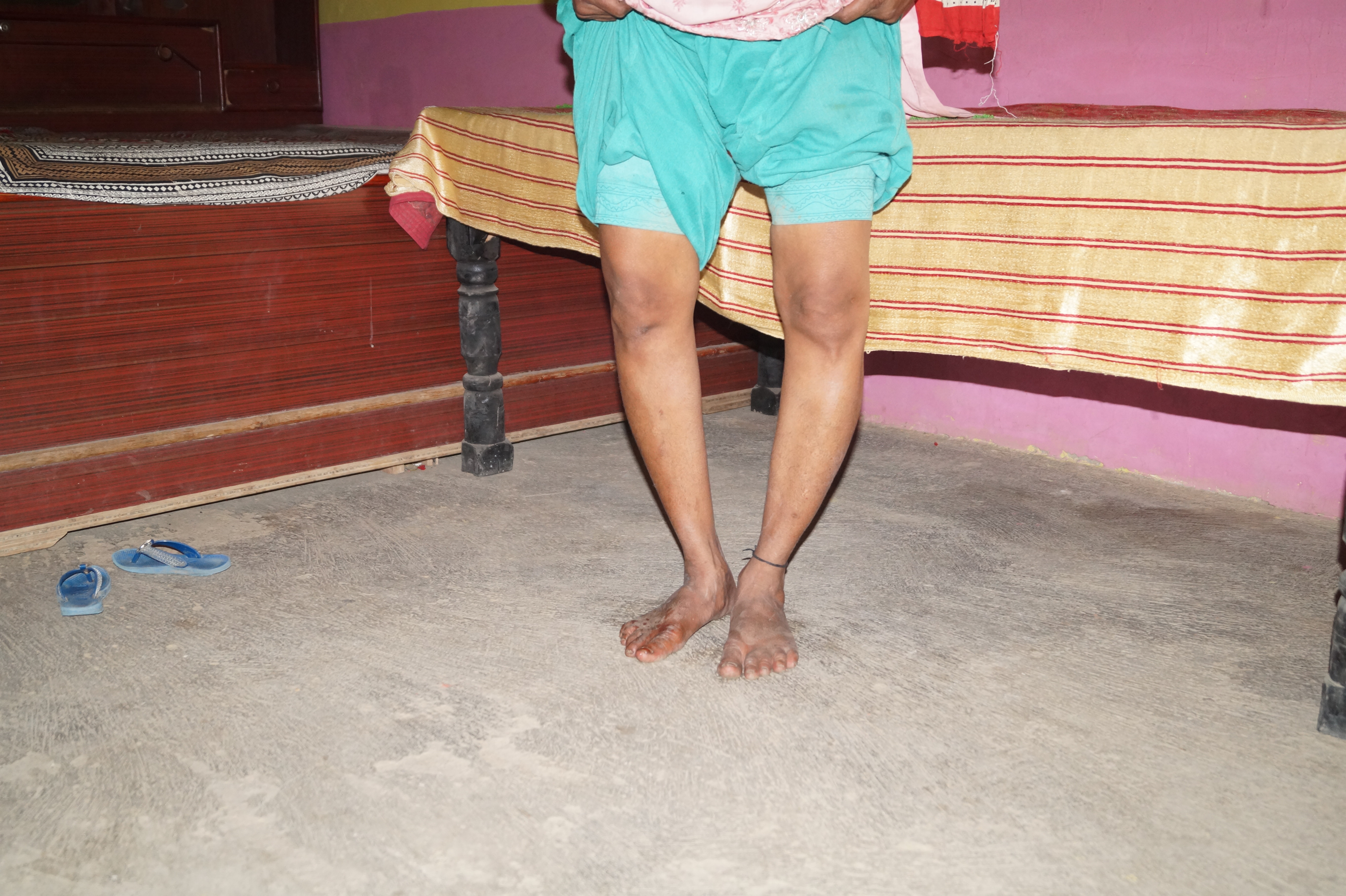 Community plight and community voices
"Unke ghutno me hawa bhar gayi hai" (There is air in their knee joints)
Unaware of the consequences of consuming contaminated water, people have made up their own theories regarding the disease. It wasn't until the S M Sehgal Foundation intervened (in 2018–19) to make the people of aware of the link between consuming fluoride water and fluorosis. But making the people understand the situation hadn't been a simple task. Being simple and naive, technical terms used to scare them. They had to be introduced to the concept in a careful way.
The foundation team tested the water and conducted awareness campaigns through community meetings and schoolchildren. Alfaz-e-Mewat FM 107.8, the foundation's community radio station, using mainstream rural voices and issues, played a pivotal role in making people understand the situation. The process of explaining the situation was simplified through a series of radio episodes bundled together and titled "Fluorosis se Jung." The radio program initiated a battle against fluorosis, but the fight hasn't been simple. Reflections from the community on radio added to the receptivity.
Challenge and the cure 
"Kya hai ki, paani toh hum badal nahi sakte" (We can't change the water), says thirty-nine-year-old Abdul, a resident of Humzapur in Nuh.
The maximum permissible limit for fluoride in water for human consumption is 1.5mg/liter. At 14 mg/liter, water the villagers had to offer was not fit for human consumption. Not having access to any alternate water source, villagers are forced to consume the contaminated water.
In such a situation, where the ingestion of fluoride cannot be controlled, another way of minimizing the risk of developing fluorosis is by consuming minerals such as calcium and magnesium, which neutralize the fluoride and are readily available in milk. But people who have been struggling to make ends meet cannot afford to make milk a part of their diet.
In a poverty-stricken area, an economically viable solution had to be found. This is where S M Sehgal Foundation stepped in and introduced the people of Nuh to the affordable and sustainable remedy, moringa, also known as the magic plant.
Moringa (or drumstick, locally known as sehjan) is a fast-growing, drought-resistant tree, which can help to mitigate and manage the effects of fluorosis. Moringa leaves, filled with calcium, magnesium, iron, vitamin C, and antioxidants, are to be picked, shadow dried and then powdered in order to be consumed as a part of the daily diet.
Understanding the villagers' situation and plight, S M Sehgal Foundation made this plant available to these people. Promoting and distributing moringa saplings and seeds, Sehgal Foundation ensured that the remedy reached within the approach of every home in the focused fluoride-affected villages.
Workshops were conducted on a regular basis and are still being conducted in order to keep the drive going. Beneficiaries were invited to talk on radio Alfaz-e-Mewat about their experiences of consuming moringa leaf powder to let others also know and understand so they can use it too.
Drumsticks and drumrolls
"Ye free ki cheez hai" (It is free of cost) is something that attracted a lot of people to start using it. And when they started consuming it on a regular basis, it showed results.
Bassi, who is in her mid-forties, is happy, because this has relieved her joint pain. She also asked her family members to start using it, especially the children so they don't have side effects of impure water. Bhugla, another woman in her thirties, says it has also helped her digestion-related problems, and now she asks everyone to use this free ki dawai.
As the adage goes, "You have to fight through some bad days to earn the best days ahead," the battle for  "fluorosis se Jung" is ongoing as more and more people have increased awareness about the condition and are equipped to face it with courage and cure. Together we will!
This article has been jointly written by Chehak, an intern with the Water, Research and Training team in March–April 2022, and Aparajeeta, assistant program lead, Water, Research and Training, Sehgal Foundation.
Posted by