Article courtesy: Dams, Rivers and People, April-May 2011 Issue
Authors: Ramesh Ganeriwal and Atul Bhardwaj
Ramesh Ganeriwal and Atul Bharadwaj from Himachal Pradesh share their experiences on how badly planned micro and mini hydel projects can wreck havoc with local irrigation systems and ecosystems in Himachal Pradesh, despite their minuscule electricity generation.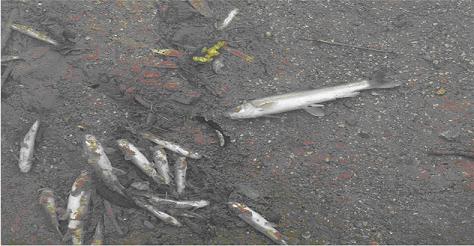 Dead fish downstream a dry stretch caused by Gaj II project
Photo: Ramesh Ganeriwal
According to Himurja, Himachal Pradesh Energy Development Agency, 509 Small Hydro Electric Projects (upto 5 MW capacity) with an aggregate capacity of 1299 MW have been allotted in Himachal Pradesh till March 2011. Out of these, 29 projects have been commissioned. Himachal Pradesh Fisheries Departments, has already processed the 'No Objection Certificate' applications for 232 small hydel projects, of which just 7 have been rejected (some of them have been dropped by the project proponent).  Most of these hydel projects are being developed by private players.
It is generally believed that mini and micro hydel, run of the river projects are green and have very little or no impact on the local ecology, river flows and water availability. We are now realising how unfounded this belief is.  Especially for our country where stringent monitoring of environment regulations is absent and where it is very difficult for weak stakeholders to know the complete picture and resist inequitable changes. Small hydel projects can balance their ecological and social impacts only if they involve inclusive planning with active participation of local stakeholders from planning stage and if they adhere to environment regulations strictly. While these prerequisites are absent, small hydel projects can also result in large negative impacts, as following case studies indicate.
Rivers are irrigation systems,
Case of Kholi Khad, Kangra:
Kholi Khad Mini Hydel Project in Kangra was planned by the State Electricity Board and sanctioned as a run of the river project. However, the water availability calculations of the proponent were erroneous (as has been the case many times) and in order to generate power, water has to be stored regularly. This has severely affected water releases to 4 irrigation Kuhls, which irrigate about 2500 hectares of land of 12 Panchayats. Now, water is released downstream only when sufficient water for power generation is accumulated in the storage weir. This has completely disrupted the irrigation cycle of the area, and crops have to go without water for many days. Farmers are resorting to irrigating their fields at night, when water is suddenly released. Electricity Department has taken no cognizance of the concerns of the farmers, either before undertaking the project (in terms of securing NOC's from the concerned Panchayats) or in the current operations of the project.
Rivers support life
Case of Gaj II Hydroelectric project, Kangra:
Gaj II Hydroelectric project built by a private player has recently been commissioned in the Kangra district of Himachal. This dam has taken away all the irrigation water of the downstream farmers, who have been making representations to the district authorities about water availability right from the construction phase. Currently, there is absolutely no water in the 'Kuhl" which used to irrigate 30 acres of farmland and support 50 farmers. According to the Environmental Regulations, the proponent had taken NOC from a Panchayat, but it was not the village that has been affected, but a neighbouring village. Presently, these farmers face the grim prospects of losing their standing wheat and other crops and have made an urgent appeal to the DC, Kangra for the immediate restoration of their water while the matter is taken up in appropriate forums.
The project does not even follow
Avay Shukla Committees recommendation of providing a mere 15% of the river flow downstream, as a minimum ecological flow. Dead fish on a parched river bed is a common scene here. More than 11000 families in Himachal Pradesh depend on fisheries to make a living.
Kuhl:
Kuhls are a traditional irrigation system in Himachal Pradesh- surface channels diverting water from natural flowing streams (khuds). A typical community kuhl services six to 30 farmers, irrigating an area of about 20 ha. The system consists of a temporary headwall (constructed usually with river boulders) across a khud (ravine) for storage and diversion of the flow through a canal to the fields. The kuhl was provided with moghas (kuchcha outlets) to draw out water and irrigate nearby terraced fields. The water would flow from field to field and surplus water would drain back to the khud.
The kuhls were constructed and maintained by the village community. At the beginning of the irrigation season, the kohli (the water tender) would organise the irrigators to construct the headwall, repair the kuhl and make the system operational.
Issues of transparency:
When activists demanded related project files from the State Electricity board, they were told that the information cannot be disclosed, as it deals with 'third party information'. When the activists again sent letters questioning this callous and irresponsible stand of the Government, whose main aim should be protecting the interests of its wider population and not some private companies, they were provided with incomplete information. Till now, the State Electricity Board has not responded as to how to solve this major impact of small hydel dams. No steps have been taken to ensure the minimum stipulated 15% release from the Gaj II project. Interestingly, this project, which has negatively affected local population as well as the ecology of the area and is making no efforts to ameliorate it, has applied for carbon credits under the UNFCCC Clean Development Mechanism ( CDM)
-Ramesh Ganeriwal and Atul Bharadwaj, Himachal Pradesh


Fisheries Department Jumps its stand:
Himachal Pradesh Fisheries Department has issued a list of rivers and streams in the state which support rich feeding and breeding ground of fish and are home to endangered species like Golden Mahseer (Tor putitora ), Mosal Mahseer (Tor mosal), Mahseer (Tor tor), Blue Perch (Badis badis), Indian Torrent Catfish (Amblyceps mangois) ,etc,. This list known as the 'Negative list' is like a  guideline for In Situ (conservation in their native habitat) Conservation of fish. However, dams are rampantly being commissioned in these very 'Negative' listed streams and khads by paying a nominal amount to Fisheries Department as Fisheries Development Fund. Till now, the Fisheries Department has sanctioned 225 projects in these stretches and has rejected only 7 projects of which some have been non-viable due to other reasons.
Even more surprising is that fact that when Chanju I 36 MW Hydel project on a small tributary of Ravi came for Final Environmental Clearance before the 47th Expert Appraisal Committee ( EAC)Meeting on 26.02.11, the minutes of the EAC note that "No fish were reported in the glacier fed stream. The Proponent has the necessary certificate from the Department of Fisheries."
In reality, Chanju Nallah is listed in the sites for in situ conservation of fish and the proponent has paid a token amount of Rs. 19.6 lakhs as Fisheries Development Fund to the Himachal Fisheries Department.
These errors highlight the fact that the rich and thriving riverine fisheries have no value in face of hydropower development. Add to this, riverbed mining for sand, boulders and minerals is also ensuing in the region. The boulders, pebbles and river sand not only provide habitats to endangered fish like Hill Trouts, but they also stabilise river banks and maintain water levels.
Himachal Pradesh Fisheries Department is one of the few Departments in India to bring out an insurance scheme for Fishermen fishing in the State's reservoirs. Ironically, it seems that people who are in real need of such insurance are small time riverine fishermen whose livelihood is being taken away through the numerous large and small hydel dams planned and operating in the state. Will they qualify for insurance too?
-Parineeta Dandekar
Posted by
Attachment