When torrential downpour submerged thousands of villages and claimed about 300 lives in Jammu & Kashmir in September 2014, loss of wetlands was cited as one of the reasons that aggravated the impact of the natural disaster. Wetlands are areas where the water level is close to the surface of the land. Mangroves, marshes and swamps are some of the examples of wetlands. They are crucial to a region because they help replenish groundwater, avoid floods, absorb carbon dioxide and host a wide range of useful plants and animals, besides numerous other benefits. 
Four months before floods ravaged the state, a study conducted by two University of Kashmir research fellows that quantified how much the wetlands have shrunk between 1971 and 2010 was published. In these three decades, Hokersar wetland was reduced to less than half its size even as the area of the Anchar wetland reduced by more than a third. By 2010, more than half the wetlands area present in 1971 had vanished.
Changing spatial status of wetlands around Srinagar city (1971-2010)
Source: Urban Sprawl of Srinagar City and its Impact on Wetlands - A Spatio-temporal Analysis
| | | | |
| --- | --- | --- | --- |
| Wetlands | Area (Km2) 1971 | Area (Km2) 2010 | Net Loss (Km2) |
| Anchar | 17.50 | 11.24 | 6.26 |
| Dal littorals | 20.53 | 13.63 | 6.90 |
| Hokersar | 20.7 | 9.50 | 11.2 |
| Nambli-Narkara | 3.42 | 2.61 | 0.81 |
Cost of development
Anzar Khroo, a well-known environmentalist, holds population growth and unbridled development responsible for the mess. "The city [Srinagar] has grown 12 times in terms of population and 23 times in terms of the area between the years 1901 and 2011," he says. The phenomenon of encroaching wetland and using it for agriculture, commercial or residential purposes have led to not only the wetlands reducing in size but changed the nature of their function also, he notes.
Tahir Ganzanfar, an environmental activist, says the environment is not being taken seriously in Kashmir. "Maybe when life itself remains at stake, the environment takes second priority," he says, adding that the state machinery neither does any audit of environmental violations nor enforces rules. He alleges that the forest department has no research wing or even a record of wetlands. "Only bureaucratic hurdles exist."
Dr Arshid Jehangir, a faculty member at the University of Kashmir's environment sciences department says the state's satellite wetlands which used to be large catchment areas for rainwater have been completely encroached upon. New housing colonies like Nowgam and Bemina in Srinagar sit on what used to be wetlands. These satellite wetlands used to accommodate surplus water during floods. With these floodwater sponges gone defunct, Srinagar has become more vulnerable to floods than ever, he informs.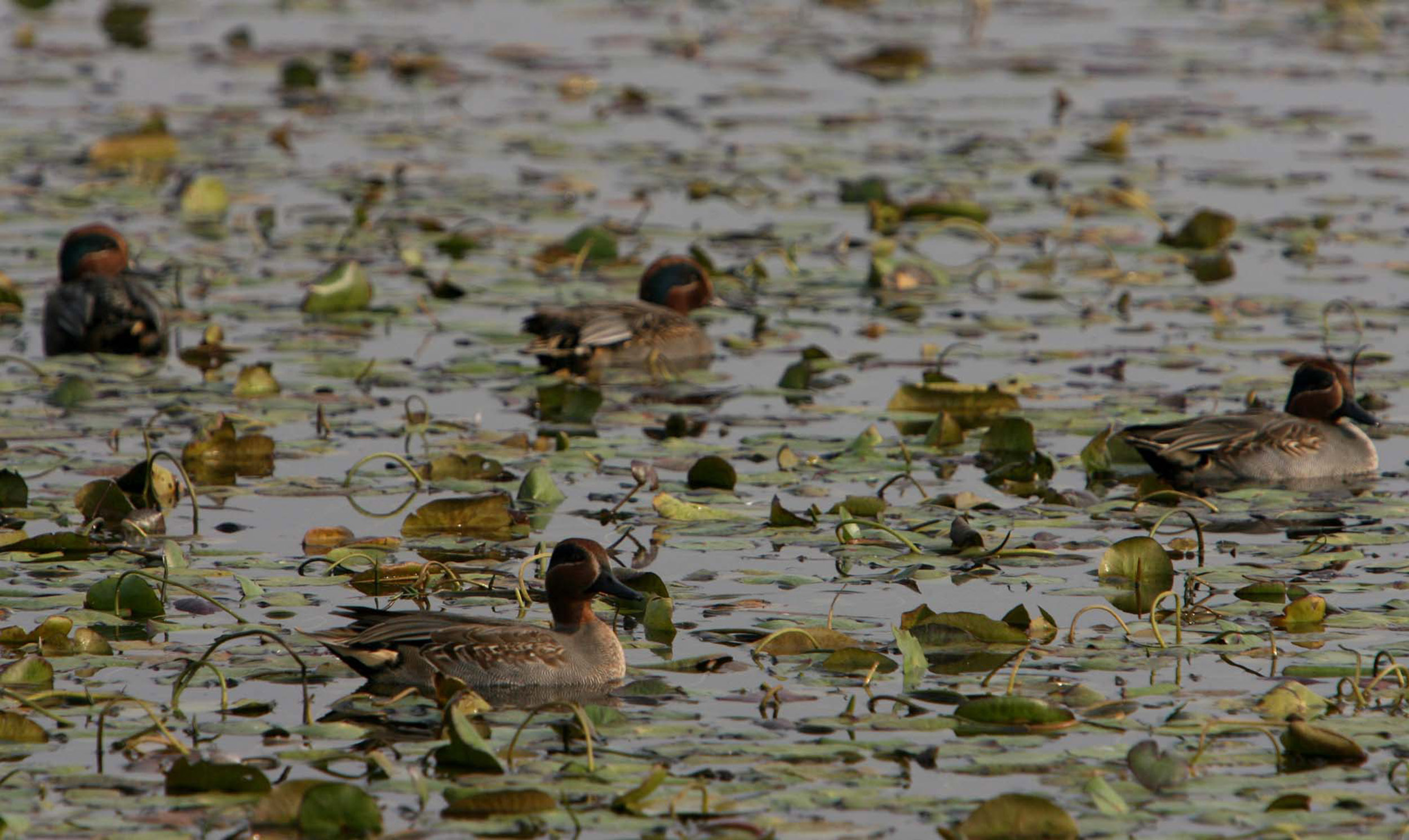 An asset to keep
Wetlands serve not only the area around them but also the people. According to Khroo, about 200 varieties of plants used to grow in Kashmir's wetlands, lotus and waterlilies being two of them. He says weed that would grow in these wetlands had the capacity to absorb toxins and purify water. With these wetlands encroached upon, he says, the wild vegetation too is affected.
Researcher Majeed Kak says some 96 types of plants used to grow on Kashmir's wetlands. He says they were used as fodder and vegetables, adding that the tribals would use some weeds to treat cuts and burns. During scarcity of vegetables in severe winters, the locals would cook and consume two types of aquatic weeds. Waterfowl and migratory birds would thrive on the seeds of these plants. With shrinking wetlands, this support system of the local populace is also getting wiped out along with flora and fauna that is endemic to the place, he says.
Also, highlighting the importance of wetland species, Sir Walter Roper Lawrence, the Settlement Commissioner of Jammu and Kashmir had noted in 1889 that Trapa natans var'-bispinosa (gour), an annual aquatic plant found in the freshwater wetlands, had saved the lives of half the population of Kashmiris during the two big famines in Kashmir.
Additional financial loss
The impact of wetland encroachment extends further to economic loss as well. Mala Ded (65) is bearing the brunt of it firsthand. She's the matriarch of a community that thrived on wetlands for centuries. They used to make traditional Kashmiri mats, called wagoove, from the wild vegetation that would grow on the wetlands. She says she did this job for 50 years with her husband. Her neighbour Muhammad Abbas (45) says 80 percent of people living in the interiors of Dal lake used to make wagoove for a living. Now 90 percent of them have shunned the trade, according to Abbas. On one hand, synthetic flooring reduced the demand for these traditional mats, and on the other, the supply of reed dwindled as wetlands around the Dal lake and Anchar lake shrunk from encroachment. Ded says that while earlier they could get a bunch of reed for Rs 15, now it commands a price of Rs 150. "We used to earn in lakhs. But now, there is hardly any income from these mats," Ded says. Those who used to make wagoove now earn a stipend of Rs 800-Rs 2,000 at the government handicraft centres in Dal interiors.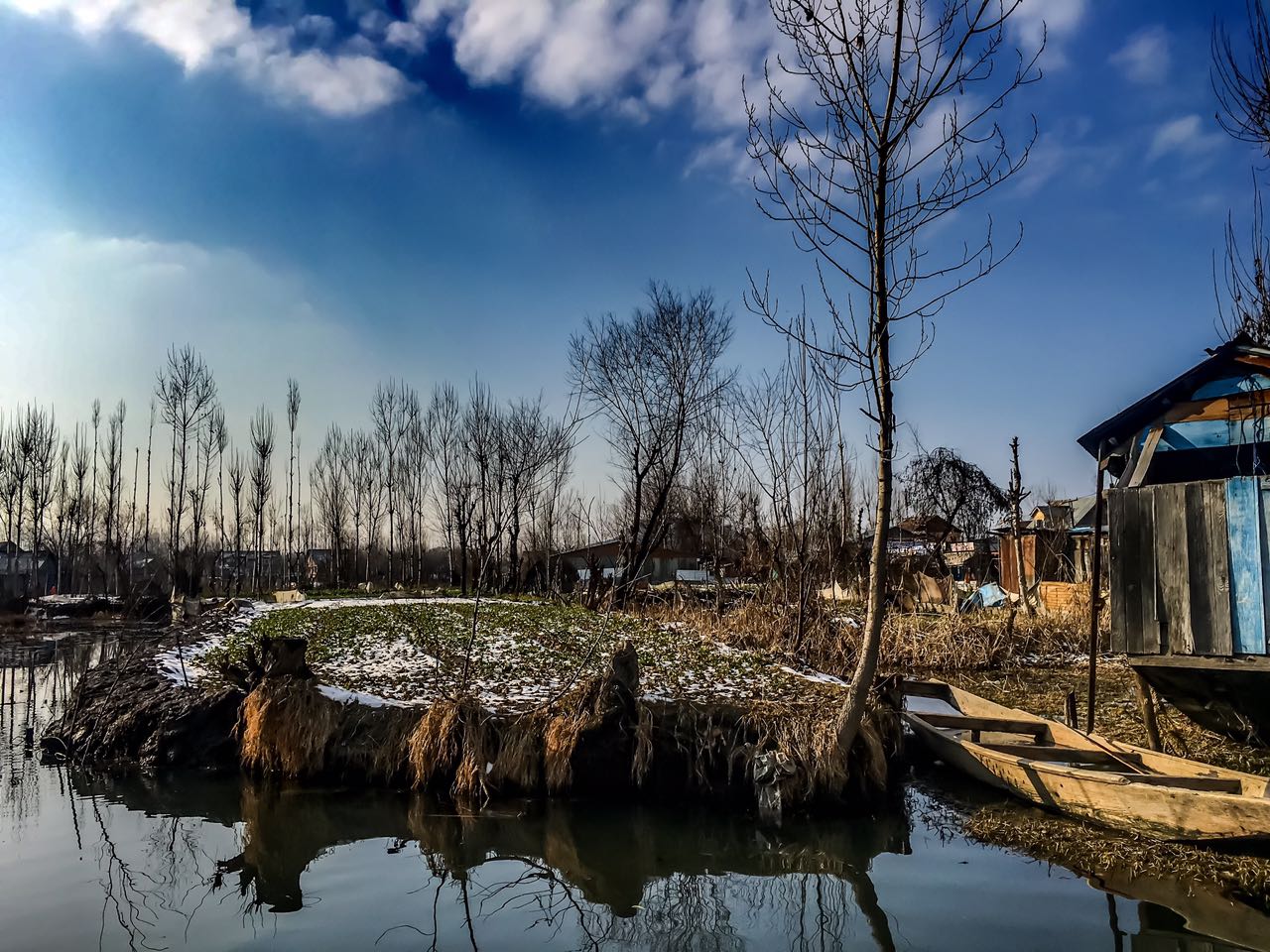 A portion of the wetland was filled inside the Dal lake when a motorable road was laid (illegally) by locals during last year's unrest. Abbas says nobody acted against the violators due to the vote-bank significance of the road. 
The wetlands around the Dal lake, Khushalsar and Babademb within Srinagar and Anchar, Shalbugh, Hokersar and Narkara wetlands along the periphery of the city have largely been transformed into residential colonies. Certain posh colonies in Srinagar, such as Mehjoor Nagar, Cooperative Colony, Gulburg Colony, Shah Anwar Colony etc along the highway in the south and the southwest of the city have come up mainly at the cost of precious wetlands. 
Vanished beauty  
Zareef Ahmad Zareef, a poet-historian of Kashmir, reminisces how wetlands used to lend unmatched beauty to Kashmir. "During my childhood, around 50 years ago, I have seen how wetlands in Bemina used to be an abode of migratory birds," he says. "They offered a spectacular view which could refresh even an exhausted traveller."
He says the state still has some wetlands but they need to be preserved proactively. He says there is no social or environmental leader at present, which is why the Kashmiris are losing their natural resources to greed, corruption and lack of accountability.
Inside the Dal interiors, Ded says, once a water body converts into a marshy land, people go and plant a tree and subsequently convert it to land. "They don't understand the importance of these wetlands," she says. "Ask me and my clan who have lost their identity and living because of this unabated exploitation."
(Safeena Wani is a Srinagar-based independent journalist and a member of 101Reporters.com, a pan-India network of grassroots reporters.) 
Posted by
Attachment