Basubai is a mother of three young children—Ajay (9), Manju (11) and Sonu (13). She is married to Mukesh Singh in Jamniamota village in Bakaner block in Dhar district, Madhya Pradesh. Annoyed by the yellowing and staining of the teeth of her children, she would always complain to her husband that the children do not listen to her. They do not clean their teeth properly which has resulted in this condition. "Who will marry our daughters when they grow up?" she would ask her husband in anguish. Whenever Manju or Sonu would speak or laugh, Basubai would scold them for their dirty teeth. 
Last year, a team from People's Science Institute (PSI), Dehradun visited Basubai's village and talked about the high fluoride content in the hand pump water. They showed the villagers some pictures of the deformities, both physical and dental, caused by fluoride. The pictures were similar to the condition of Basubai's children.
Basubai got puzzled. "Is that possible?" she asked herself. One day, she spoke to PSI's team member Heena when she was around in the village. Heena explained to her that fluoride is a mineral which is naturally present in the rocks of this region. When it comes in contact with water, it dissolves in it. That is why it is more in concentration (more than 1.5 mg/l as per WHO and BIS standards) in deeper water sources like hand pumps and tubewells as compared to shallow wells. 
Consumption of these sources of water on a regular basis results in a disease which is called fluorosis. Early stages of fluorosis affect the teeth, staining them and the joints of the body making them stiff. The amount of fluoride that can affect someone depends on a lot of factors like the amount of fluoride-rich water the person drinks, the kind of food eaten, the state of body's filtration system (the kidneys), the level and the need for calcium in the body, etc. Heena told her that the best way to prevent this disease is to change the water source. Everyone in the village should use only well water for drinking and cooking purposes as these are shallow water sources and do not contain high levels of fluoride. Basubai could not believe that water could cause such a disease.
She recalls that when she moved to Jamniamota village after her marriage, the open well near her house used to be the water source for the household. She reminisces, "The water was clean and soft. The well would never go dry". Slowly things changed for the worse. The water level started receding. So, hand pumps were dug by the Physical Health and Engineering Department (PHED) to tap the deeper aquifers. Like most other households in the village, she also started depending more on hand pump water for consumption because of convenience. But unknowingly, she was serving slow poison to her children through the water.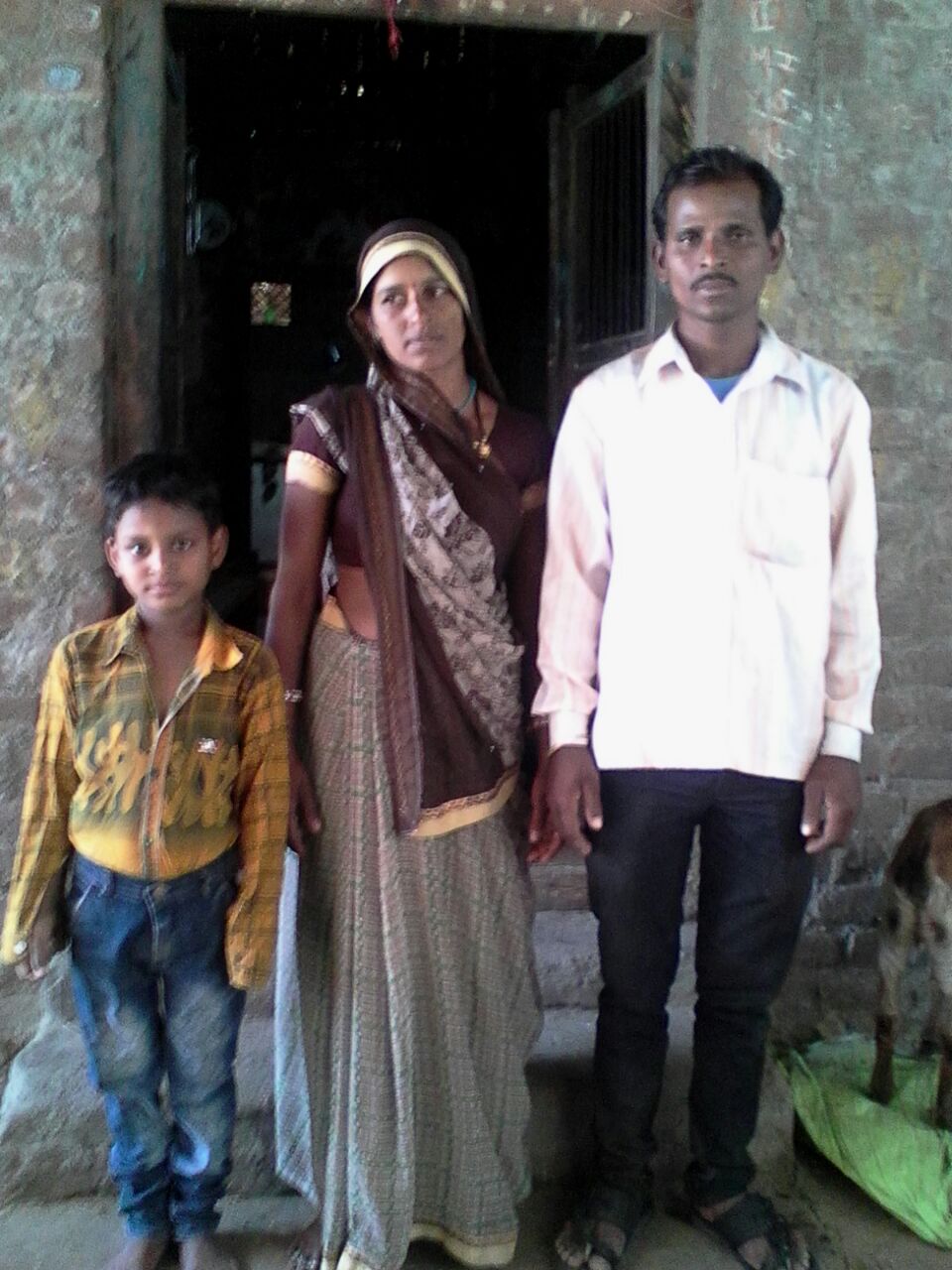 Basubai says, "Now that PSI has installed a community-based safe drinking water supply system in the village, I use only this water for cooking and drinking." She is thankful to PSI for explaining to her and others about fluorosis. Now that she has started using safe water, she is happy and hopeful that the teeth of her young children will not degrade further. She says, "Since I have got an answer to my biggest worry, I can now concentrate more on other things like personal hygiene and sanitation which PSI team keeps informing us about".
There are many others like Basubai's children who are struggling with fluorosis in this village. Some adults have also been afflicted by the same disease. But now, they all have some relief due to the safe drinking water supply system set up by PSI in their village. They are also a lot more aware of the geogenic presence of fluoride, fluorosis disease and ways to prevent this disease. 
Fluorosis is a crippling disease which is affecting vulnerable population groups and children in Dhar district of Madhya Pradesh due to dependence on groundwater for drinking water purposes. Interventions like handpump-based defluoridation units have been unsuccessful in this region owing to their difficult operation and maintenance. One very important fact about fluorosis is that it cannot be treated but it can be prevented. 
PSI has successfully implemented community-based safe drinking water supply systems in 13 villages of Dhar—Kalapani, Daheriya, Badichetri, Banjari, Chotichetri, Bankpura, Ratanpura, Jamnia, Dhanora, Jamniamota, Jamunpura, Talabpura and Sundarpura—with the financial support from Frank Water, UK. The interventions are based on local hydro-geological studies, groundwater quality monitoring and strong community mobilisation which resulted in the preparation of operation and maintenance plans, monthly contributions and sharing of groundwater by the communities. The initiative has set an example of decentralised management of groundwater resource and promises a sustainable and cost-effective solution to fluorosis without the use of defluoridation or filtration techniques. 
PSI is now extending the programme to 10 new villages using the Integrated Water Resources Management (IWRM) concept with funding and technical support from Frank Water and Arup, UK. This will help to recharge and sustain the water sources.
Disclaimer: The views and opinions expressed in this article are those of the author/s and do not necessarily reflect the policy or position of India Water Portal.
Posted by
Attachment