Till four decades ago, Ghaggar river in Haryana and Punjab was the lifeline of the villages along its course. Incessant dumping of sewage and industrial effluents, however, has choked the life out of it and has reduced it to a drain or nullah, as locals call it, now.
Its water has become unusable and those who come in contact with it, mostly farmers, contract skin ailments. Water-borne diseases such as jaundice and diarrhoea are common in settlements along the Ghaggar. Early greying of hair in children is another disturbing trend. Even the underground water has turned black or yellow in many places.
A seasonal river whose flow depends on rainfall, the Ghaggar originates in the Shivalik mountain range of Himachal Pradesh and flows through Punjab and Haryana. It dries up in the Thar desert in Rajasthan.
The water body that was once a blessing has turned into a bane. Dikarjeet Singh, the secretary of Ghaggar Bachao Sangharsh Samiti, which was formed in 2014 to save the river, rues that even tube wells have started pumping out black water.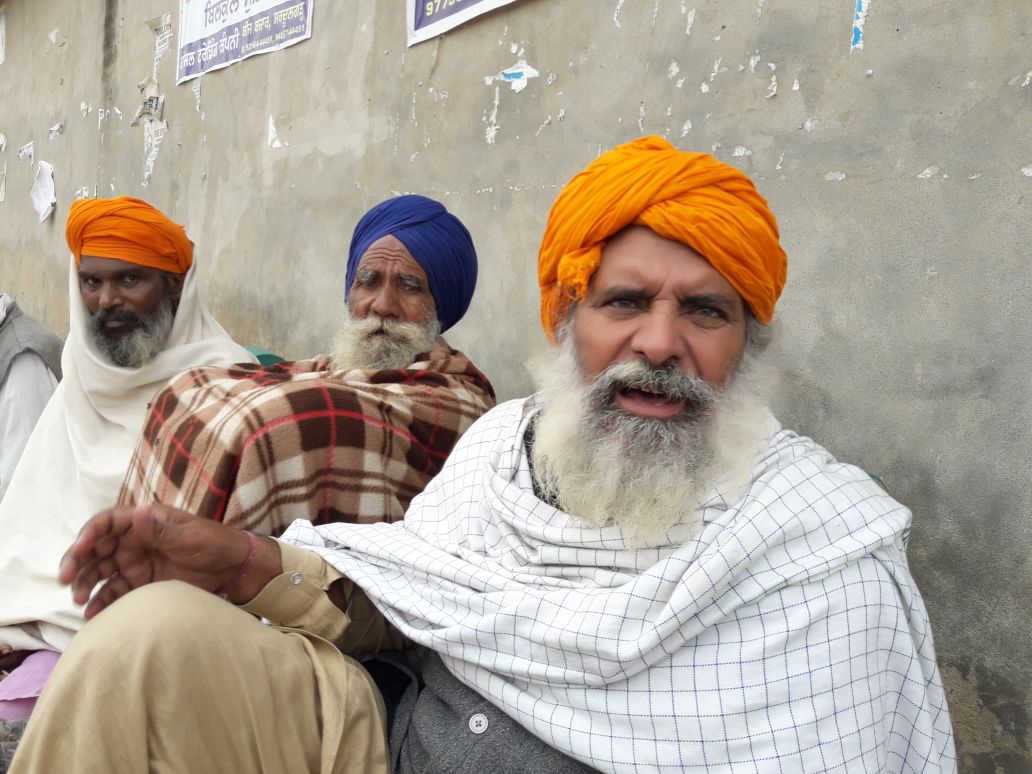 Fifteen villages in Punjab's Mansa district and Haryana's Sirsa district are bearing the brunt of this toxic change in the river. Karunesh Garg, a senior environmental engineer with the Punjab Pollution Control Board (PPCB), informs that the vulnerable villages in Mansa include Rorki, Phoos Mandi, Bhagwanpur Hingna, Lohgarh, Ranjitgarh, Vandran, Bern, Kalipur Dumm, Bhallanwala, Ahlupur, Kauriwada, Merpur Kalan, Meerpur Khurd, Sadhuwala, Bhunder Kahnewala, and Jhanda Khurd. In Haryana, the worst-hit villages are Mattar, Mar, Saharna, Beera Baddi and Mall Wala. Singh says such is the reputation of these villages due to its polluted water that nobody wants to marry off their daughters to any of these villages.
At Mattar village, 56-year-old farmer Balbir Singh shares how his skin has been itching severely for more than three years now. He says the nullah has contaminated the groundwater because of which farmers like him, who rely on tube well for irrigation, are facing skin and stomach ailments. The village panchayat of Mattar has submitted an application to the public health department requesting permission to dig borewells deeper and at least a kilometre away from the river bank.
A farmer from Vandran village near Sardulgarh in Punjab's Mansa district, Karam Singh Chauhan, 50, says that the farmer community depends on tube wells for irrigation but underground water has turned toxic in many villages. He says even at the depth of 70-80 feet, which is the standard depth for tube wells, one would find yellow water.
He says the cost escalates when boring has to be deeper than 100 feet but they have to do it to keep their crops healthy. He spent about Rs 2 lakh for boring a well 120-feet deep for his wheat crop.
Drain poses health risk
Dr Jasvinder Singh practises at Sardulewala village in Mansa district and attends to patients from three villages. He says he gets many patients with complaints of itchy skin, premature greying of hair (including children), diarrhoea and stomach-related ailments. He says farmers are the worst-affected with their skin becoming very sensitive.
Nem Chand Chaudhary, a senior doctor at Sardulgarh Civil Hospital, reveals that in 2017, at Ahluwal village, 400 out of 700 water samples were found to be infected with Hepatitis C.
Dr Ram Kishan Rathee, who runs Rathee Dental Nursing Home at Sardulgarh, says he receives many patients from nearby villages with complaints of fluorosis and pyorrhoea (a gum disease). "Daily consumption of contaminated water is responsible for these diseases," he says.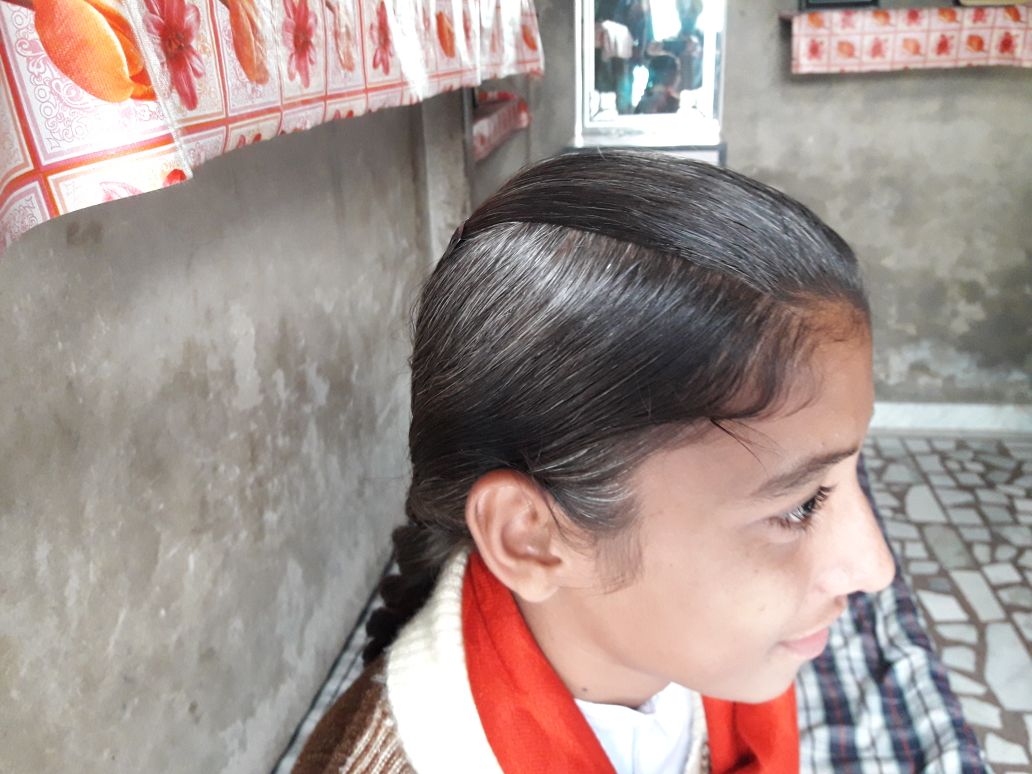 Who is responsible for this mess?
In 2014, the National Human Rights Commission (NHRC) took note of media reports about the Ghaggar's sorry state and the plight of those living along its course. It started pursuing the matter and learnt that the river received untreated effluents and sewage in Punjab and Haryana.
In April 2016, the NHRC forwarded its findings to the National Green Tribunal (NGT), which accepted the case and asked Punjab, Haryana and Himachal Pradesh to submit a status report on the river's pollution. Advocate Katyayni Chaubey, appointed by the NGT as amicus curiae (a friend of the court, who helps the court with information regarding the case), says the case is at an early stage. She says that all the states have submitted their affidavit to the environment tribunal and that she too has submitted her report and waiting for action. According to her, no state has taken responsibility for the pollution in the river.
Industries vs people
N.R. Munjal, vice president (north) of Bulk Drug Manufacturers Association, says pharmaceutical units in Punjab's Dera Bassi industrial area have installed 16 effluent treatment plants (ETPs) and are planning to set up a central plant as well. "In the next 18 months, a central plant to treat industrial waste will be ready. We have given a written undertaking to the NGT about its construction," he says.  
Punjab Pollution Control Board (PPCB) chairman K.S. Pannu informs that at Dera Bassi, they are monitoring industrial outflow round the clock and are conducting frequent sample checks to assess the pollution level in the Ghaggar. "Industrial pollution is no more the problem," he asserts. "It is the urban local bodies that are not coming up with STPs (sewage treatment plants)."
Municipal bodies say that depending on the capacity, the STPs cost anywhere between Rs 5 crore and Rs 100 crore to build, a cost too high for them.
The Ratia municipality in Fatehabad district of Haryana has only one STP of 6.5 million litre per day capacity. It takes care of 45 percent of the sewage generated in the town, says Jagdish Kumar, a junior engineer at the Ratia public health department. Sumer Singh, a municipal engineer at Ratia says it's not the municipality that should be constructing STPs but the public health department.
The main cities yet to get any STP are Ambala, Pehowa and Kurukshetra in Haryana, and Patran, Khanauri, Moonak and Sardulgarh in Punjab. The NGT has also directed the PPCB to set up ETPs at three major industrial hubs--Mohali, Rajpura and Mandi Gobindgarh--along the Ghaggar.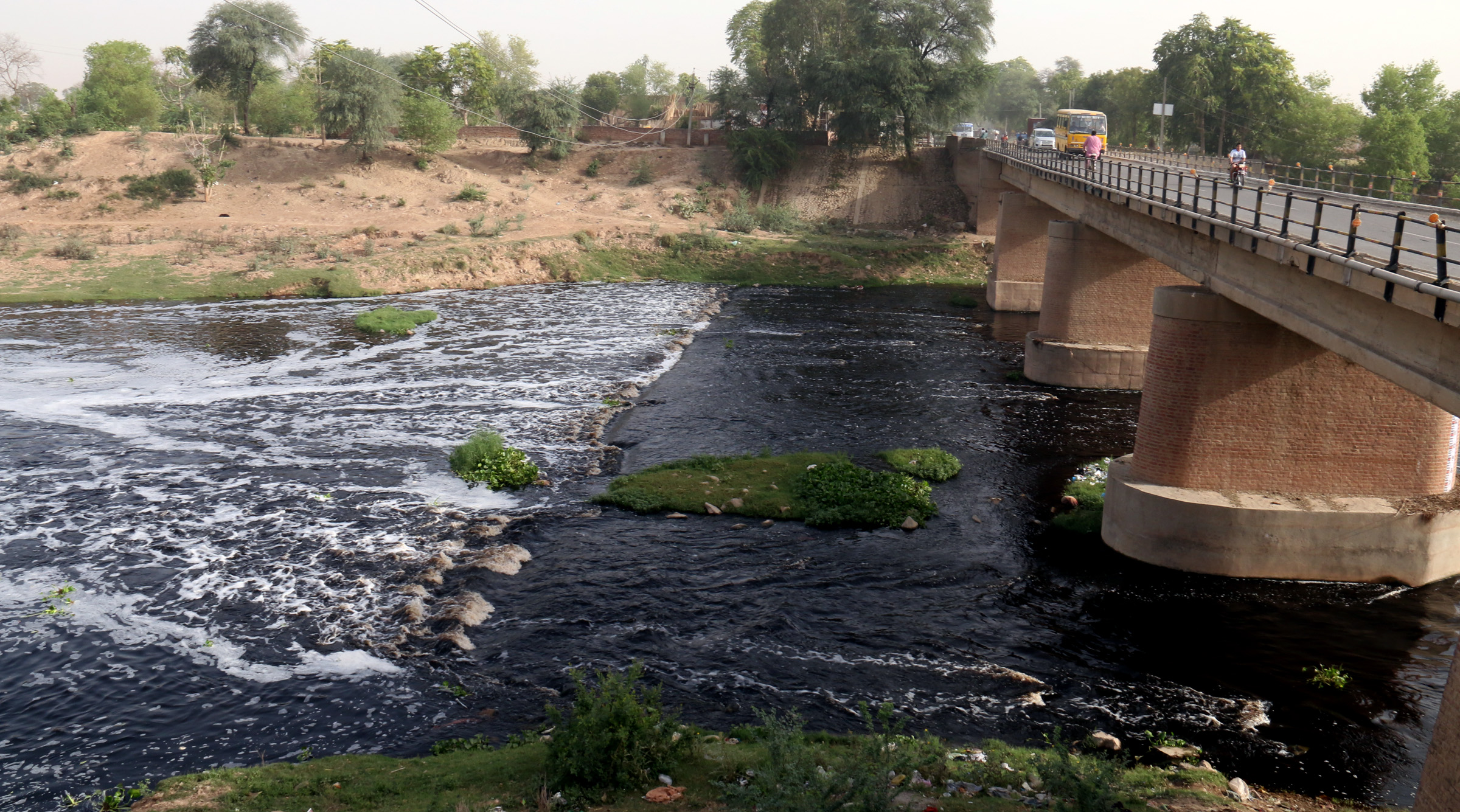 Both the states have submitted affidavits to the NGT promising to have the infrastructure ready by March 31, 2018.
From bad to worse
With the Ghaggar continuing to receive sewage and untreated effluents, its water quality has been going from bad to worse. One parameter that establishes this is its biochemical oxygen demand (BOD), which is the amount of oxygen a water body needs to be able to decompose organic matter.
A BOD of more than 30 mg/l indicates that the water is severely polluted, according to a Central Water Commission report. In 2009, the highest BOD concentration in the Ghaggar was recorded at Sirsa Dabwali at 128 mg/l, while it was around 84 mg/l in Sardulgarh. In 2017, the downstream locations recorded frightfully high BOD: 830 mg/l at Kalka, 242 mg/l at Kaithal and 241 mg/l in Ratia town (all in Haryana) and 241 mg/l at Patiala in Punjab.
With the river's condition continuing to deteriorate, people living along its course have staged many protests. Renowned environmentalist and Padma Shri awardee Balbir Singh Seechewal is among those who have lent support to the cause. In April 2017, he took part in the Ghaggar Bachao, Zindagi Bachao (Save Ghaggar, Save Life) campaign on the invitation of Jat Samaj Sabha, an organisation of the Jat Sikh community. Tejinder Aujla, secretary of the sabha says, "We have often raised the issue of the river's pollution and the problem it causes to people living along it."
Dikarjeet Singh says they had held public meetings in January and February of 2016 ahead of Assembly polls in Punjab. "We have forced political party candidates to take an oath that they would work to save the Ghaggar but they forgot their promise after getting elected.
Piped water supply in villages has somewhat alleviated people's dependence on the Ghaggar but since it is the toxic underground water that is treated and supplied, it is not 100 percent fit for consumption. They wistfully remember the time when the river was pristine, even sacred. Chauhan recalls that in days gone by, the paathi (Sikh priest) in the village gurudwara would ask them to fetch water from the Ghaggar to prepare prasad and langar (community kitchen food).
"We learned to swim in this river. It is now a drain," laments Sukhpal Singh, 65, former panchayat president of Rorki village in Sardulgarh. "No child would dip his finger in it now."
(Sat Singh is an independent journalist and a member of 101Reporters.com, a pan-India network of grassroots reporters.) 
Posted by
Attachment