Nature has bestowed Kashmir valley with abundant water resources on which its vast population depends in myriad ways since time immemorial. People derive their livelihoods from the numerous direct and indirect activities related to these water bodies. In spite of their immense benefits, the water bodies and wetlands are treated as wastelands in Kashmir. As a result, these water bodies have become victims of human interventions, with the entire valley speckled with dumping sites and massive encroachments on the water bodies by the land grabbers and mafia.
At numerous places, both intentionally and unintentionally, the solid and liquid waste is directly allowed to drain into water bodies sans any treatment mechanism, from various point and non-point sources, without considering the negative repercussions on the overall health of these water bodies.
This article highlights the condition of Srinagar's important water bodies and channels, which were once its arteries, but today present a blocked, filthy and stinking picture due to the presence of excessive solid wastes and untreated sewage dumping.
This has happened mainly because people have resorted to littering and dumping of domestic and industrial wastes deliberately into the water bodies, which has deteriorated the physio-chemical and biological parameters of these valuable resources, caused stagnation of water, and constrained the flow of water.
Chunt Khul is one of the main diversion channels of River Jhelum in Srinagar city. It also regulates the levels of Dal Lake by allowing the lake water to flow into Jhelum. The water body is in a poor state and has turned into a cesspool filled with all types of solid wastes like plastics, polythene, garbage, etc. These have accumulated over a period of time and have now taken the shape of a landmass. Though an important water body, the channel is now in a filthy state.
Since, the water carriage system of Srinagar city is interconnected, any waste or untreated sewage eventually makes its way into the Jhelum, which has several water supply and lift irrigation schemes downstream. This has the potential to adversely affect the drinking water parameters, quality of irrigation supplies and the river's aquatic life.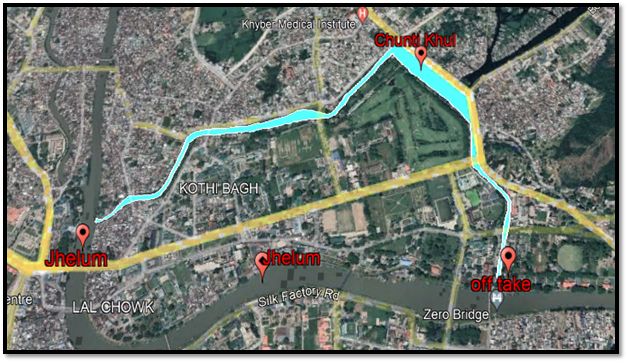 Likewise, the Nallah Amir Khan which offtakes from the Nigeen Lake and drains into Gil Sar Lake, was also in a pathetic condition for a long time. An unprecedented and commendable cleaning and conservation was done of Gil Sar Lake, Khushal Sar lake and Nallah Amir Khan job by an NGO, the Irrigation and Flood Control (I&FC) department as well as other departments.
Yet, waste is still being thrown into the Nallah Amir Khan, which lies in the catchment of the famed twin water bodies of Gil Sar and Khushal Sar Lake. So, the waste finally ends up in these two water bodies. This is also evident from the deposition of enormous solid wastes at the Nallah Amir Khan gate when it remains closed.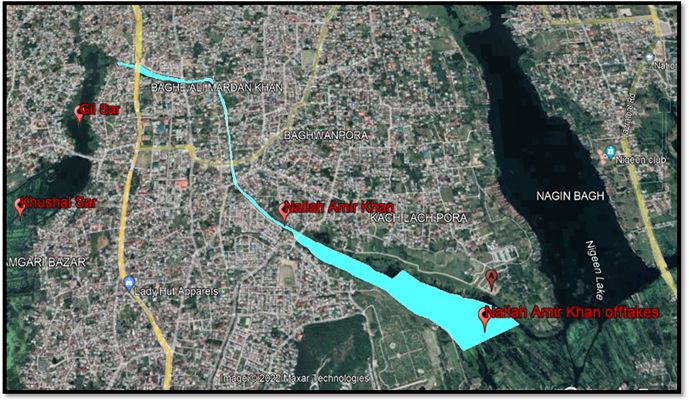 In order to prevent these two lakes from getting filled up again with solid wastes and polluted sewage, it is imperative to adopt a foolproof mechanism to prevent pollution in Nallah Amir Khan. The efforts put in by the NGO, I&FC department and other concerned departments should not go into vain and everyone in general and the local inhabitants in particular have a social responsibility towards ensuring the maintenance of its status and character.
Jammu and Kashmir Water Resources (Regulation and Management) Act, 2010: The way forward
Considering this, an attempt has been made to address the root problem of illegal interference of the water bodies by the offenders, which involves pollution, encroachments, illegal extraction of bed material, etc., in light of the Jammu and Kashmir Water Resources (Regulation & Management) Act, 2010, which was enacted by the erstwhile state legislature of Jammu and Kashmir and is in force since 10-11-2010.
Although this Act has been uniquely drafted, and covers both technical and non-technical aspects in detail, we are unfortunately unable to avail its full benefits on ground in resolving the plethora of problems that surface in the water resources sector.
The Act under Section (3) makes it very clear that every water source in the State shall remain the property of the Government. The relevant section is reproduced as under:
"(1) Every water source in the State is, and shall remain, the property of the Government and any proprietary ownership, or any riparian or usage right, on such water resources vested in any individual, group of individuals or any other body, corporation, company, society or community shall, from the date of commencement of the Act, be deemed to have been terminated and vested with the Government. (2) No person shall use any water from any source (surface or ground), or collect or extract any material from such water sources except in accordance with the provisions of the Act".
Thus, there is a need to bring in stringent laws which will ensure the protection and conservation of water bodies and simultaneously emphasis has to be laid on rejuvenation of water bodies particularly those at the brink of their end. Presently, the statutory provisions laid down in the Jammu and Kashmir Water Resources (Regulation and Management) Act, seem to be the only way out to achieve this greater objective of the protection and improvement in the physical integrity of water sources.
Offences and penalties in light of the Jammu and Kashmir Water Resources (Regulation and Management) Act, 2010
The table below provides a concise understanding of the provisions as regards the offences and penalties as brought in the various sections of the Jammu and Kashmir Water Resources (Regulation & Management) Act, 2010 inter-alia pollution, encroachments and illegal extraction of bed material, which, if implemented in letter and spirit, may prevent further deterioration and illegal interference with the water bodies by offenders by way of imposing penalties and also generate awareness with a view that interfering with the water bodies can involve strict punishment as warranted under law.
Sections of the Act

Offence

Punishment

Compounding Authority

Section 156 (1)

 

(a): obstructs or encroaches upon any irrigation or hydraulic work.

(e): obstructs tapping source of water.

(f): disposes off house sewage or other house hold waste into any water source

In accordance with section 181 of the Jammu and Kashmir Water Resources (Regulation & Management) Act, 2010, the penalties against the offences are:

Fine up to Rs 10000

Imprisonment up to 1 year.

Or both.

Continuance offence: Rs 1000 for each day of continuance.

Executive Engineer. Note: Compounding Authority of an offence enters the details of the offence committed, the name and address of the offender, the amount received from him for compounding the offence, the date and time of such compounding and the name and designation of the compounding authority in a book to be called the compounding book in form XV prescribed under Rule 73 of the Jammu and Kashmir Water Resources (Regulation and Management) Rules, 2011.

Section 158

Willfully damages, alters, enlarges or obstructs any irrigation work.
 Without proper authority, interferes with the supply or flow of water, in or from irrigation work so as to endanger, damage or render such irrigation work less useful; or
Obstructs tapping source of water in any water source.

An Assistant Executive Engineer In charge of any irrigation work, may take any person into custody without a warrant, and shall without unnecessary delay take him to a Judicial Magistrate, or in his absence, to the nearest police station

 

Section 168

(d): constructs any work around any water source likely to change the behavior of the flow of water.

(e): extracts any bed material without taking prior permission in writing from the authority competent to grant such permission with respect to quantity and the location.

(f): constructs any building, railing, platforms on the slopes of an embankment.

First conviction up to Rs 5000

Second Conviction up to Rs 10000

Any subsequent conviction: (a) Fine up to Rs 15000; (b) Imprisonment up to 1 year (c) or both

Executive Engineer.
Conclusion
It is high time that the above provisions as enshrined in the Jammu and Kashmir Water Resources (Regulation and Management) Act, 2010 are translated on ground so as to restore the pristine water bodies or at least arrest the rate at which these are suffering on account of man-made interventions is reduced.
The public in general and environmentalists and the technocrats, in particular those who are already working in the direction of protecting and restoring our water bodies should go through the Act holistically so that they are fully equipped both technically and legally to take measures which will ensure sustainable management of our water resources.
Authors
Mohammad Akeeb Dar, Assistant Engineer, JK-Jal Shakti Department
Miftah Alam Buch, Assistant Executive Engineer, JK-Jal Shakti Department
Posted by