What's not to like about sugarcane juice in summer? Would you drink as much of it or more if you knew that those selling it in Pune where I live, are people who have migrated temporarily from drought-affected villages in rural Maharashtra, and are counting on juice sales to get through the whole year?
This year's drought has affected 21 districts in the state and 27,723 of 43,000 villages--many of which are in Marathwada--have been declared drought-hit. Although places like Latur, which is one of the worst affected, have somewhat rejoiced with the arrival of water-laden trains, many villagers from there as well as neighbouring drought-hit regions are fleeing to places like Mumbai and Pune in a desperate hope to sustain their livelihoods.
"Most of the people who work on these sugarcane crushing carts hail from Latur, Beed, Osmanabad and Ahmednagar districts of Maharashtra", says Laxman Pavshe, himself a farmer from Beed who relocated to Pune a few years ago. He now works as a driver. "The last two years have been the worst, but summers are always bad in these districts and water scarcity is always a problem, which is why many people come to the cities to find work", he says.
Sambhaji Temkar and Nandatai
50 year old Sambhaji Temkar hails from Pathardi taluka of drought-prone Ahmednagar district. He started coming to Pune over the last few years along with his wife Nandatai to sell cane juice during season since water scarcity during the summers is a common problem in his village. 
"The last three to four years have been extremely bad for us. I had planted oranges in my land of 2.5 acres in the hope of getting a good yield. There have been no rains, and all my plants wilted. Can you imagine how difficult it has been for me? They say the government provides help to farmers who have suffered due to lack of water over consecutive years. I have not received any help so far", says Sambhaji.
The drought has been getting worse over the last two to three years. Sambhaji had to sell his cattle as he found it very expensive to maintain it for his small piece of land. Lack of water has led to no yield in the last three years and he and his family who earlier survived on produce from his land, now have to buy food grains like jowar and bajra from the market. He adds, "The situation in our villages is very grim. There is no water for drinking, forget about farming. We have to get water from tankers. No work, nothing to eat, so we come to the city in the summer with the help of our relative here in Pune". 
"It is not very easy to push the mobile sugarcane crushing cart in the scorching heat on the streets", he says. Sambhaji has four children, two sons and two daughters. He married off one of his daughters recently for which he took a loan. His hope is to repay this loan by working in the city.
They work from 9 am to around 9 pm and sell one glass of juice for Rs 15. They earn around 500 Rs a day if the sales are good. "We will stay here for four months and leaving aside the rent for the room that we share with others who hail from our village, rent for the cart, buying sugarcane, ice and other raw materials, we use the remaining earnings over the year to survive back home. There are many people from Pathardi taluka who do the same thing", says Sambhaji.
"I have sent my son to study engineering in Nagar college, and have taken a loan for that as well", informs Sambhaji. "I am also trying to educate my younger daughter so that they can step out of this trap of poverty. Do you think we like to work like this? Like animals and leave our homes and come here? Farming does not take you anywhere anymore, being a farmer is no longer enjoyable, respectable nor affordable."

The situation is the same for others who come to the city.
Vitthal Palve and Sindhu
Vitthal Palve has 3 acres of land in the same taluka of Ahmednagar. He planted cotton and jowar in his fields last year, but they wilted because there was no water. Desperate to make ends meet, he and his wife Sindhu have been coming to Pune for the last three to four years to earn their living during the summer months. Their children--like most others in similar situations--are back in the village with their parents.
His mobile cane juice crusher cart has a motor. He pays a rent of around 500 Rs per day, plus buys sugarcane from the market in Pune for which he pays Rs 150 daily for 13 to 14 sticks. He also spends Rs 200 to bring the sugarcane from the market and Rs 100 on ice and lemon. It doesn't end there. Another Rs 130-150 is spent on 2 litres of petrol for the motor. They stay in a small, rented room around 2 to 3 kilometres from their area of work for which they pay a monthly rent of Rs 2000-3000. They buy grains from what they earn and cook in their room on a chulha, with the leftover sugarcane husk as fuel.
Vitthal has only recently fitted the motor for which he also has to pay extra rent, but he used to get very tired pushing the handle of the crusher all day long. He and his wife tell me that it is equally tiring to push the machine as far as 10 kilometres to and fro everyday from the area where they sell juice to give it back to the owner.
"It is not easy to survive in the city, it is real hard work", states Vitthal. "I have joint pain everyday, we roam around the whole day from 9 am to 10 pm. We hardly have the place and time to sit and eat, do you know both of us have lost 5 kilos since we have come to the city?"
Vitthal adds, "I am worried about my children's education. I don't want them to be farmers, I do hope they get educated and get a good job in the city. No one values farmers, there is no one who tries to understand our woes. We are not beggars, we have an occupation, but with no water and financial support, what can we do?"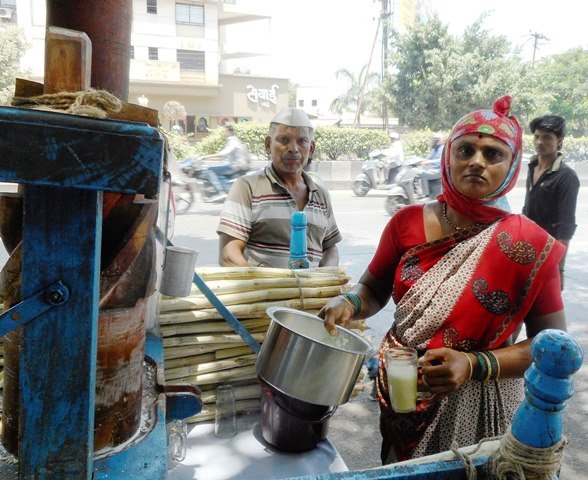 Vitthal and Sambhaji are examples of a large number of farmers and small landholders who are driven in desperation to leave their families behind in search of temporary work in the city to make ends meet. They do plan to return to their homes and land though, in the hope that the monsoon will be good this year and that they will be able to support their families. However, the desperation in the voices of these farmers to educate their children to help them move away from farming and take to white collar jobs is palpable, as another year of crop failure and lack of rainfall threatens the economy, agricultural output and the very survival of small scale farming in Maharashtra.
Other farmers in these villages are much worse off as they have been forced to abandon their land and homes and come to the cities in search of work. They take up a range of occupations in the construction industry, as security guards, domestic helpers and so on, and live in shanty settlements in the outskirts of Pune and Mumbai. As bad as this might sound, there are farmers who are still worse off. Those are the ones who commit suicide. As many as nine farmers everyday are reported to have killed themselves last year in Maharashtra.
Despite this, Vitthal and Sindhu are cautiously hopeful. "If it rains this year, we can go back to our fields and everything will be back to normal again", Sindhu says with a wan smile.
Having read the recent news that a good southwest monsoon is expected, I only hope that Sindhu will continue to smile in a couple of months time.  
Posted by
Attachment