India's orchids are under pressure from illicit harvesting and exploitation for illegal trade. Of the vast diversity of 1256 orchid species recorded in India, 307 are endemic to our country, and only 11 species are protected under the Wildlife (Protection) Act, 1972.
In order to highlight the threat to orchids from illegal trade and to increase the capacity of the enforcement officials to identify the 11 protected orchid species, TRAFFIC and WWF-India have developed a poster on the legally protected orchid species whose trade or any other form of utilisation is prohibited.
The poster was released recently ahead of Save the Himalayas Day since India's Himalayan region is home to many orchid species, with Eastern Himalayas exhibiting maximum orchid diversity.  
The new poster, "Legally Protected Orchids of India" combines beautiful illustrations of orchid flowers and related information and will aid enforcement agencies in identifying the orchid species in the illegal trade. The poster will also help to create awareness about orchids among students, educators, and the general public.
Mr Ravi Singh, Secretary General & CEO, WWF India, said, "Orchids are found throughout the Himalayan region of India. Time and again, new orchid species are discovered in the region, reflecting the hidden trove of floral treasures of the Himalayas. Conservation measures in the Himalayan region are key to conserving myriad species, including orchids and the ecosystems they represent".
Dr Merwyn Fenerandes, Coordinator, TRAFFIC's India Office, further added, "Such vast orchid diversity, unsustainable harvesting practices and illegal trade coupled with limited protection measures and lack of awareness makes the future of orchids a serious concern. By issuing this identification poster, our joint efforts to stop the illegal orchid trade gets now a strong and considered boost."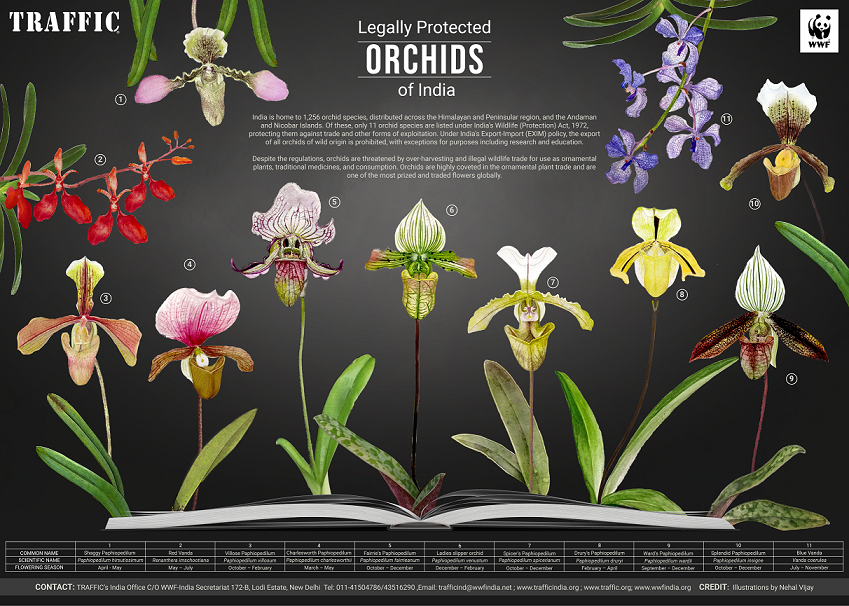 Export of orchid species specified under the Schedules of the Wildlife (Protection) Act, 1972, CITES (Appendix I), and in the EXIM Policy of India is prohibited.
IUCN Global Red List has assessed about 1641 orchid species (July 2020) of which 747 are categorised as 'threatened' with 197 species listed as 'critically endangered'.
Illicit harvesting and overexploitation of orchids for the illegal wildlife trade is a significant increasing threat to these plants in the wild. Orchids are illegally collected and traded for ornamental plants, traditional medicine, and also consumed as food. The increasing demand for orchids for various purposes leads to unsustainable harvesting practices in India. Globally this second-largest family of flowering plants has some of the most prized and traded flowers. Protected species of orchids such as Blue Vanda and Ladies Slipper have been found in wildlife seizures across India.
There is a severe threat to species like Renanthera spp and a few slipper orchids such as Cypripedium, Paphiopedilum, due to illegal harvesting.  Orchids like Eulophia dabia and Dactylorhiza hatagirea populations are succumbing to overharvesting. Crepidium acuminatum, Habenaria edgeworthii, and Habenaria intermedia are collected from the wild for their medicinal use. They are used in making Chyawanprash, a popular dietary supplement in India. 
One of the most pertinent threats to orchids today is habitat destruction and degradation. Climate change too is harming the species as it has a significant impact on pollination services and affects the plant communities where orchids exist. Since orchids are highly sensitive to the climatic changes in their habitat and have extensive, interconnected symbiotic relationships with organisms like insects, plants, and fungi, their presence is a positive indicator of the healthy ecosystem and the biodiversity of their habitat. Orchids play a vital ecological role by constituting a crucial element of any forest ecosystem through a highly complex mutual relation with other organisms.
On the International Day for Biological Diversity in May this year, TRAFFIC and WWF-India released a factsheet titled "Orchids: Factsheet on India's orchids in illegal wildlife trade". The Factsheet was a compilation of beautiful images and well-researched content on general information and facts about orchids, their legal status, and threats.
Both the factsheet "Orchids: Factsheet on India's orchids in illegal wildlife trade" and the poster "Legally Protected Orchids of India", by TRAFFIC and WWF-India is an effort to bring conservation and protection issues related to orchids to the forefront. Both of these are freely available for use and sharing.
To secure the future of orchids in India there is a need to -
Raise awareness among local people to encourage them to preserve the wild orchid species in their area.
Include medicinally and ornamentally valuable orchids such as Renanthera, Cypripedium, Paphiopedilum, Habenaria intermedia, H. pubescens, Eulophia dabia, Dactylorhiza hatagirea, threatened by illegal trade and overexploitation the various Schedules of Wildlife (Protection) Act, 1972 of India for protection and to restrain their overharvesting from the wild.
Promote sustainable and traceable use of threatened orchids in legally permitted areas through village-level Biodiversity Management Committees as an additional source of livelihood.
Notes
Every year on 9 September, India celebrates "Save the Himalayas Day' to spread awareness about the Himalayan ecosystem.
Export of orchid species specified under the Schedules of the Wildlife (Protection) Act, 1972, CITES (Appendix I), and in the EXIM Policy of India is prohibited.
Download "Orchids: Factsheet on India's orchids in illegal wildlife trade" at https://www.traffic.org/publications/reports/factsheet-on-orchids-in-indias-illegal-wildlife-trade/
Posted by