Women Water Champions is an initiative by National Water Mission, Ministry of Jal Shakti, the Government of India, UNDP India and Stockholm International Water Institute (SIWI) to underscore the critical role of women in water conservation and management and promote women's leadership in water governance.
Through this initiative supported by UNDP-SIWI Water Governance Facility (WGF), 41 women contributing at the grassroots level were felicitated in June 2021 for their remarkable contributions to water-conservation efforts in the country.
Foundation for Ecological Security is proud to share that out of the 41 water champions identified, five women - Pareshamma, Sarju Bai, Sagni Bai, Laichi Bai, and Gayatri Sharma - are from its project areas in Andhra Pradesh, Madhya Pradesh and Rajasthan.
Here, we share the story of Sarjubai Meena who resisted the illegal digging of bore wells and successfully protected the village's water commons, while also bringing women to the forefront of water governance. 
Amritya village, located in the Mandalgarh Block, Bhilwara District of Rajasthan, is marked by an acute paucity of water resources coupled with a reduction in the groundwater table, largely due to illegal digging of bore wells and extraction of water for mining.
The persistent nature of these issues had led to surface water bodies remaining dry for most months of the year, thereby constraining crop productivity and fodder availability in the area.
Sarjubai Meena, a small farmer from Amritya, had attended several training sessions on themes of crop water budgeting and groundwater monitoring that were organized in her village. She was deeply influenced by the information and activities discussed during these sessions and started relating them to the water crisis in her village. She realized how the illegal digging of bore wells was affecting the village's common lands, especially the water commons. She started campaigning for better water governance, while also pushing for the involvement of women in ensuring the same.
Sarjubai managed to mobilize the village through the formation of a local village institution, the Amritya Watershed Development Committee, and worked towards the improvement of land and water resources in the village. The committee collectively developed rules and regulations to protect and manage their commons. They undertook community-driven initiatives such as planning and implementing low-cost stone slab innovation structures to recharge groundwater, while also undertaking measures to protect their forests and pastures.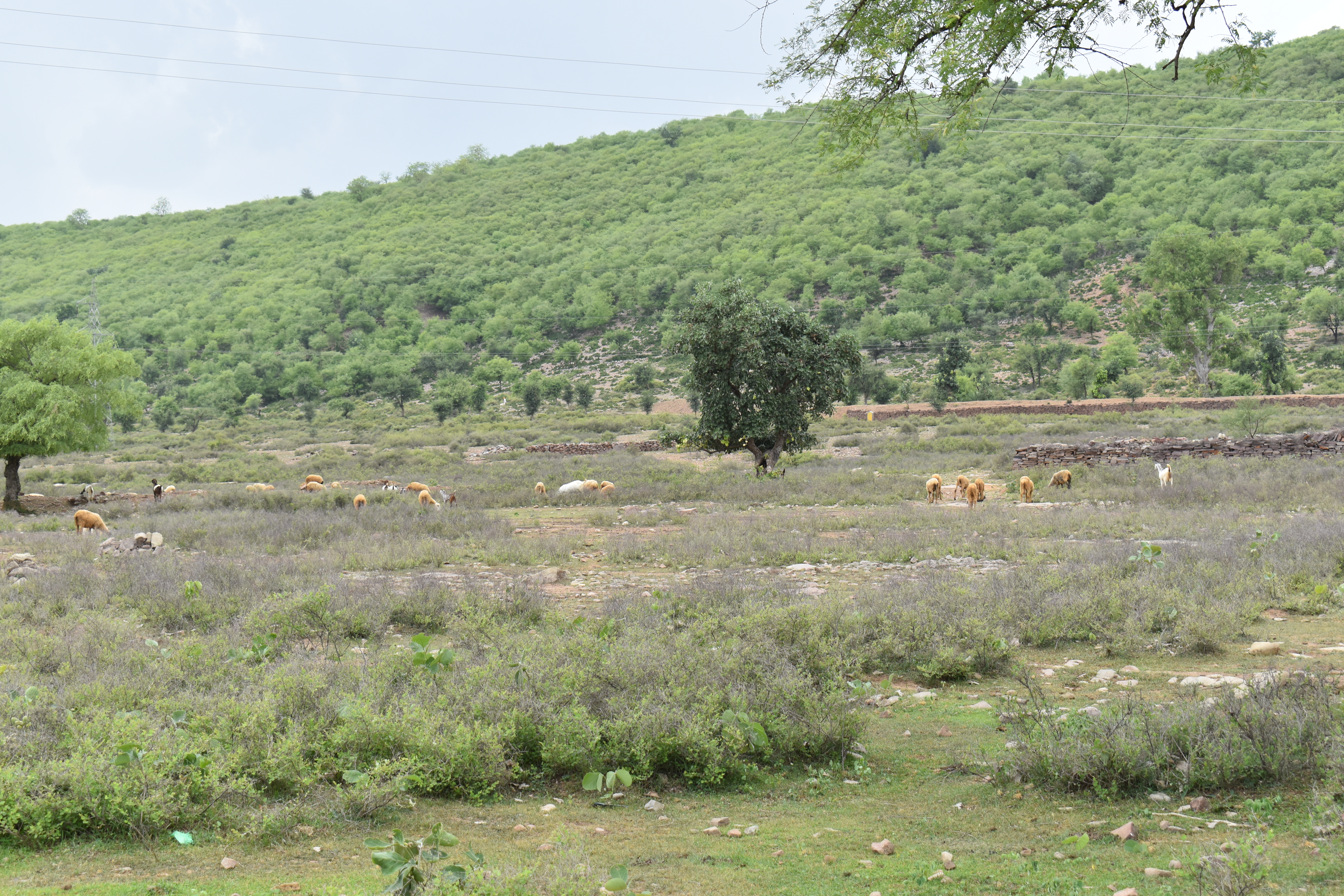 While actively mobilizing the community to undertake the conservation of commons on one hand, Sarjubai strongly resisted the digging of bore wells on the other. With the support of the village community, she managed to bring this to a complete stop.
All these efforts resulted in the gradual regeneration of the nearby commons and the community began to witness an increased availability of fuelwood and fodder throughout the year, which saved them a significant amount of money that would have otherwise been spent on purchasing these resources.
Eventually, pastureland development works and activities related to water conservation were leveraged under MGNREGS as well, leading to further regeneration of the village commons.
Sarjubai's persistent efforts to involve women in contributing to critical decisions on shared resources has also been successful; women members of the village community, who would earlier shy away from attending village meetings, now actively participate and take lead in these discussions. Today, there is a huge difference in the socio-economic and ecological conditions of the village community.
Sarjubai's innovative advocacy has led to Jal Swavalamban, or self-sufficiency, in terms of water availability in the village.
Sarjubai continues to work for commons restoration. She is a member of a federation of village institutions working on conservation and management of commons (Paryavaran Prem Samaj) in 125 habitation-level institutions, across two blocks, with representatives from pastureland development committees, watershed committees, forest protection committees, and other community members. She is also actively engaged in taking her vision of "Save nature, save commons, save water, save life, save time and treasure women" to all blocks in the district.
Posted by