Pesticides and fertilisers have been used indiscriminately to increase crop yields and agricultural output in India and their excessive use has been feared to threaten human health as well as biodiversity through contamination of surface and groundwater resources. 
And this is happening even in the land often called as paradise on earth, Kashmir! Large amounts of pesticides continue to be used by fruit growers, especially in areas where horticulture is the predominant commercial crop informs this paper titled 'Health risk assessment of pesticide residues in drinking water of upper Jhelum region in Kashmir valley-India by GC-MS/MS' published in the International Journal of Analytical Chemistry.
What are pesticides
Pesticides are natural or manmade and are used to control pests, weeds, and diseases in plants and include:
Insecticides: Include Carbamates (Carbaryl), Organochlorine (Endosulfan), Organophosphorus (Monocrotophos), Pyrethroids (permethrin), Neonicotinoids (Imidacloprid), various pesticides such as Spinosyns (Spinosad), Benzolureas (diϐlubenzuron), Antibiotics (abamectin), 
Fungicides: Include aliphatic nitrogen fungicides (dodine), amide fungicides (carpropamid), aromatic fungicides (chlorothalonil), dicarboximide fungicides (famoxadone), dinitrophenol fungicides (dinocap), and others. 
Herbicides: Include anilide herbicides (ϐlufenacet), phenoxyacetic herbicides (2, 4-D), quaternary ammonium herbicides (Paraquat), chlorotriazine herbicides (atrazine), sulfonylurea herbicides (chlorimuron), and others. 
Rodenticides: Classified as inorganic rodenticides (Zinc phosphide, Aluminium Phosphide) or organic coumarin rodenticides (bromadiolone, coumatetralyl)
There are 293 pesticides registered in India of which 104 continue to be produced and used despite being prohibited in other countries. India is the world's fourth largest producer of pesticides and the Indian pesticides industry was worth Rs 214 billion in 2019 and is expected to reach Rs. 316 billion by 2024. 
Pesticides threaten biodiversity as well as human health
Over dependence and indiscriminate use of pesticides poses a threat to biodiversity and human health. Pesticides can be easily transported into the ground and surface water and contaminate the aquatic ecosystems through infiltration, spray drift, drainage water, runoff, leaching, and atmospheric deposition. This may happen due to improper practices such as filling and washing of spraying equipment, discarding pesticide packages, and throwing the leftover solution into the water. 
Pesticides can enter the human body through inhalation, ingestion, and skin contact causing health complications to varying degrees. Pesticide exposure among people can lead to increase in carcinogenic and noncarcinogenic risks. These can be more severe among vulnerable groups including the elderly, pregnant women, and children.
The study
The paper discusses the findings of a study that explores the impact of the use of pesticides on the drinking water of the upper Jhelum region in the administrative districts of Anantnag, Pulwama, Shopian, and Kulgam in Kashmir. This mountainous region remains snow-clad for most of the year and has plenty of snow-fed springs, rivers with a network of their tributaries, and freshwater lakes.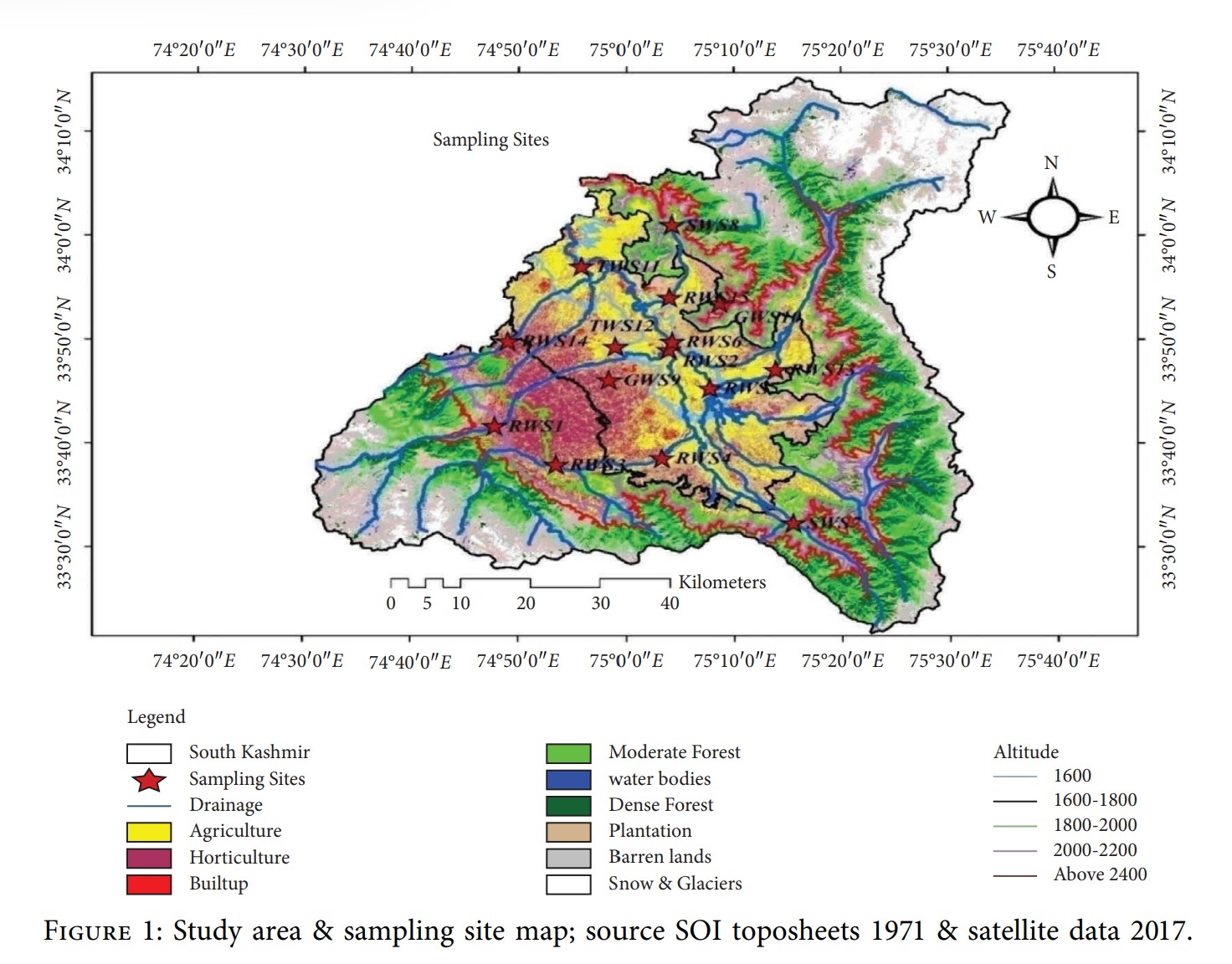 These freshwater sources provide water for drinking, irrigation, and other domestic needs in the region. River Jhelum, the trunk stream of the Jhelum basin originates in the area near Verinag and flows almost through the entire length of Kashmir Valley. 
The study found that:
Out of twenty-six commonly used pesticides, ten were detected in the diverse drinking water sources in the region. Difenoconazole had the highest concentration among the pesticides detected, with a mean concentration of 0.412 ± 0.424 μg/L ranging from 0.0 μg/L to 0.8196 μg/L.
Pesticide residues were found only during the spring and summer seasons in the watero pas pesticides were applied only during these seasons.  
Contamination was mainly found in regions dominated by agricultural and horticulture land use due to leaching and seeping of water carrying pesticide residues into nearby surface and groundwater, agricultural runoff, and spray drifts from indiscriminate pesticide application. 
Water bodies that were close to agricultural lands were found to be more vulnerable to pesticide contamination as opposed to those that were located far away. 
Pesticides such as chlorpyrifos and quinalphos were found in higher concentrations at four locations near the river water sources indicating a considerable risk of pesticide exposure. The target hazards quotient (THQ) used to quantify the possible noncarcinogenic health risks associated with drinking pesticide-contaminated water showed that the presence of chlorpyrifos and quinalphos in high concentrations in the drinking water posed considerable risks to health.
The paper highlights the need for consistent water quality monitoring for drinking water sources in the upper Jhelum basin (South Kashmir) of the Kashmir Valley and the use of bio-pesticides as alternatives because they are less detrimental to the environment.
Posted by