A new study by Toxics Link, 'Menace of Antibiotic Pollution in Indian Rivers' has found that rivers are now prone to pollution from antibiotic residues. Released recently, the study has raised serious concerns over antibiotic residues found in river water samples from four Indian rivers, i.e., Yamuna (New Delhi), Gomti (Lucknow), Zuari (Goa) and Cooum (Chennai).
The study finds Indian rivers contain antibiotic residues that may contribute to the growing problem of 'antimicrobial resistance' and negative effects on the ecosystem and human health. Though the sample size is limited and not all the antibiotics analysed are detected in every river water sample collected, the findings are alarming and highlight the potential possibility of widespread antibiotic pollution in the country.
Most importantly, the locations where antibiotic residues are detected, are not necessarily in close proximity to major pharmaceutical industries. Therefore, the major source of antibiotic residues in these rivers may be mostly sewage (both treated as well as untreated) from point and non-point sources, especially into rivers located in populated Indian metro cities of Chennai (Cooum) and Delhi (Yamuna).
Three antibiotics, namely, Ofloxacin, Norfloxacin, and Sulfamethoxazole were detected in these river water samples. Ofloxacin (0.71 Aug/L) and Sulfamethoxazole (0.2 Aug/L) were found in the Yamuna and Norfloxacin (0.93 Aug/L) was detected in the Zuari. Ofloxacin (0.54 Aug/L) was also present in the Gomti and Cooum.
Cooum River is highly polluted and toxic and flows through several areas of Chennai city. Owing to intensive use of surface water upstream for agriculture, indiscriminate pumping of groundwater leading to reduced base flow in the river, discharge of untreated sewage and industrial effluents and encroachment along the banks, the river, especially the downstream, has been highly polluted.
The Cooum river is supposed to be 80 percent more polluted than the treated sewage. Many pharmaceuticals and personal care products (PPCPs) including sulfamethoxazole have been previously detected in Cooum River.64 According to a news article published in 2020, there are many hospitals situated around this river, which dispose of medical wastes into Cooum. Thus, medical waste can also be a major source of antibiotics in this river in addition to sewage and industrial effluents.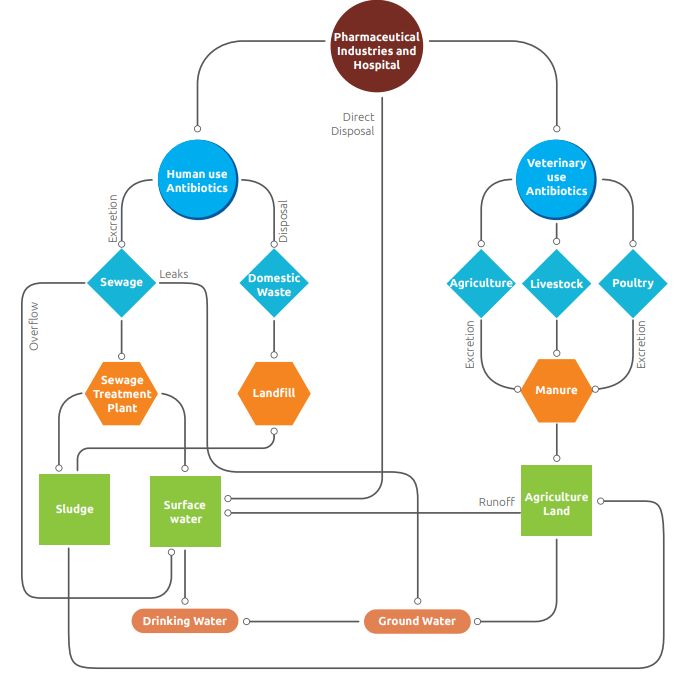 "Though the sample size in this study is limited, all the antibiotics detected are found to be 2 to 5 times higher than the draft notification limits proposed by the Ministry of Environment, Forest, and Climate Change for the respective compounds," as per the Toxics Link study.
Antibiotics are important life-saving medicines and play a key role in the wellbeing of human health. However, indiscriminate use and lack of regulatory standards for antibiotics in effluents from pharmaceutical industries are leading to this major health hazard, more so for India, as it is one of the major users and producers of antibiotics in the world and is more prone to the ill effects of antibiotic pollution.
Inferences from the study
The study indicates that antibiotic residues are ubiquitous and can present an imminent threat to the water resources in India. However, Indian studies in this area of concern are limited. Moreover, there is no major policy discussion taking place on the possible impacts of antibiotic pollution on the ecosystem and its possible impacts on human health as well as animal life.
In addition to rivers and lakes, most of our rural population is dependent on groundwater sources (wells, etc.) for their drinking water needs. Hence, the widespread presence of these compounds in water sources raises questions on their consumption safety. Therefore, even the indicative presence of these compounds in our drinking water should be considered as a serious health concern.
Although India has a program to curb Antimicrobial Resistance (AMR), the action plans and policies fail to specifically aim in curbing antibiotic and Antibiotic Resistance Gene (ARG) pollution of natural environments. The national plans across the globe including India have missed framing policies in preventing the environmental release of antibiotics by drug manufacturing facilities.
Given the magnitude of localized antibiotic pollution, the policies focusing on monitoring and regulating antibiotics in effluents from manufacturing facilities gain significance. Although India has proposed antibiotic discharge standards, the draft is yet to be notified. It should also be noted that successful pollution mitigation policies depend mainly on efficient monitoring and reliable data generation and Indian regulatory agencies often fare poorly on both these counts.
The inexistence of specific regulations could be explained by a lack of consensus on safe environmental concentrations of antibiotic residues in terms of the development of resistance and a lack of clear and robust scientific evidence on antibiotic pollution. Unfortunately, at this moment, there is also no standard experimental protocol for environmental analysis of antibiotics and their degradation products.
Lastly, currently, no policies are in place to address the problems of antibiotic and ARG pollution of Waste Water Treatment Plants (WWTPs). As the current WWTP design does not specifically consider the removal of antibiotics and ARGs, policies need to be aimed at upgrading WWTP technologies.
Recommendations
Despite the environmental and public health risks, there is minimal surveillance of antibiotic residues in Indian waters. Detailed information on the antibiotic residues in the aquatic environment will help to achieve a reliable basis of environmental risk assessment and take proactive steps to tackle antibiotic contamination. To stem the propagation of antibiotic pollution, India will need to track all the potential contamination sources and hotspots.
In a recent significant development, the Hon'ble National Green Tribunal in the case of "Veterans Forum for Transparency in Public Life v/s State of Himachal Pradesh & Ors" took cognizance of antibiotic pollution from the Baddi industrial area in Himachal Pradesh and ordered for suitable actions to curb pharmaceutical pollution.
In the context of developments and the research findings, the following recommendations are being proposed to minimize the risks associated with them.
Policymakers
Development and implementation of a strict policy to avoid the over-the-counter or online sale of drugs without any prescription

Notification and implementation of stringent national policies on antibiotic laden wastewater from the industries

Ensure implementation of the existing national and state action plans on AMR

Preparation of some user-friendly guidelines to be followed by healthcare facilities and general consumers on how to dispose of expired or unused medicines properly

Spreading awareness amongst the people not to dispose of their unused or expired medicines by throwing them with general waste or disposing them down the drain

Limiting the use and types of antibiotics in animal production and aquaculture. Further, undertaking planned and coordinated phase-out of antibiotics used for growth promotion in these sectors

Design policies for management of manure containing antibiotics

More research studies should be initiated on antibiotic pollution in rivers as well as surface water

Identify the hotspots of antibiotic pollution in the country
Posted by