At the age of 70, Renupada Bagdi of Doniapur village in Birbhum district of West Bengal is on a mission to convince his fellow farmers to take up organic farming just like he did a few years ago. He knows from his experience that chemical fertilisers do not yield crops as big companies make it out to be. While they ruin the soil and the produce, organic farming results in healthy and nutritious food and also saves the environment. 
Advanced age has not dampened his enthusiasm to achieve his goal. He pedals more than 15 kilometres every day under the blazing sun from his house to remote pockets of the district to convince farmers to switch to organic farming. Renupada talks about his goal and his reasons for shifting to organic farming in an interview with India Water Portal. 
How long have you been into farming? Were your ancestors also involved in the same profession?
I have been a farmer since my childhood. I was just 12 when I began to learn to sow the seeds and other processes involved in the farming from my father who was also a farmer. 
How long did you do farming with chemical fertilisers?
I did farming using chemical fertilisers for around 30-35 years. 
What was the yield? Was it profitable?
Honestly, the yield was not very profitable as I could grow only a single crop. I earned around Rs 3,000 per month which was barely enough to meet the expenses of my family. 
What really inspired you to switch to organic farming?
I was not convinced about organic farming when a team from the Development Research Communication and Services Centre (DRCSC), a non-governmental development organisation, first approached me with the idea in 2012. I was worried that it could not only hamper my farming but could also destroy my land making it unfit for further cultivation. 
I agreed to it when the team asked me to grow vegetables on a portion of eight cottah of land and agreed to compensate if I faced any losses. It still took me another four to five months to take it up because I was still apprehensive about it. 
How long did it take to make your farm organic? What were the steps you took for it?
It took three years for the land to become organic as long-time usage of chemicals had changed the texture of the soil and had also affected its productivity. As per the guidance of DRCSC, I reduced the use of chemicals by 25 percent in the first year followed by the same percentage in the second year and 50 percent by the third year. 
During this period, homemade natural fertilisers like compost of cow dung, cow urine and also vermicompost were used. The use of pesticides was completely stopped during this period. An Integrated Pest Management (IPM) was also carried out for switching to organic farming. Leguminous cropping was done that increased the soil fertility and nitrogen in the soil. 
We didn't apply for organic certification because it is normally required when products are packed and sold; our products are sold openly in the local market. 
How are these fertilisers made at home?
Vermicompost which can easily be made at home is used as the fertiliser. It basically comprises dry leaves, green leaves, biogas slurry, earthworms and straw along with mud from the agricultural field. At first, straw is laid on a plastic sheet and water is sprinkled on it after which green leaves are added to it. In the next step, biogas slurry and mud are also mixed into it. Then the mud which has worms and its eggs are also added to the mixture. Cow dung is then added and water is sprinkled. At last, the mixture of leaves and straw are placed on top. The entire mixture is kept under the sun and is constantly monitored. It takes nearly 45 days for the vermicompost to be ready.
How has it benefited you?
Contrary to my expectations, organic farming brought huge profits for me. My income soared from Rs 3,000 to Rs 12,000 every month because I could do multiple cropping and grow potatoes, tomatoes, pumpkin and other vegetables.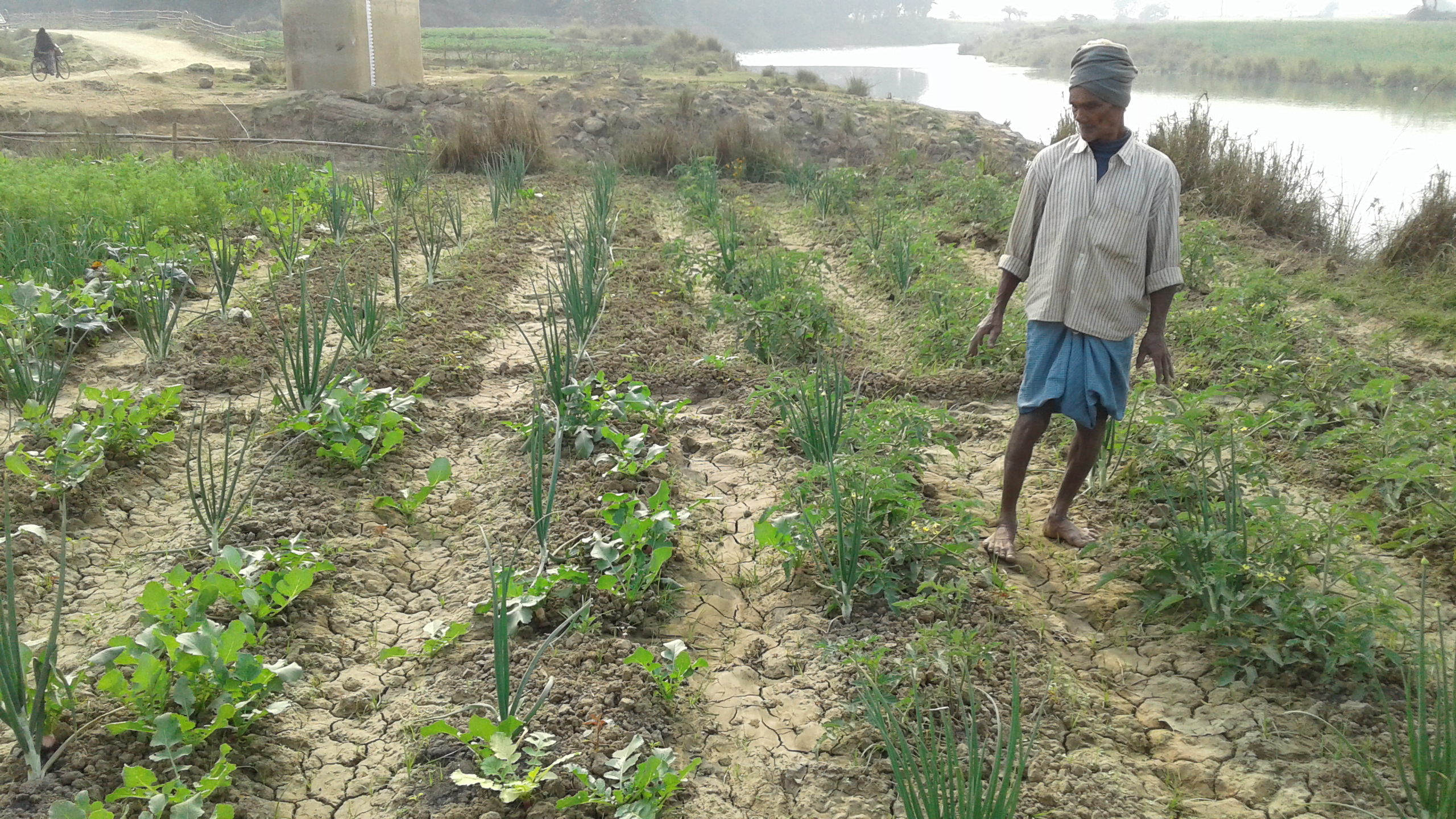 The major advantage was that the fertilisers could be made at home which saved me a lot in terms of expenses. 
Have you saved on water use when you switched to organic? How much water gets saved compared to chemical farming? 
Yes, water use is reduced in organic farming. In organic farming, I need to give water to the fields once in 30 days during the six months farming while in chemical farming, water needs to be given every 18 days during the six months. So in total, in organic farming, water is given six times to the fields while in chemical farming, it is 10 times.
Tell us a bit about your daily route, your cycling to villages to inspire other farmers and how tough it is because of your advancing age.
I am an early riser who wakes up at 5 am every day. After breakfast, I take my cycle and leave my home to travel to nearby villages. I meet new farmers every day and explain to them about the benefits of natural farming—that it not only maintains the texture of the soil but also gives healthy food which is good for their family and their buyers. 
I also pay routine visits to farmers who agree to do organic farming to check on the progress. I travel around 15 km every day on my bicycle and it is normally evening when I return home. I don't feel exhausted because it is my mission to bring more and more farmers into organic farming. I have managed to convert around 250 farmers to organic farming since 2014. 
What are the roadblocks in your mission?
It is indeed very tough to convince farmers on the importance of organic farming because they have been following the age-old practice of chemical farming for a long time and are reluctant to switch to a new method. They agree when I tell them that their losses during organic farming, if any, would be compensated by DRCSC. This gives them the confidence to shift to natural farming. Spreading stories of success plays a big role in bringing more farmers to the fold. 
Posted by
Attachment