Understanding water in all its forms in every part of the water cycle is vital to ensuring its sustainable and equitable management. Whether there is a scarcity of water or an excess of it, knowing precisely the quantum of water, whether underground in aquifers, embedded in the soil as soil moisture or in numerous lakes, reservoirs and rivers is vital. Knowing where and to what degree water is consumed, in agriculture or water thirsty cities and industries is equally essential to encourage judicious use of the resource. Moreover it isn't sufficient to know the movement and quantum of water if that knowledge is in the hands of a select few.
The democratization of access to data of water we believe holds much promise. It potentially allows communities the possibility to come together for making decisions that impact both drinking water security and agriculture immensely. Many factors play a role in preventing management of water as a common property resource, however a paradigm shift in the availability of water resources data would go a long way towards addressing the problem.
The OWD web app is an initial proof of concept which takes this remote sensing based precipitation data and makes it available in an easy to use web interface for the user's area and time period of interest. This represents a step forward in improving access by removing technical barriers to obtain precipitation data and also allowing data downloads rather than simply web visualization.
The Dataset
The Open Water Data (OWD) Web App provides a web interface to view and download rainfall data for different watersheds for a selected time period of interest. The dataset from which rainfall data is derived is the CHIRPS dataset (Climate Hazards Group InfraRed Precipitation with Station data - version 2.0 final) which is a quasi global dataset of high resolution daily rainfall. This dataset is updated monthly based on an algorithm published in 2014 by researchers at the United States Geological Survey (USGS) and the Climate Hazards Group (CHG) - University of California, Santa Barbara. The dataset makes use of a range of different satellite datasets for precipitation and in situ data from monitoring stations to arrive at a much more accurate estimate of daily rainfall.
The dataset is available under the public domain, allowing for its use and distribution even for commercial purposes for free and without permission. To cite this dataset it is recommended to use the following Funk, C.C., Peterson, P.J., Landsfeld, M.F., Pedreros, D.H., Verdin, J.P., Rowland, J.D., Romero, B.E., Husak, G.J., Michaelsen, J.C., and Verdin, A.P., 2014, A quasi-global precipitation time series for drought monitoring: U.S. Geological Survey Data Series 832, 4 p., http://dx.doi.org/10.3133/ds832
Specifications
Link: https://code.earthengine.google.com/dataset/UCSB-CHG/CHIRPS/DAILY
Time period: January 1st, 1981 to December 1st, 2017.
Span: Quasi-global (50 deg N to 50 deg S)
Format: Gridded rainfall data
Spatial resolution: 0.05 deg gridded data (i.e. approximately 5 km resolution)
Temporal resolution: Daily
Use Cases
CHIRPS v2.0 can be used for local watershed level water resource planning by allowing users to create historical trend series for daily rainfall for upto 37 years. Data since 2000 for India is likely to be of higher accuracy since the number of ground stations in the country incorporated into the CHIRPS dataset increased to more than 100. Besides this, since 1999 we have had dedicated satellite rainfall monitoring missions globally which have improved the accuracy of estimations.
Using the Web App
The OWD app can be accessed at: https://water-data-web-app.appspot.com/
By default, data is fetched for the last 7 days for the whole of India.
The app interface will appear like this: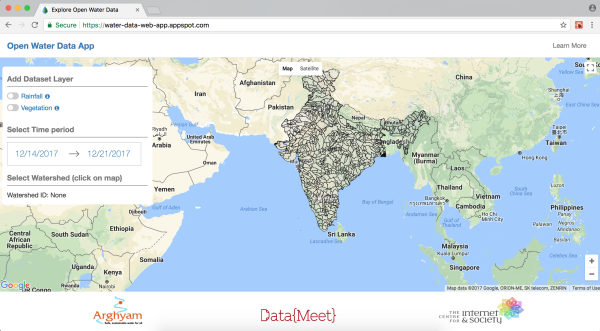 Select Dataset: To view a dataset, toggle the dataset layer in the left sidebar. You will see a loading spinner while the data is being fetched.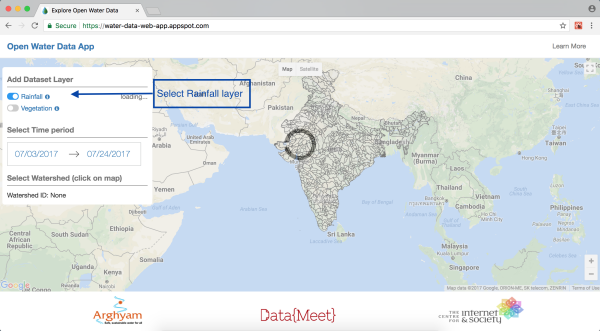 Tile Loading: When the rainfall data has been fetched, the map tiles will start loading on the base map and you will be able to see the tile loading progress in the sidebar next to the selected dataset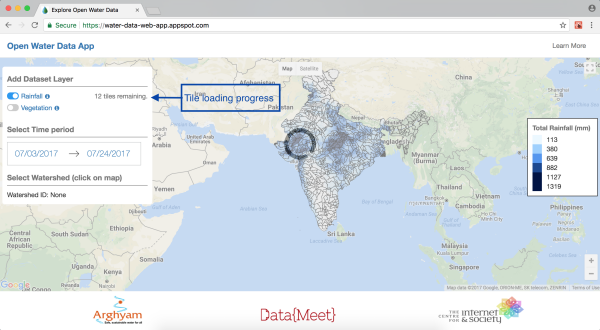 Precipitation Layer Loaded: When all the tiles have finished loading, you will be able to see the selected dataset on the map. A legend on the right displays the map colors and corresponding dataset values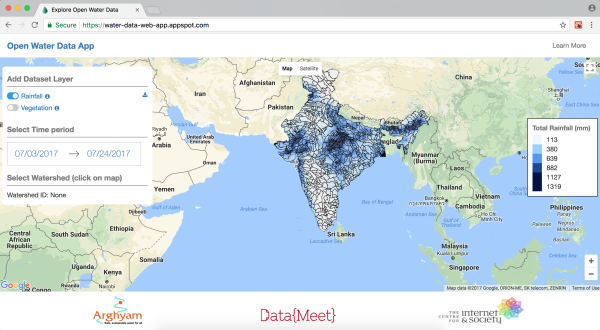 Date Selection: You can further filter the dataset for a time period of your interest. To filter by a time period, select a Start date and End date from the side bar. Requests for a time range of more than 1 month generally takes time to load.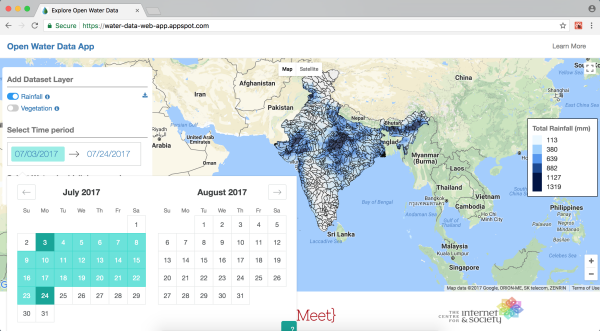 Watershed Selection: You can also filter the dataset for a watershed of your interest. This will fetch data for the selected watershed for the selected time period.To select a watershed, click on any of the displayed watersheds on the map.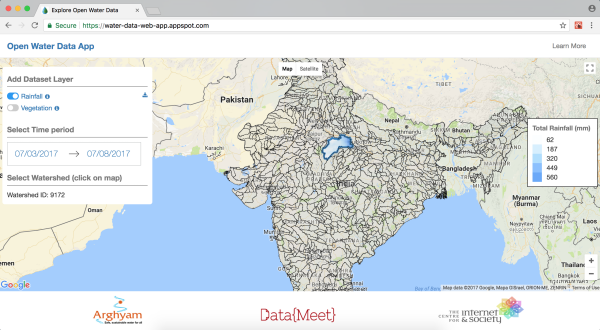 To Download: You can download the your filtered dataset in a spreadsheet format (csv) using the Download button displayed next to the dataset toggle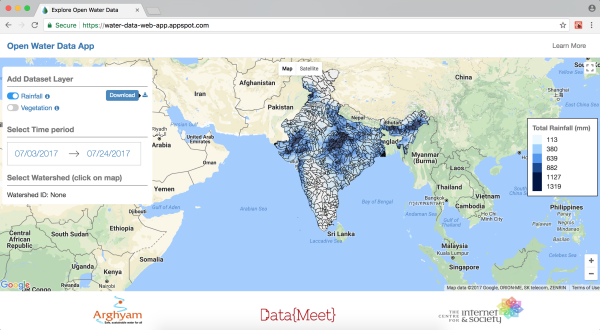 Export in Progress: You will be able to see a "Export in progress.." message displayed on top of the screen while your csv file is being prepared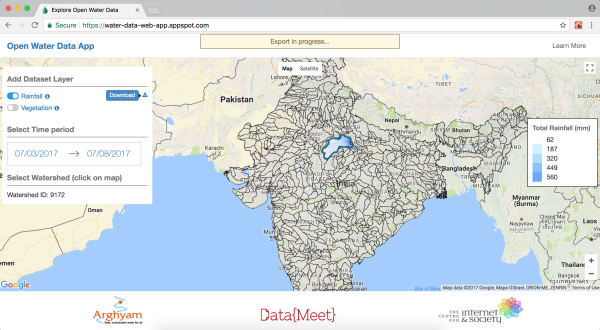 Download Successful: When your csv file is ready for download, you will get a message "Exported successfully" on top of the screen with your download link. Click on this link to download the csv file to your computer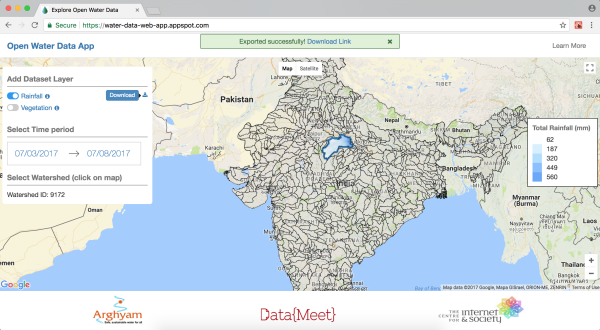 Future Plans
We wish to first prioritize building a community of users around this data. Primarily researchers, but also people within institutions that plan local management of water resources. This is mainly because datasets such as this would be new and unfamiliar to a larger audience, hence demonstrating a few use cases and comparisons with existing data available at the grassroots and government precipitation data would be vital. Once this community of users i.e. a 'working group or network on water data' is established it can focus of improving the usability of the platform, adding features and datasets and making the data more usable at the grassroots level, for example by developing mobile apps, localization of the dataset etc.
Short term goals
Building user community

Upload feature: to allow users to compare their own precipitation data with data available through the web app
Charts: to visualize precipitation data time series in the browser
Improved watershed map of India: The watershed map used currently in the app has no recognised source and is meant to be a placeholder till we have a better watershed map, i.e. a digitized version of CWC's Watershed Atlas of India.
Long term goals
In the long term we also seek to provide other datasets vital to water resource management planning at local levels. Stay tuned for updates.
Feel free to send us your feedback at pune@datameet.org We also welcome collaborations from researchers in water resources, grassroots level implementing organisations, web developers, GIS/RS professionals etc.
This article has been republished with permission from Datameet Pune's website. You can view the original here.
Posted by