The entire world is going through an environmental crisis which calls for a transformational change. It is time we take responsibility and work together as a community to find bold, creative and innovative solutions to restore our planet.
While governments at the national and international level are taking action in this regard, a number of individuals too are working to make a difference by tackling environmental issues at the community level in their own unique ways.
On this Earth day, celebrated across the world on 22 April every year, the Environment Club, a youth-run organization in Meerut, Uttar Pradesh, organized a virtual Earth Day Summit. The Summit celebrated the work done by 'Water Warriors' from across the country who shared their inspiring tales and valuable experiences from their efforts towards conserving water. The India Water Portal was a media partner at the event and we bring to you their real-life stories that they shared during the summit. 
Sanjay Singh a.k.a Water Man of Bundelkhand
Sanjay Singh has dedicated 25 years in water conservation and is the National convener of the Jan Jal Jodo Abhiyan. His organisation Parmarth Samaj Sevi Sansthan is currently active in 600 villages all over Uttar Pradesh and Madhya Pradesh. Sanjay is the man behind the formation of Jal Saheli groups. At present, 886 Jal Saheli groups are working across 226 villages and 226 Pani Panchayats throughout the country. 
Singh came up with the concept of Water Cadre through Jal Saheli (Women Water Warrior) and Pani Panchayat (Water Panchayat) in 2011, which was implemented in six districts—Jhansi, Lalitpur, Hamerpur, Jalaun, Tikamgarh and Chhatarpur—of Bundelkhand, a water scarce region.
Singh explained that he chose women to fight water scarcity as it affected them the most. This was because it was the women in the house who had to walk long distances to fetch water; young girls - who had to sacrifice their schools, and older women- who had to sacrifice their leisure time to fetch water. Singh developed the idea of Jal Sahelis to empower these women to tackle their water needs.
Jal Sahelis: Silently weaving the magic of water conservation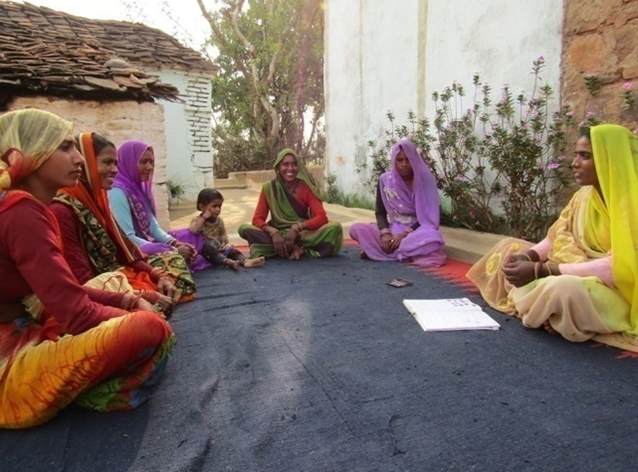 The Pani Panchayats facilitate water security by managing and protecting the water resources in the village, and provide a range of training programmes for capacity building of Jal Sahelis. On the other hand, the Jal Sahelis promote women's role in water-livelihood linkages through decentralisation and community water management. They are responsible for engaging and strengthening the participatory and decision-making processes in PRIs through women's advocacy groups and by promoting leadership among women. By making these efforts, Jal Sahelis not only ensure drinking water and food security for themselves, but also strengthen their socio-economic and political status.
Through their consistent efforts, Jal Sahelis have helped in the construction of 1780 water structures, made 106 villages water sufficient, promoted more than 850 kitchen gardens and have been instrumental in the rejuvenation efforts of four rivers. These women water warriors are also involved in the revival of Chandel Kalin Talab, which was constructed by the Chandel dynasty 1000 years back.
Case study of Agrotha: During his presentation, Singh narrated the story of Babita, a 19-year-old Jal Saheli from Agrotha village of Chhattarpur district in Madhya Pradesh who mobilised the village women to cut a 107 km long mountain which was preventing rainwater from entering their village pond. In May 2019, the forest department granted permission to these women to dig a channel through the mountain and in a span of 18 months, a channel was created to turn the flow of rainwater into a 40 acres pond. Babita has been honored by the New Delhi State Women Commission after her exemplary work was mentioned by Prime Minister Narendra Modi in 'Mann ki Baat'.
Ramveer Tanwar – Pond Man of India
Ramveer Tanwar is the Founder of the NGO Say Earth, working tirelessly for the rejuvenation of ponds since his college days. For his efforts in the water sector, Ramveer has received the 'Shining World Protection' Award from Taiwan with a grant of USD 10,000 and the 'Rex Karmaveer Chakra' Award instituted by ICONGO and the United Nations. He is also a Ted Ex speaker. Tanwar along with his team, has revived more than 20 ponds in Uttar Pradesh, Haryana, Delhi, Rajasthan, Chandigarh. Currently, he has taken up revival works on 26 ponds in which youth have volunteered and in 2021 itself he and his team have created eight new ponds and revived around nine ponds.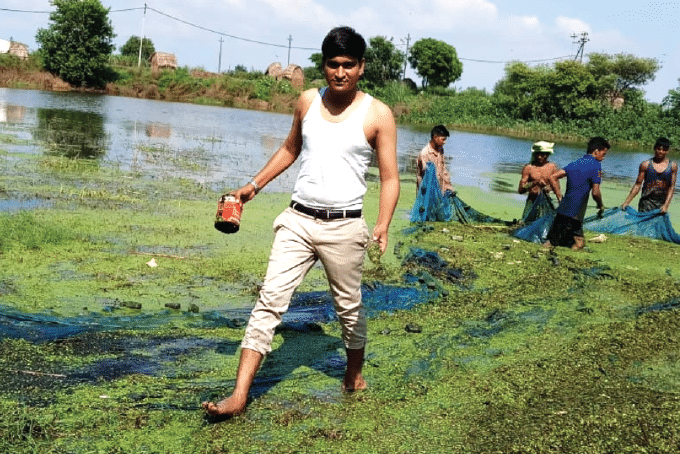 Highlighting the importance of ponds, especially in rural areas, he says, "Ponds are an integral part of any Indian village." He shares how as a schoolboy, he used to take cattle to the village pond and spend hours there, and connects it to the present situation where he says, people avoid even passing by the water bodies. The idea of pond rejuvenation struck Tanwar when he saw the dire state of his village pond, which had turned into a marshy dump yard. During the summit Tanwar informed that reviving the marshy dump yard is not only painstaking, but risky as well. Along with briefing the reasons behind a pond turning into a dump yard, he also explains the way his team carries out the exercises of pond revival.
He informs that the wastewater entering the pond brings with it excess of nutrients that lead to eutrophication and growth of water hyacinths that block sunlight from entering into the pond, which results in the death of aquatic life. The first step during the pond revival, is the removal of water hyacinths that are turned into compost after their extraction from the ponds. The available water after this is used for irrigation and the inlets of the pond are provided with filters for allowing clean water to enter it.
Along with pond revival, Tanwar and his team have created seven urban forests in the last two years. These forests are created based on the concept of Miyawaki forests in which 1000-2000 saplings of native trees are regenerated. Through the consistent efforts of Tanwar and his team, Nainkheri village, today is a tourist spot which is visited by tourists from all around the world for learning techniques of organic farming, a meditation center, nature walk, boating club and other activities. The success of Nainkheri lies behind the revival of the village pond that Tanwar and his team had carried out a few years ago.
#Selfiewithpond:  Tanwar has started an online campaign for pond revival and any person can get associated with this campaign. All you have to do is click a picture of yourself with a pond and post that picture on social media while tagging #selfiewithpond. Tanwar's team then gets in touch with the individual and provides help in whichever way for the rejuvenation of the pond. The campaign has been a success as more than 10,000 youth have supported it and several ponds have been rejuvenated through it.
Know more about Tanwar and his efforts here.
Shyam Sundar Paliwal- Father of Eco-Feminism
Mr. Shyam Sundar Paliwal is a renowned social activist, famous for his Kiran Nidhi Yojana under which 111 trees are planted for every girl child born in his village. The Yojana has earned him the title of 'Father of Eco-Feminism'.  He also started the 'Swajaldhara Yojana' to address water scarcity by converting all the encroached government lands into green belts by planting trees and digging ponds. Till date, he has constructed around 1800 dams in the villages with a mission to conserve water. For his untiring efforts, Paliwal has been conferred with the Padma Shri Award, an Indian's fourth-highest civilian award in the social work category.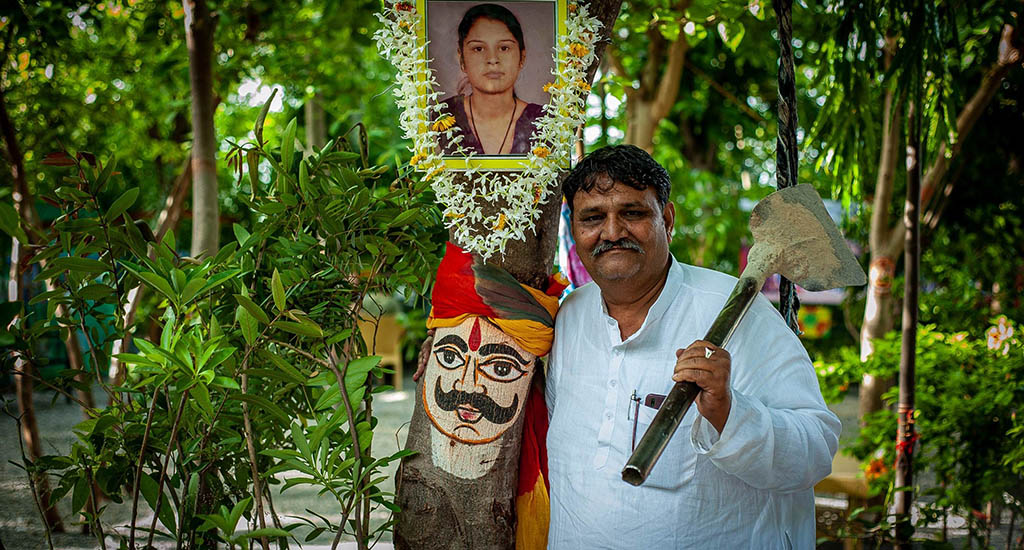 Shyam Sunder's journey began in 2005, when he became the Sarpanch of his village Piplantri. His village at that time was facing acute water scarcity, loss of flora and fauna and lack of employment due to mining activities. Piplantri's name was even entered in the Guinness Book of Records for highest mining activities. The period also collided with the time when the region was experiencing a seven-year long drought and water trains were deployed to the villages in the region. Not just this, Paliwal also suffered a personal loss of his daughter's demise in 2006 which led to the initiation of Kiran Nidhi Yojana.
With a determination 'Hume jal sanrakshan se paani ko dharti mata ke garbh me utar dena hai' (By conserving water we have to infuse water into Mother Earth) he initiated rainwater harvesting and plantation of trees in his village. Several government schemes, like MGNREGA, Watershed Project and Mukhyamantri Jal Swavalamban Abhiyan among others were implemented to make the village -water, tree and girl child abundant. The consistent efforts have led to the plantation of four lakh saplings and a considerable rise in groundwater levels. Paliwal's work has also inspired other gram panchayats to adopt these initiatives and till date, nearly 160 gram panchayats from across the country have implemented these initiatives.
Paliwal stresses the need to understand the importance of preserving nature which can be accomplished by conserving water, planting trees and involving people in natural resources management. He adds, "On this Earth Day, we all must vow to save nature from pollution and strive to make our planet water abundant".
Sawan Kanojia: Raising the banner of 'Aaj nahi bachaya jal to milega nahi kal'
Saddened by the need to having celebrate the Earth Day that calls for taking action to save the planet which gave life to all beings, Sawan expresses the need to remind ourselves of the responsibility of preserving nature every single day. Sawan was in 9th grade when he observed the stressing scenario of the environment and immediately made up his mind to create the Environment Club with his friends. Believing in the power of youth, he set out on a journey to create awareness on the pressing need to save the environment. Sawan is a recipient of Young Environmentalist honour by the Cabinet Minister of Uttar Pradesh Shree Siddharth Nath. He has also been awarded the Water Hero award by the Jal Shakti Ministry, Government of India, last year.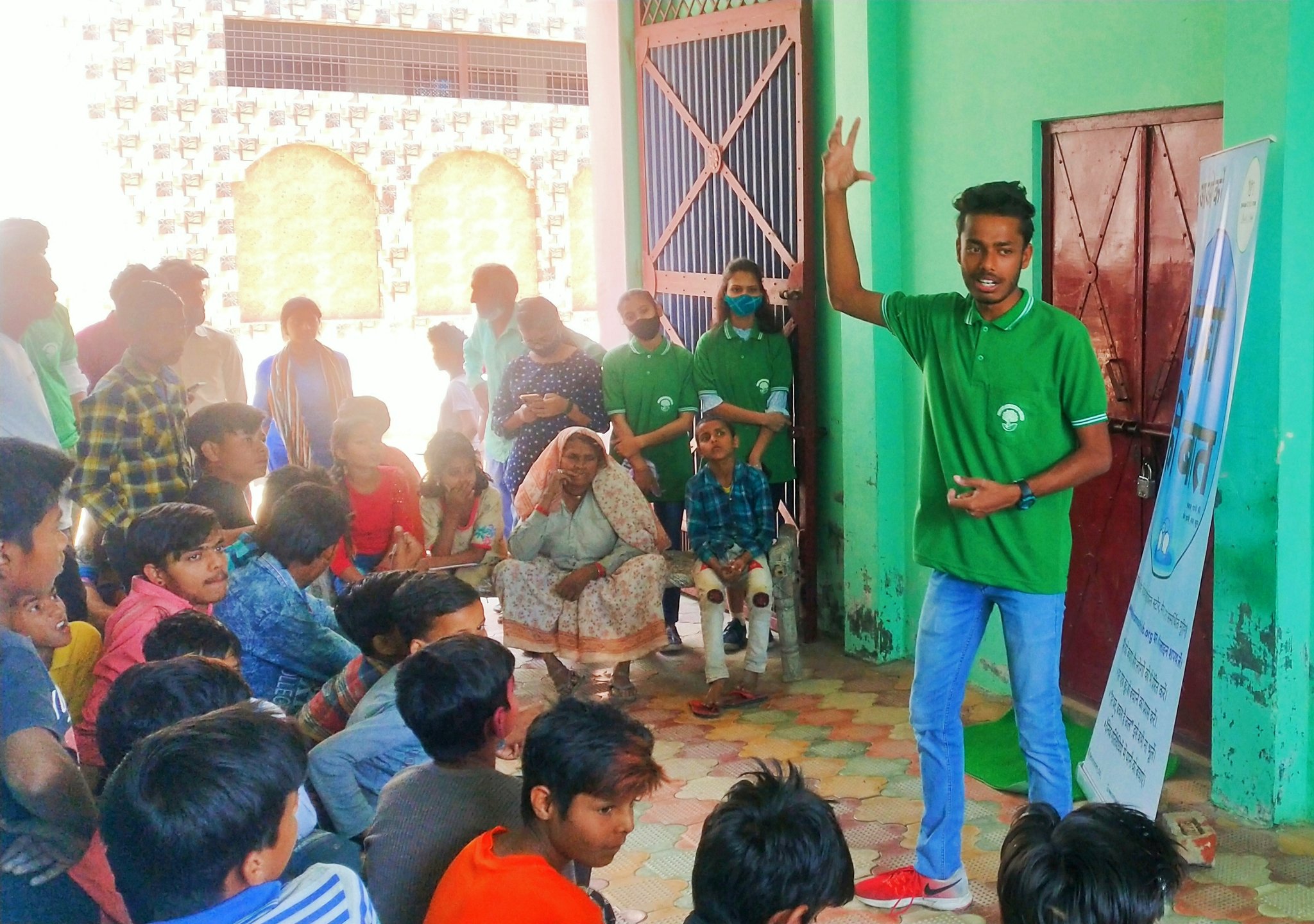 From many years, Sawan and his youth club are going from village to village to conduct Jal Chaupal and create Jal Mitr who will raise the awareness on saving water in their villages. Holding the banner of 'Aaj nahi bachaya jal to milega nahi kal' high, he appeals the youth to take an initiative of saving water. He reiterates that even a small step of closing a running tap can create a greater impact by encouraging others who are watching you to do the same. He insists on being the change you want to be and make saving water an everyday practice. As per Sawan, every individual must rise up against the wastage of water or dumping of waste in water bodies and encourage each other to reuse wastewater.
Uma Shankar Pandey- The man behind India's first water village 'Jakhani'
Uma Shankar is an eminent social activist and a member of the Sarvodaya Adarsh Gram Samiti. He played a leading and a vibrant role in the construction of India's first water village. For his resolute efforts, Uma Shankar was honoured by the Ministry of Jal Shakti with the most coveted 'Water Warrior' award in the 2nd National Water Awards.
Noticing the youth population migrating to the cities due to unemployment as agriculture failed in his village due to water scarcity, Uma Shankar made a resolution to convert his village, Jakhani in Banda district into a Jalgram. The concept drew inspiration from the then President, Dr. APJ Abdul Kalam's address.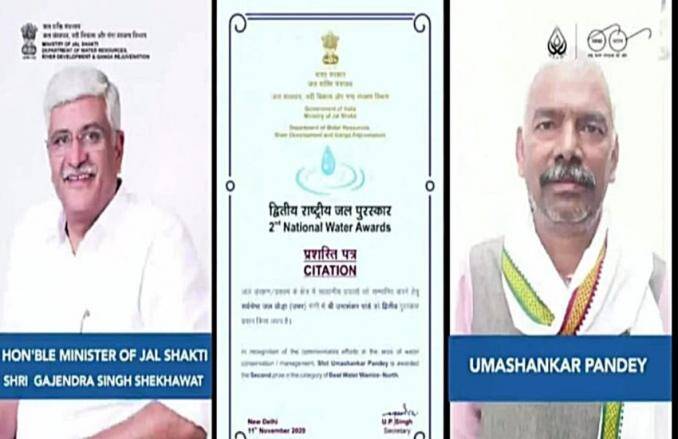 With no government grant in hand, the farmers, youth, unemployed people, men and women of this village worked tirelessly, free of cost, to construct ridges in farmlands for conserving rainwater and diverting the village wastewater to the farms. The collective efforts have led to the village being endowed with 33 wells, 25 handpumps, six ponds and two drains that brim with water throughout the year. Twenty years back, the village that observed mass migration is now the first water village of the country, whose water conservation model is being replicated by other villages all across the country.
The inspiring efforts of these water warriors show that when we take on the responsibility to conserve nature, we can surely accomplish what we aim for through sheer grit, determination and persistent actions.
If you are a water warrior or know anyone who has been working tirelessly towards water conservation, please contact us and we will be happy to feature your story on our website.
Posted by