Nikhil Bagdi has attempted suicide twice in the past one month. Fortunately, his neighbours came to his rescue whenever he tried to end his life by hanging from the ceiling of his room. Nikhil lives in Serorai village of Bardhaman district in West Bengal, a little over 120 kilometres from Kolkata. 
The 55-year-old says that he has taken a loan of Rs three lakh from a private money lender to cultivate paddy in the 10 bighas of land he had got on lease from a farmer. But almost eight bighas of land got destroyed due to inadequate rains this year.
He has no money even to take diesel-run pump sets on rent to draw groundwater for his fields. He fears that it is just a matter of time before another two bighas meet a similar fate. Nikhil, like a bonded labourer, is rearing the cattle of the farmer who had given him the land on lease at a monthly salary of just Rs 100. 
"I decided to take the extreme step because the shortage of water for crops has led to huge losses. I loaned the money for farming by mortgaging my wife's jewellery to a private money lender as banks refuse to sanction loans. I do not have resources even to use cello pumps for groundwater. The crops are dying with each passing day and I am witnessing the ruin helplessly. It will all be over within a few days," he says tearing up at the thought.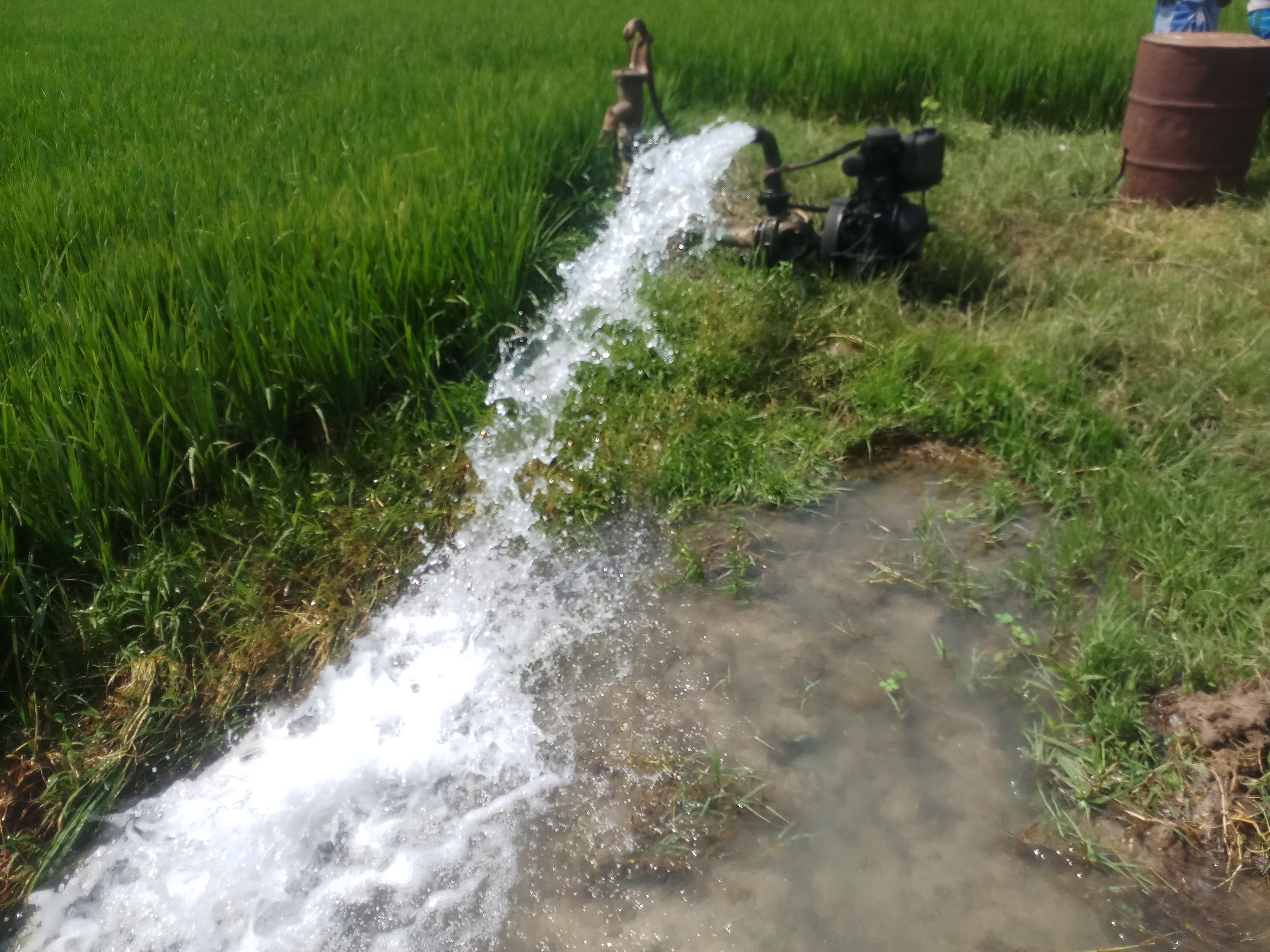 Farmers suffer as groundwater declines 
He is not alone in this misery. Thousands of farmers in Bardhaman district of West Bengal, particularly in Galsi block-I are suffering huge losses due to the shortage of water. To add to their woes is the apathy of the administration that has remained indifferent to their plight so far. 
The condition of Bardhaman farmers is alarming because the region is hailed as the rice bowl of West Bengal contributing to the state's recognition of being the largest producer of rice in the country. 
In 2014-15, West Bengal had topped the list of rice-producing states with 14677.2 thousand tonnes of rice production. The average rice productivity in West Bengal stands at about 2,500 kg per hectare.  
Of the three varieties—Aus, Aman and Boro—the Aman crop accounts for 68.65 percent of the total agricultural land and 33.47 percent of the total rice production in Bengal.
Farmers are facing a severe water crisis this season because rainfall during September has been 180.8 mm, far below the normal of 279.4 mm. Most of the farmers here are small and marginal farmers who can't afford diesel-run pump sets, given its spiralling prices.
The situation has reached such a point that vast fields of paddy crops that normally remained drenched in water have become dry and the earth has cracked from the scorching heat. 
Farmers who have managed to arrange diesel sets have to cough up around Rs 5,000 for every 40-50 hours of water drawn from the ground "We have to pay Rs 100 for every one hour to the diesel set owners that excludes the rent of pipes used to supply water to the fields. We have no alternative but to shell extra in order to save the crops. The buyers, however, won't pay us more," rues Atiar Sha (45) who has 30 bighas of land but had to mortgage four bighas to arrange money for cultivation. 
He says that farmers who were also involved in fishing are drying up their ponds to utilise the water for farming. "They have no alternative because a loss in paddy farming could reduce them to being beggars and might force them to end their lives. Most of the fish have died as water from the ponds is being used for agriculture but even that is falling short of the requirement." 
An apathetic administration adds to their woes
It is not just nature, the administrative laxity too is responsible for their plight. The farmers depend on the water released from the DVC and Massanjore dams in this rice-producing belt. The 27-km-long canal that supplies water from the dam to the agricultural fields is in a state of disrepair with water leakage at several places. "The leakage in the canal has led to the loss of water but nothing is being done to repair it. The water from the dam can bring some respite but its poor condition has further aggravated our problems," complains Noor Mohammad Mollah (40), a local farmer. 
The administration had also promised them solar-run submersible pumps to lift groundwater but the assurance has so far remained only on papers. 
Angry over the indifference of the state government, hundreds of farmers had blocked National Highway 2B connecting Bardhaman and Bolpur for about four hours on October 6 demanding canal water for the crop. Carrying bottles of poison, the agitating farmers threatened to commit suicide if their crops get affected.
When asked about their condition, the pradhan of the Serorai gram panchayat Sk Abdul says, "We do not have electricity to run solar pumps in the fields. There is nothing to worry for the farmers as the fields are getting adequate water. The crop will be good this year." 
Conceding that farmers are going through troubled times, the deputy director of agriculture department, Jagannath Chatterjee blames inadequate rainfall for their woes. "We have received around 800 mm of rainfall this season against the average of 1200 mm received every year. There has been a shortage of 30 percent of rainfall, this year. Moreover, the catchment areas of river Damodar in Bihar and Jharkhand have also received lesser rainfall. We are trying to find alternative ways to provide water to the farmers."
These are lofty assurances and the farmers who feed thousands of hungry mouths are left to fend for themselves and are forced to take drastic steps to end their woes. 
Posted by
Attachment