A recent study by Council on Energy Environment and Water indicates Maharashtra is the 3rd most vulnerable state in India and Mumbai is one of five districts in Maharashtra most vulnerable to the compounded impacts of climate change. Amid warnings of severe damage from climate change induced impacts, Mumbai home to 12 million people and thriving on a diverse economy took a step towards decarbonising.
The just published Intergovernmental Panel on Climate Change (IPCC) Working Group II report had provided warnings on rising sea levels, critically high temperatures and increased risk from the impact of climate change for coastal cities like Mumbai.
The BrihanMumbai Municipal Corporation (BMC), with technical support from the World Resources Institute (WRI) India and the C40 Cities network, inaugurated the first-ever Mumbai Climate Action Plan (MCAP) for the city recently.
Making climate change a priority, Mumbai signed the C40 Cities Deadline 2020 commitment, that aligns with the Paris Agreement, to reduce greenhouse gas (GHG) emissions to net zero by 2050. Mumbai's commitments also support the Government of India in achieving the Nationally Determined Contributions (NDCs) and are in line with the Government of Maharashtra's Majhi Vasundhara Abhiyaan, the Race2Zero campaign and other welcome policy initiatives towards sustainable and climate resilient development in Maharashtra.
In August 2021, the Government of Maharashtra, and the BMC launched the planning process for the city's first ever climate action plan. The MCAP highlights the need for urgent climate action and envisions a safer, healthier and inclusive city for all.
The MCAP is based on three assessments.
'The Climate and Air Pollution Risks and Vulnerability Assessment' that places the issues of increasing risks and vulnerability in Mumbai city in the global context of climate change.

The Green House Gas (GHG) inventory that identifies key sources responsible for emissions.

An inventory of natural green cover in the city that can sequester carbon dioxide (CO2).
Framed as a policy document, backed by data, the MCAP adopts a scientific evidence-based planning approach to mobilize resources and move from planning to implementation of strategic projects. Aligned with the Mumbai Development Plan (DP) 2034, and several sector-specific plans and policies, it leverages existing institutional capital to reinforce Mumbai's climate goals.
Premised on a just transition to net zero pathways approach – it focuses on investments towards inclusive and transformative climate solutions and transparent and coordinated governance for a targets-based approach.
Through the plan, the BMC has also set its eyes on Mumbai achieving net zero ahead of the Government of India's deadline of 2070. Achieving a balance between the quantity of greenhouse gas emissions generated and the amount removed from the atmosphere is referred to as net zero.
The MCAP emphasizes decarbonising Mumbai's energy grid and building energy-efficient and climate-resilient infrastructure under the building energy efficiency theme and promoting low carbon mobility solutions under the sustainable mobility theme, with a strong focus on non-motorized transport infrastructure and zero-emission fuels. It tries to implement a zero-landfill waste management plan under sustainable waste management.
Similarly, the urban greening and biodiversity theme will focus on increasing resilience by reducing water-sanitation inequity and adopting nature-based solutions for water conservation and flood risk management, while the urban flooding and water resource management theme will focus on increasing resilience by reducing heat risk and increasing the city's resilience to flooding events. The plan envisions reducing air pollution with improved monitoring, enactment of effective regulations and a switch to cleaner technologies.
Towards a low carbon climate resilient Mumbai
The plan's interim and long-term objectives include a 30 per cent decrease in emissions by 2030, a 44 per cent reduction by 2040, dropping down to net zero by 2050 compared to the base year emissions (2019). For 2019, the base year, emissions were calculated to be 23.42 million tonnes of carbon dioxide emissions (CO2e), or 1.8 tonnes CO2e per person.
In a 'Business as Usual' (BAU) scenario, i.e. with no actions, the emissions are expected to reach 64.8 million tonnes CO2e/year by 2050, increasing 2.7 times between 2019-2050. This is slightly higher than the Indian level BAU trajectory of 2.5 times.
The Existing and Planned (E&P) scenario, which accounts for existing city, regional or national actions and policies and programs to reduce emissions, is expected to reach 51.3 million tons CO2e/year by 2050, an increase of 119.4% in comparison to the base year emissions. Yet, the emission trends are not aligned with 1.5°C Paris Agreement and Deadline 2020 emission trajectories.
Therefore, an 'Ambitious' scenario was modelled to set the most 'ambitious yet achievable' trajectory for Mumbai, taking into account India's recent commitments at COP26, where the country set new targets to install 500 GW of renewable electricity capacity by 2050, source 50% of its energy demand from renewables by 2030 and announced a net zero target for the year 2070.
This scenario forecasts emissions to reduce by 27% by 2030 and 72% by 2050, amounting to a residual emission of 30% - the gap in meeting the 2050 target of net zero emissions. The majority residual emissions (approximately two-thirds) of residual emissions in 2050 is from buildings coming from LPG cooking, due to a perceived lack of policy appetite to shift cooking fuels away from LPG.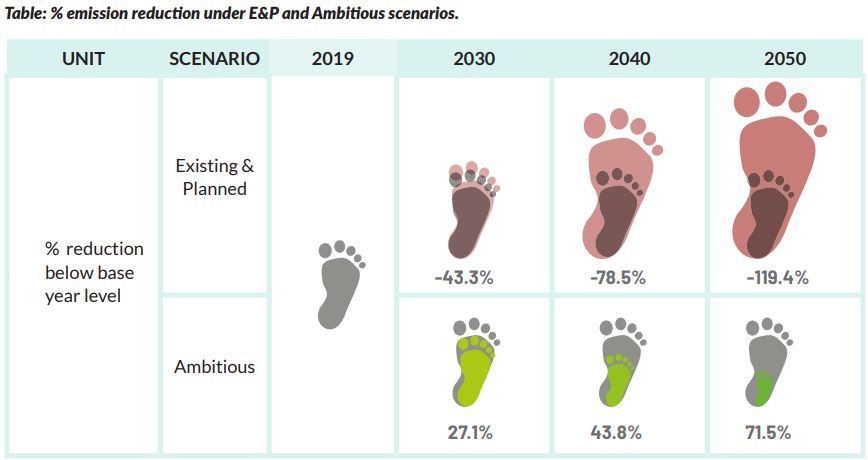 To fulfil all of its commitments to the C40 network, as part of the Mumbai Climate Action Plan (MCAP) process, BMC has committed to three tasks:
Create a climate action cell as a new department or within an existing department that will be responsible to implement the Mumbai CAP

Update greenhouse gas emissions inventory and climate and air pollution risks and vulnerability assessment every two years

Undertake Mumbai CAP revision every five years
The success of MCAP is also dependent on the residents of Mumbai and their willingness to adopt sustainable choices in their daily lives to help achieve several MCAP targets. Resident Welfare Associations, Advance Locality Management groups, civil society groups and private investors are encouraged to participate, deliberate and catalyse the success of Mumbai's first ever Climate Action Plan.
Posted by