The excessive use of plastic across multiple sectors is emerging as a major cause of environmental concern due to its non-degradable property and remains being found in various ecosystems. The larger impacts of plastic fragments (microplastics) in various ecosystems are yet to be studied and evaluated for the impact on human health and ecology. While there is data on its presence in water bodies and oceans, not much information is available on its presence in soil and its impact thereof.
Plastic has been increasingly used in agriculture to improve crop productivity and reduce water consumption in agriculture. In India, too, there has been an increasing trend in the use of plastic in agriculture though this is a relatively recent phenomenon.
Toxics Link, an Indian environmental research and advocacy organization tested soil samples in agricultural belts in Karnataka and Maharashtra under the study titled "Plastic mulching: Microplastics in agricultural soils" and found tiny plastic particles at various depths, indicating soil contamination due to the rampant use of plastic mulch sheets. 
This study has attempted to understand the usage of plastics in agriculture and connected issues of soil characteristics and contamination. The states of Maharashtra and Karnataka were identified for this study since the farmers there have used plastic as mulch more extensively for many years on a diverse range of crops.
Plastic sheets being used for mulching -- a practice of covering the soil to retain temperature and moisture to facilitate higher crop production – are leading to microplastic pollution in agricultural soil, according to a new study.
Microplastics are tiny plastic materials less than 5 mm in diameter and are regarded as a major source of plastic pollution in the environment. 
A total of 30 samples were collected from mulched and un-mulched fields and dumpsites -- areas being used by farmers to dump used plastic sheets, other plastic waste and waste material -- from varying depth in the selected regions.
The soil samples were tested at the Manipal Academy of Higher Education and microplastics were detected in all of them.
The abundance of microplastics in the mulched soil samples was much higher than in the un-mulched soil samples. This clearly points towards possible contamination of soil due to the usage of plastic mulch sheets, the report read. 
The highest microplastic contamination -- 87.57 pieces per kg of soil -- was found at a dumpsite in Maharashtra. This was almost double the abundance in mulched soil, indicating that plastic mulch sheets dumped around the agriculture area cause pollution, the researchers said. 
In the case of all mulched soil samples, the highest concentration of microplastics — 40.46 pieces per kg of soil — was found at a depth of 15 cm in Badgaon in Maharashtra, whereas the lowest concentration of 8.45 pieces per kg of soil was found at a depth of 30 cm in Khanapur in Karnataka.
Among all un-mulched sites, Aurnol in Maharashtra recorded the highest concentration (20.54 pieces per kg) of microplastics at a depth of 15 cm, while Hukkeri in Karnataka had the lowest concentration (2.83 pieces per kg) at the same depth.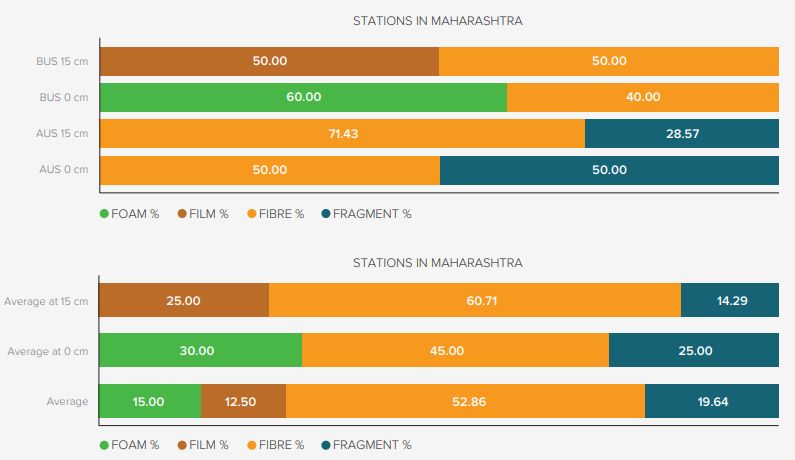 The use of plastic in modern agriculture is jeopardising the overall sustainability of our ecosystem. The plastic used for mulching is relatively thin, and the removal and recycling of these plastic films from the agricultural field are labour intensive, costly, and challenging. 
"Consequently, it remains in the field or is dumped nearby and ultimately disintegrates into micro-particles (microplastics), accumulating in the soil. The microplastic contamination in the soil can also result in their uptake by plants or crops, affecting the environment and human health," said Priti Mahesh, Chief Programme Coordinator, Toxics Link. 
Mulching has been in use globally for centuries, using dry leaves, straw, trash, etc. for water conservation. The use of plastic film in mulching is a recent development worldwide, and in India, it has been around only for a few decades. The idea of using polyethylene film as mulch in plant production saw its beginnings in the mid-1950s and plastic mulch was first noted for its ability to increase soil temperature.
A recent study detected microplastics in human blood for the first time, with scientists uncovering the tiny particles in nearly 80 per cent of the people tested. 
A study conducted by Toxics Link in 2020 detected microplastics in the Ganga at Haridwar, Varanasi and Kanpur. Another study conducted by Toxics Link found microplastics in tap water samples collected from different parts of Goa. 
The results of the present study are also indicative of soil characteristics being altered and their direct linkage to the use and disposal of plastic. There is also a clear distinction between the abundance of microplastics in soil using plastic as much and non-mulch soil.
The presence of microfibers in soil samples also suggests that this is on account of further disintegration of plastic and the use of specific plastic products in farming. One important conclusion emerging from this study also points towards the elevated presence of a number of heavy metals in mulched soil.
Possible sources of these heavy metals also point towards its leaching from the mulch. This would require further investigation of its uptake into crops and its larger impact on human health.
These results indicate that plastic mulching is one of the main sources of microplastics in agricultural land, which may mean that soils are the significant environmental reservoirs of microplastics. The higher heavy metal content in mulched soils implies that the heavy metal content in microplastics might be closely related to the extent of heavy metal contamination in the soil environment.
Based on these results, it is likely that microplastics in the soil environment can be vectors for transferring heavy metals or other toxic pollutants. The synergetic pollution of microplastics and heavy metals might present ecological risks and pose potential adverse impacts on soil and its organisms.
Recommendation
Need for more research and data on mulched soils from across the country.

In-depth studies to understand microplastic pollution and its impact on the ecosystem and human health.

Awareness campaigns should be initiated to enhance the consciousness of growers about the negative impacts of plastic mulch sheets on the environment and their sustainability.

Subsidies, incentives and rewards should be given for the adoption of environment-friendly strategies.

The standard of plastic manufacturing should be improved or modified and facilitate the development of simple, multi-functional machinery for recovering residual plastic film mulch.

The need for an environmentally sound disposal mechanism for plastic waste from agricultural practices.

There is also a need to improve Extended Producer Responsibility

 (EPR) 

compliance for plastic waste as per the current rules.
The full report can be accessed here
Posted by