Rabia Khatun (45) has been living in the Savda resettlement colony since 2006, the year it was established. All the residents of her previous squatter settlement at Nanglamachi in central Delhi were evicted and resettled at Savda, 50 km away. This was done to make way for infrastructure projects erected for the Commonwealth Games of 2010.
"The first few years were very difficult as Savda lacked basic services like roads, water and sewerage lines. Also, we were far removed from our sites of employment at the core of the city. Our neighbours from Nanglamachi were allotted plots in different blocks in the resettlement colony and the community was suddenly fragmented," says Rabia.
"We were exposed to more vulnerabilities than earlier, but fortunately, the marginal, unplanned city was soon overtaken by informal arrangements and support systems provided by the NGOs," she adds.  
Resettlement and after
The government, as a part of the massive resettlement push, provided the residents with plots in this 250-acre colony. The plots got occupied early on except the five-storey buildings constructed for the economically weaker sections that lie vacant. No residents have moved into these flats, the area being so out-of-the-way from Delhi.
The colony bestrides the western border of Delhi with Bahadurgarh district of Haryana. Its governance is under the Delhi Urban Shelter Improvement Board (DUSIB) since 2010. Savda, even to this day, displays many slum-like characteristics like poor delivery of services and tightly packed houses.
The evicted households ended up with an 18-square-metre plot in Savda. "My plot was much smaller than the 36-square-metre plot I had earlier. At that time we were not aware that the security and licence fee of Rs 7,000 we paid for this plot was for a 10-year 'licence' of the land. We thought we owned the land," says Rabia.
"We were responsible for building our own accommodation on the land. We built kutcha houses using wooden poles, tarpaulin, flex sheets and chattai (cane mat). We could just manage Rs 1,500 for building a basic, kutcha house. After three years, we built a pucca two-storey house. This had to be self-financed as allottees were not allowed to use their plots as collateral to access loans," says Rabia.
Microfinance comes to the rescue
"Building a pucca house left most of us with no money for other basic services like toilet and water provision. We were forced to live in poor conditions with access only to unsanitary community toilets. Defecating in the open was a threat to our privacy, security and dignity," says Anna Haldar, a resident of the colony.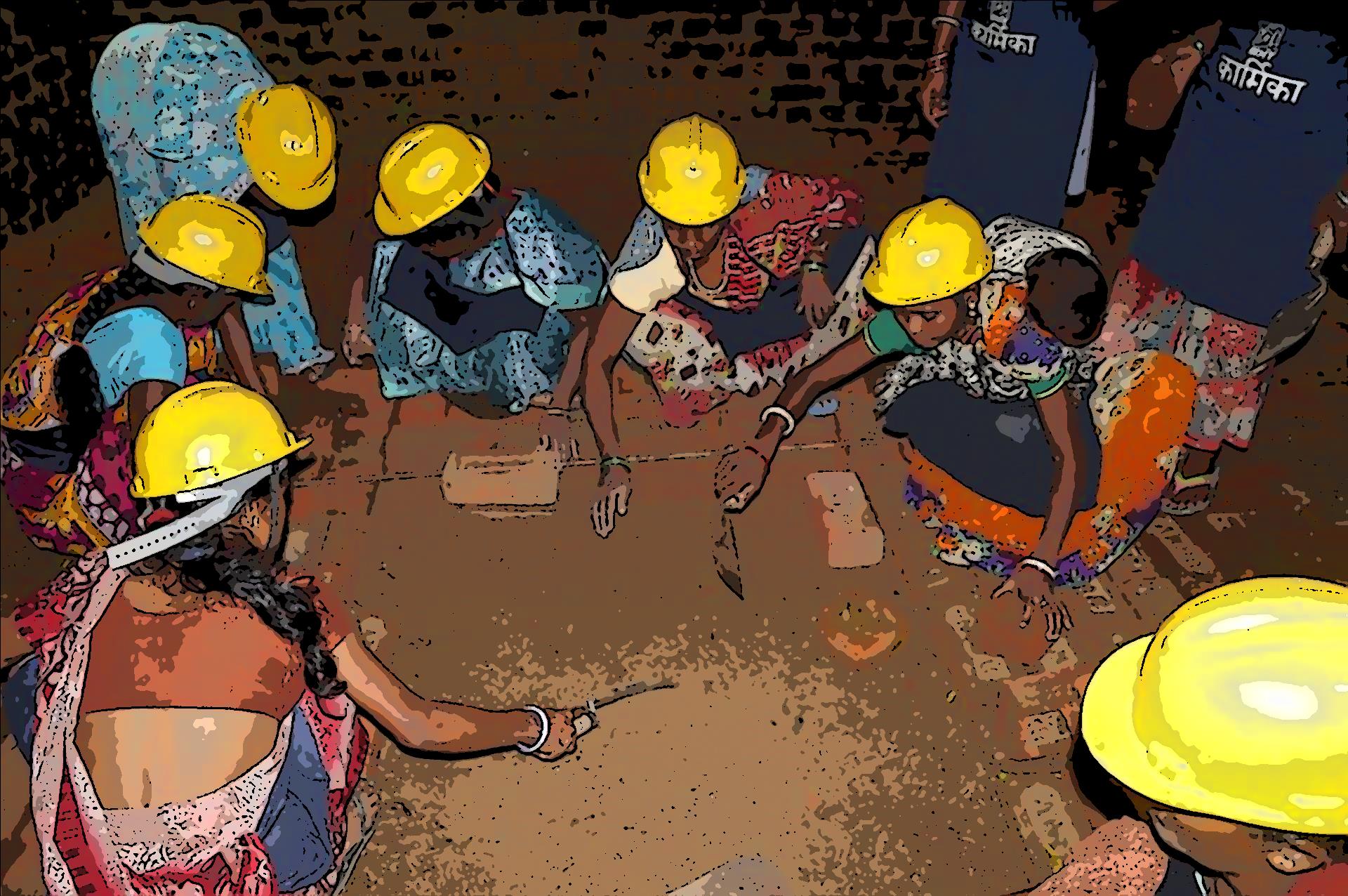 "Community water stand posts or hand pumps were not available and water was supplied mainly by the Delhi Jal Board water tankers that visited the colony crossroads once a day. Accessing water was difficult and physical fights were common," says Bima Sahu, a resident of the colony.
This is where Mahila SEWA Housing Trust or MHT came to the rescue of the women. MHT, promoted by the Self Employed Women's Association (SEWA) in 1994 in Ahmedabad, combines technical assistance, legal knowledge and income generation opportunities with housing finance expertise to serve poor, self-employed women. The organisation has expanded its work to many other states including Delhi.
"Women would even fetch water from the public taps in neighbouring areas like Ghevra village and the Ghevra railway station. Water dispensing machines or 'water ATMs' were installed. They turned out to be a costly option apart from the drudgery of women collecting water from them. Most water ATMs are defunct now," says Malati Solanki, community organiser, MHT.
At Savda, MHT provided loans to slum residents to procure better water and sanitation services and housing infrastructure through its microfinance support.
"I took Rs 15,000 from MHT for toilet construction and have returned it in 12 instalments," says Sahu. Digging a borewell of about 70-80 feet deep and installing a submersible pump costs around Rs 15,000. Several women have taken loans for installing submersible pumps for water.
Recognising water, sanitation for priority sector lending
"We consider finance for housing improvements as productive loans and provide women with affordable terms at an interest of one percent a month. This is something that banks and mainstream housing institutions generally do not provide these women. They work hard in the informal sector but lack proof of regular income and collateral or mortgageable titles," says Veena Bhardwaj, programme coordinator, MHT, Delhi.
"MHT has a rigorous process in place for assessing the repayment capacity of women. We evaluate the household income, assets, savings history, property papers, liens on property and borrowing track record. Women are able to clear the debt on the housing improvement loan usually in a year to a year-and-a-half. Sometimes MHT also helps them with the design and in negotiating the cost of materials with vendors," says Bhardwaj.
"Many of the women are engaged in the household industry of developing rubber straps for flip-flops, or in daily wage work (beldaari) at Mundka and Ghevra. Some also work as maids. Most of them have monthly household incomes of Rs 10,000-Rs 15,000, which is equal to the upfront cost of a toilet or a submersible water pump. They are willing to invest in this if they can spread the cost over time by borrowing. With MHT loan, they return Rs 2000 a month. Our housing finance services are tailored to the needs of such women," says Solanki.
"Through its programme, MHT has supported around 1500 households for toilet construction and 800 households for submersible installation at Savda," says Kavita Singh, community organiser, MHT, Savda office, Delhi.
"Our work is not just limited to financing for household water and toilet facilities. MHT has been focusing on policy advocacy at both the state and the national level to create an enabling regulatory framework for pro-poor housing finance, especially to enable significant improvements in delivery of WATSAN services," says Bhardwaj.
Posted by
Attachment