"Earlier, I'd wait till sunset to answer nature's call. In the morning, I'd wait for others to return from the fields so I could go. Quite often, I had to miss school for this very reason. And I'm grown up now; so having a toilet in the house has become a must," says class IX student Jyoti Gaud, a resident of Tiktha Mussallepur village in Jagatpur. Jyoti's problem found a solution in an evapotranspiration toilet in her house built with a sum of Rs 10,639. No, her father did not build this toilet for her. Marta did.
Marta Vanduzer-Snow, 35, a PhD student in philosophy from Boston, Massachusetts, is a familiar face in Jagatpur in Raebareli. She has been working in this town on various developmental projects since 2014. Seeing the hardship that women and children like Jyoti were going through to execute a very basic need every day, Marta introduced the concept of evapotranspiration toilets which process and discharge human waste naturally. 
Shivkumari, a resident of Dharmdaspur village, explains how arduous defaecating in the open is, especially when it rains. Besides, there is always the risk of snakes and wild animals. Women, in particular, have to get up by dawn or wait till dusk to answer nature's call. Jyoti says that it is not just the embarrassment of defaecating in the open, young girls like her get eve teased and stalked when they go out to relieve themselves. Shivkumari says these hardships and risks are a thing of the past for them after Marta got toilets built in their houses.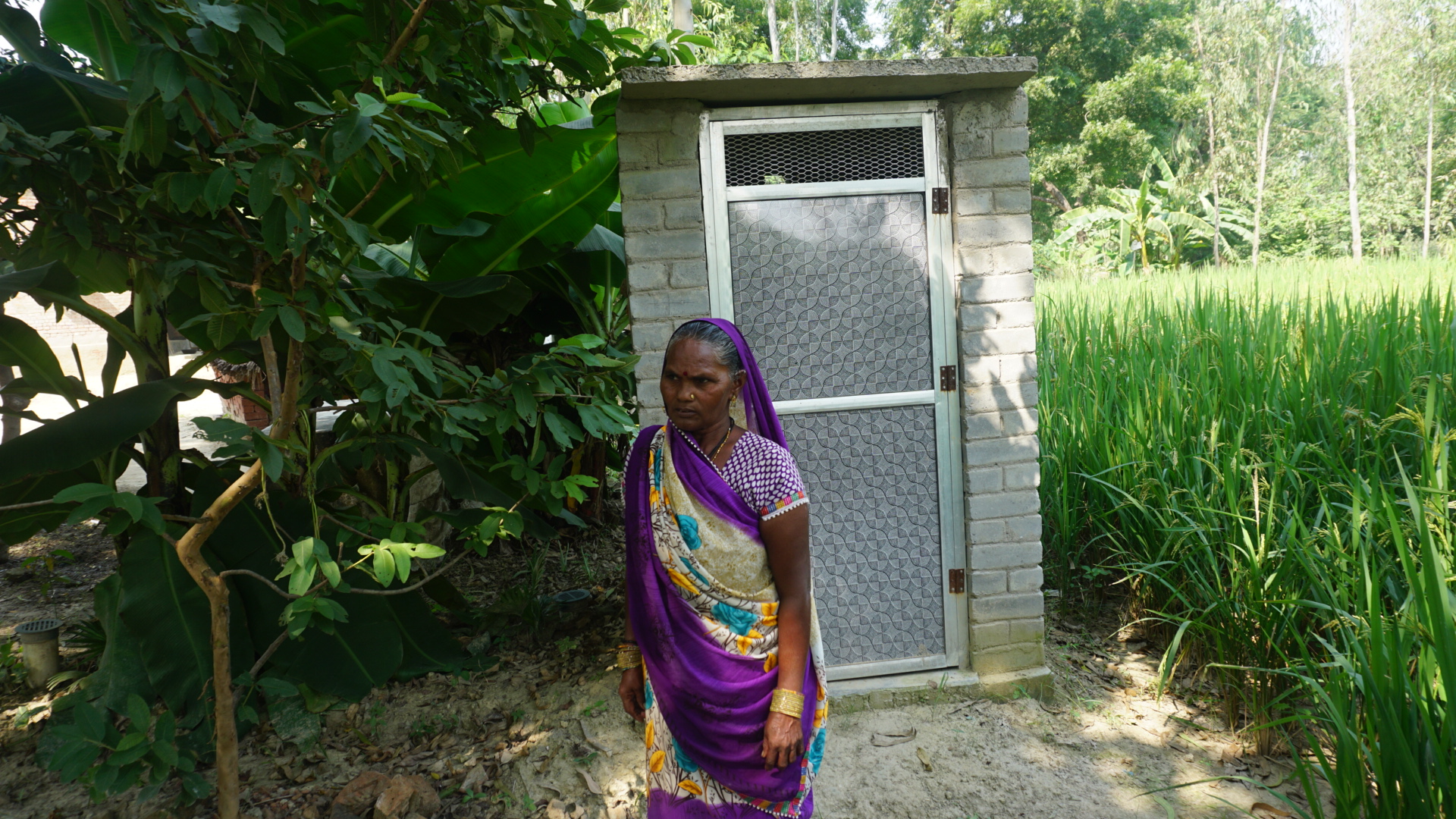 Marta came to India in 2012 and worked with an NGO in Delhi before she moved to Jagatpur. She used her personal savings to build about 150 toilets in the region.The PhD student says that when she started working here, only a few homes had toilets and most of the villagers would empty their bowels in the open.
Noticeable improvement
Dr Shailesh Kumar, who is deputed at the Jagatpur Community Healthcare Centre, says that earlier, many villagers would come with complaints of snakebite, insect bite, diarrhoea and other ailments associated with open defecation. "There has been a marked decline in such cases in the past two years," he says. He credits Marta's endeavours and the government's toilet-building drive for this result. He highlights that awareness programmes have an important role to play in this success.
When Marta chose to work in Jagatpur after her volunteering stint with Rajeev Gandhi Mahila Vikas Pariyojana three years ago, she roped in Delhi-based sanitation startup Basic Shit and Delhi's theatre group Khanabadosh to create awareness in the villages about the benefits of using toilets. She not only pumped in her own money but also crowdfunded about Rs 8 lakh last year to build toilets. 
Novel concept of treating dry waste
Rural areas that don't have the facility of a drainage network often depend on dry latrines. A deep pit is dug and a squat slab with a drop hole is fixed over it. Once the pit gets full after a few years, it needs to be emptied manually. This can be done by hiring labour (a loathed job that carries enough stigma) or can be pumped out after adding water in the pit and stirring it. The messy task of emptying the pit and people's discomfort in living around a growing pile of faeces in their premises dissuade many villagers from getting a toilet built.
This is where Marta's self-sustainable toilets differ. They don't need a  drainage facility. Neither do they demand regular pit cleaning. While here too human waste goes into a pit, these toilets decompose the waste through anaerobic digestion (a process where microorganisms break down biodegradable material in the absence of oxygen). Through natural processes, the harmless byproducts are released into the atmosphere.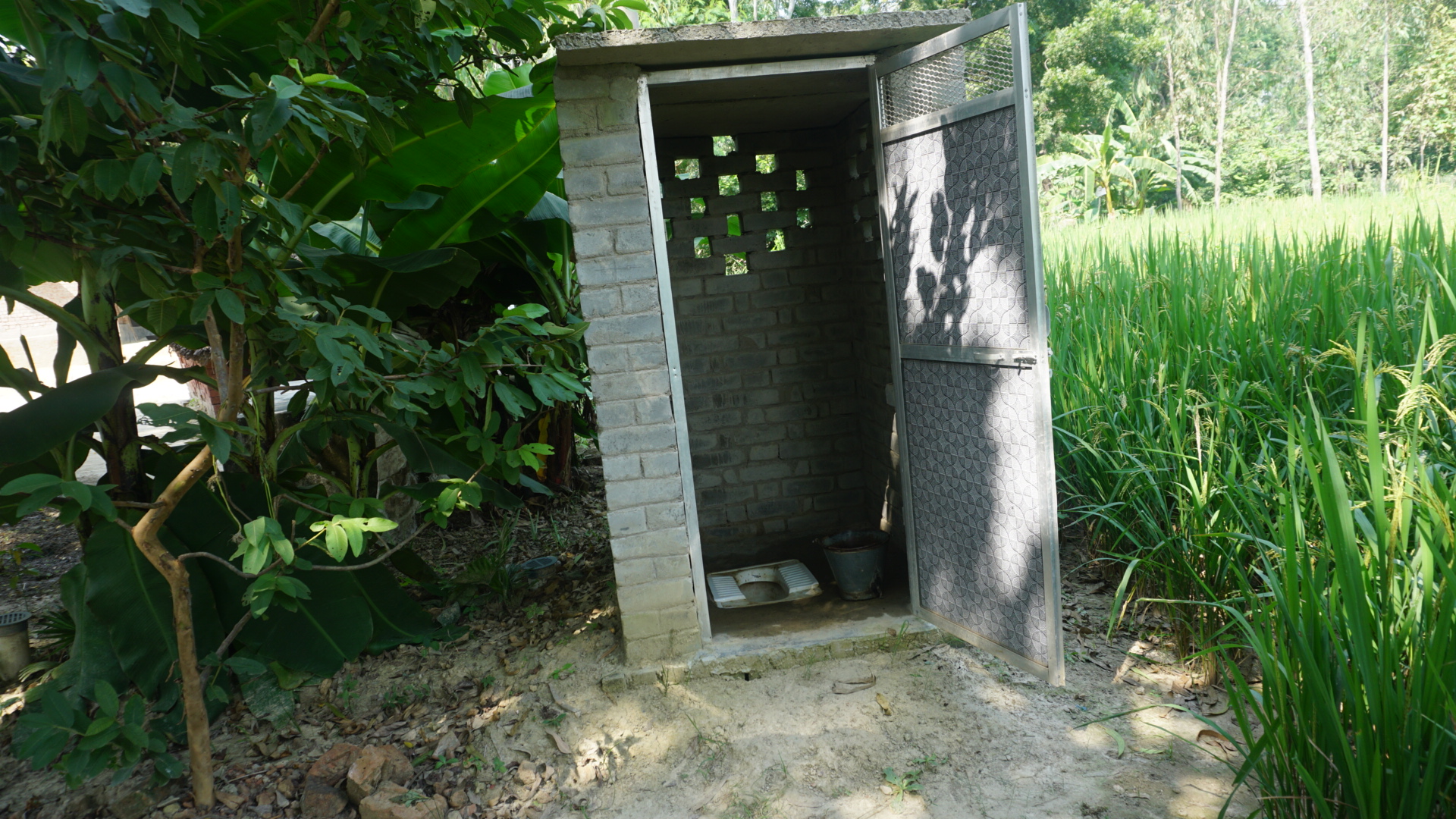 Explaining the mechanism of these toilets, Marta says the pit is first lined with plastic to insulate it. Broken bricks are strewn at the bottom and a few used tyres are placed on them to form a miniature tunnel to enable movement of muck. The layer above it is made up of gravel, which is topped with red sand, then grey sand and soil. Plants with large leaves like banana plants are grown on this fertile soil. 
Anaerobic digestion converts a portion of the human excreta into biogas which exits from a pipe that leads from the pit to the ground. The nutrients from the other portion which is digested will be used by the plants. The liquid part of the waste is removed through evapotranspiration, either by transpiring through the plants or evaporating from the soil.
Marta informs that these toilets have been in vogue in the permaculture community (those who practice self-sustainable living) for the last two-three decades, especially in the US and Brazil. Setting up one evapotranspiration toilet costs Rs 10,639. Former union minister for rural development Nitin Gadkari had stated some time ago that the government's estimated cost of Rs 10,000 for building a toilet in rural areas was not enough and this amount should be increased by Rs 5,000. Which means, these toilets are cost-effective, too.
Stakeholders happy with new toilets
Villagers speak highly of these self-sustaining toilets. Umesh Pratap Singh, a farmer, says the toilets are cheap, easy to build and do not require much land for any septic tank. "These toilets have brought a revolution in our village which has no drainage facility at all," he says.
He shares how his in-laws, who live in Shringverpur village, 45 km away from Allahabad, were impressed with this arrangement and asked him for help to emulate it. He put them in touch with Marta's associate, Pawan Singh who assured to guide them.
Rajkumar Gaud, 33, of Jagatpur says the government doesn't give them anything for free but Marta is building toilets for them with her own money. He says the villagers are very happy with Marta's contribution to their community. "Ham dhani hain ki Marta ji jaisi English ma'am hamaare gaon mein kaam kar rahi hain (We're blessed that an English ma'am like Ms Marta has been serving our village)," he says. 
Apart from building toilets, Marta has also helped lay a 122-m-long permeable road, constructed a slow sand water filter and provided electricity through solar panels in the village, apart from providing books and toys to the children around. She says it was quite a challenge to overcome villagers' initial scepticism while building toilets. "Some people thought I would get their property signed in my name," she exclaims. She says while it took much time for her to win their trust, her persistence paid off and now she's like a family member to these villagers.
D.K. Singh, chief medical officer of Raebareli, refuses to comment on Marta's work saying he would comment only after seeing it for himself. Village pradhan Hitendra Singh, however, says the villagers' attitude towards sanitation has taken a positive turn since Marta got involved. This is palpable in Jyoti's enthusiasm, who says that like a kitchen, a toilet should also be built in every house. 
While these villages are still not fully free from open defecation (since some villagers find squatting in the open fulfilling), about 80 percent toilets are being regularly used which is a sea change from what it was like a couple of years ago.
Saurabh Sharma is a Lucknow based freelance writer and a member of 101Reporters.com, a pan-India network of grassroots reporters.
Posted by
Attachment