The COVID-19 pandemic has made us realise the importance of going beyond cleanliness to achieve total sanitation. In general practice, provisioning of toilet infrastructure has been the ultimate goal to safe sanitation but the Full Cycle of Sanitation (FCS) or Fecal Sludge Management (FSM) is more than just toilets.
This World Toilet Day 2020, meet Tamil Nadu's own sanitation mascot "Kakkaman" (Shit-man) who will talk about the importance of the FCS i.e. safe containment, emptying, transport, treatment and disposal and re-use of fecal sludge or shit!
"Toilets are not enough. Hence, full sanitation."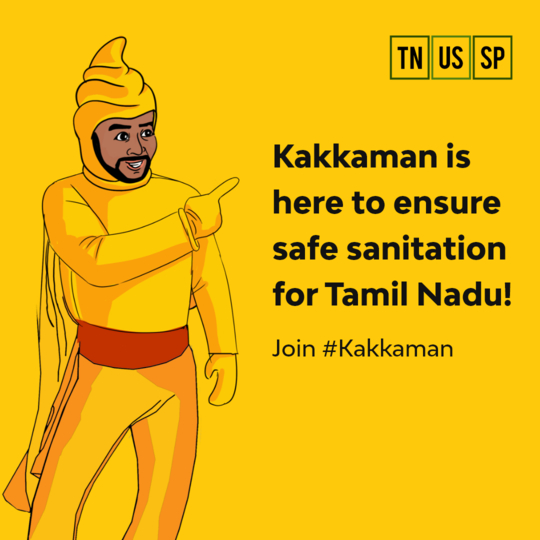 FSM is an important emerging area of work and the related solutions are gradually gaining traction with various State Governments. However, to sustain such efforts we need Behaviour Change and Communication (BCC) to create a supportive environment establishing the ownership of attaining safe sanitation among all stakeholders and the public. A BCC campaign to take the message of FSM to the people of the state through a friendly character named 'Kakkaman' has been developed by the Government of Tamil Nadu (GoTN). The BCC strategy envisioned the mascot as an identifying element for sanitation and FSM amongst the public.
Starting from 2017, the Kakkaman mascot has been pre-tested in Coimbatore and Trichy districts to get public feedback and response. The mascot was well received amongst the pre-tested audience owing to the lively and interactive methods adopted, which engages citizens to actively 'speak' about sanitation and take up the 'call to action' to move towards safe sanitation.
How is Tamil Nadu moving towards safe sanitation?
"The right place for your Shit is the FSTP/STP. This is good for the environment."
Tamil Nadu is a pioneer in urban sanitation in India. The Tamil Nadu Sanitation Support Programme (TNUSSP) launched in November 2015, supports the Government of Tamil Nadu (GoTN) and select cities in making improvements along the Full Cycle of Sanitation (FCS). TNUSSP aims to scale safe, inclusive sanitation across the state by providing technical support to the state government and by working with stakeholders across the FCS.
According to NSSO, 2018, 70 per cent of Tamil Nadu is dependent on on-site sanitation or non-networked systems. This means that the fecal waste or shit from these households/establishments are stored in septic tanks/pits. These have to be regularly de-sludged in a safe manner and treated at designated treatment facilities namely 'Fecal Sludge Treatment Plants' (FSTPs).
GoTN has commissioned 60 FSTPs across the state which are under various stages of construction. Additionally, in cities with Sewage Treatment Plants (STPs), TNUSSP is also supporting GoTN for enabling co-treatment of fecal sludge along with sewage.
While the establishment of these designated treatment facilities are an important first step, their effective utilisation depends on the uptake by a range of sanitation stakeholders along the FCS. Kakkaman will inform the people of Tamil Nadu about the upcoming treatment facilities near them, the importance of their functioning and usage.
"Coming soon. Near you. 60 FSTPs! Hence, full sanitation."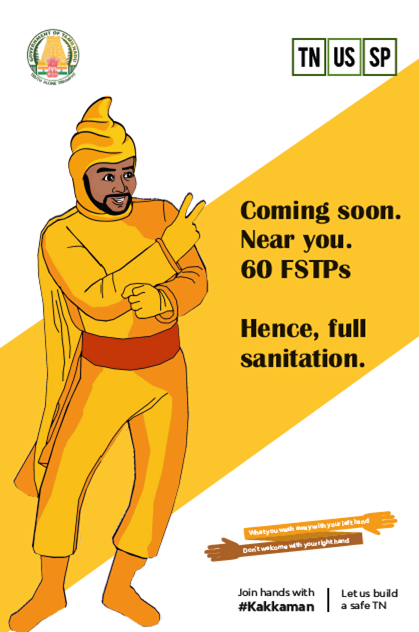 Call to action for key stakeholder groups who will be the main enablers of this change include government officers, users of these services (households, establishments etc), service providers across the FCS (sanitation workers including de-sludging operators, contractors etc) and WASH sector professionals.
The larger aim of the Kakkaman campaign is to increase a sense of ownership among individual consumers and households, and create a sense of responsibility towards the larger sanitation outcomes in their homes, neighborhoods, city, district and the state on the whole.
Kakkaman, designed as a friendly character to be the face of the BCC campaign will bring alive sanitation as an aspirational topic into the public mind, and linking it to quality of life is a necessary precursor to behavior change. The change in behaviour will ensure that stakeholders are aligned to sustain the proper usage of the infrastructure and enabling environment for FSM in Tamil Nadu.
"Let us build a safe TN. Join hands with #Kakkaman"
Aligned to this, a social media campaign to engage with the public and promote key messages on achieving safe sanitation through a series of posters, polls, quizzes, competitions and stakeholder interviews is ongoing on @TNUSSP handles Twitter, Facebook, YouTube and Instagram. 
The first set of campaign messages will be around creating awareness about FCS, which will be followed by call to action for stakeholders across the FCS, including a joint call to action to join Kakkaman campaign to build a safe Tamil Nadu.
On WTD, an interesting musical short film, which has Kakkaman conveying the idea of full cycle of sanitation is being released on social media by DIPR, sanitation organisations and social media influencers.
Shaktiman, Superman, Ironman and Batman have been immortalised and now it is time to give Kakkaman his due!
N. Abhilaasha is an architect-planner who works on social inclusion and project communications with the TNUSSP team at the Indian Institute for Human Settlements.
Srinithi Sudhakar has completed her Master's in Development Studies from SOAS, University of London and is a governance specialist with the TNUSSP team at the Indian Institute for Human Settlements.
Editing was supported by Rekha Ragunathan and Sofia Juliet.
The Kakkaman concept and campaign was developed collectively by the TNUSSP team.
Posted by