The World Health Organization (WHO) has declared coronavirus disease a pandemic. Originating from Wuhan in China, it has traversed almost the entire globe, and claimed more than 41,000 lives, while over 8 lakh people are infected already. That's largely the urban population.
In India, despite all the preparedness and war-like promptness to safeguard against the pandemic, several lives have been lost, and hundreds of individuals have tested positive. While lockdown continues to keep everyone inside their homes, apprehension lingers on the number of undetected cases. India's population size and density vis-a-vis the level of general awareness, preparedness and facilities available to treat an ailing section is a cause for particular worry. There are only 40,000 ventilators for a population of 1.3 billion.
Rural India is luckily still not much affected by this outbreak. But, that is no reason to be complacent. We are at a crucial juncture to organise millions of villagers of the subcontinent. A big challenge in remote rural areas, apart from inadequate coronavirus healthcare facilities at their doorstep, is the lack of awareness about the pandemic as well as about the measures essential to be safe in these circumstances.
Rural India not insulated from the pandemic
Most of India's daily wage earners and labourers migrate to urban areas from rural parts. At this time of crisis, when these labourers start moving back to their villages, some of them may carry back the virulent disease. A huge population that had hitherto remained unaffected by the virus will soon start falling ill, taking the number of infected individuals to several thousands in India. COVID-19 will become a 'community threat' and death toll may rise exponentially. Their vulnerability is huge and a serious outbreak could quickly overwhelm the rural local health system.
COVID-19 is an uncertain and seemingly long-drawn battle with an enemy unseen. And the challenge increases manifold when it comes to rural communities –
In most villages, water resource is scarce and people depend on wells/tube wells/small ponds for meeting their drinking and domestic water requirements. Ponds and wells imply stagnant water. Thus, the situation is likely to worsen further if contaminated water is consumed without adequate purification.
Migrants coming back to the villages from COVID-19 affected urban bases will also use the same water bodies and touch the handle of the tubewell. How does one prevent the village from becoming a potential hotspot as migrants return home? 
Social distancing is an alien concept in rural areas. If there is an illness in the vicinity, everyone flocks around and takes responsibility of treatment, carrying the patient to the health centres and so on. 
Providing for basic ration and other consumables at the doorstep of the daily wage earning ultra-poor section of the society during a long drawn lockdown phase poses a challenge. 
Ensuring that the poor are not fatally hurt
Various state governments along with the central government are taking measures to improve the block and district level health centres and reduce financial woes of the MGNREGA job-card holders.
But, it is time for the civil society organisations, working in some of the most remote and poor areas of the country, to adopt a larger role at this critical moment and provide required support to the communities, and the government, to combat the pandemic.
They have the expertise and experience to help design practical and contextual solutions for most of the problems in rural areas.
PRADAN, a national NGO, working for the last 37 years in about 9,000 villages of 37 of the poorest districts across seven states in India has an outreach of 850,000 families through 71,000 self-help groups (SHGs). Over 70 per cent of the community members it works with belong to scheduled tribe and scheduled caste categories. They have been suffering from abject poverty, illiteracy, ill-health and exclusion historically.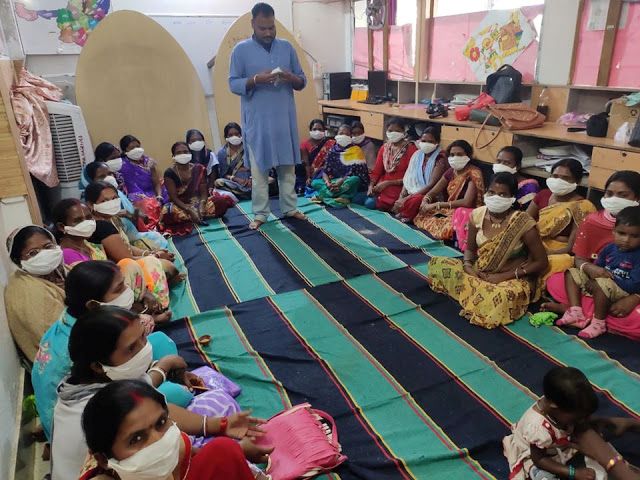 PRADAN has developed deep rapport with these disadvantaged communities and has facilitated transformation of millions of lives through promotion of livelihoods, natural resource management, entrepreneurship promotion, improving local governance, gender equality and various other well-being initiatives.
Today, these communities are extremely vulnerable to COVID-19 as they lack the requisite awareness, resources and support mechanisms to combat the disease. In fact, the possibility of getting affected by misinformation and fake news on social media during the infectious disease outbreak is extremely high.
PRADAN, which has been working directly with these marginalised small-farm holders, has taken up the responsibility to spread awareness among the communities and provide them the much required handholding support on certain major aspects of hygiene and safe practices. This engagement goes beyond the committed project deliverables.
Women leaders learnt how to make sanitisers with fermented Mahuwa flowers as well as prepare and use masks made with tissue papers and rubber-bands. The high alcohol content in Mahuwa flowers is being capitalised for making sanitiser. Acacia fruit is being used for cleaning hands – as a natural alternative to soap for hand-wash.
The teams in Jharkhand started an awareness drive on March 16, in collaboration with the SHG led federation of women in Pathargama block. The awareness camp focussed on specifics of maintaining hygiene in their everyday lives, mainly highlighting the need for frequent hand-washing and to avoid touching nose or mouth unnecessarily.
In fact, their unanimous decision to postpone the annual congregation or Mahadhiveshan, scheduled for March 17, for an indefinite period considering the need for social distancing is significant.
Also, an awareness generation and preventive measures programme was organised by the Chakai team in Bihar, where the members from Jeevan Marshal Mahila Sangh, a block level federation in Chakai geared-up to fight against COVID-19.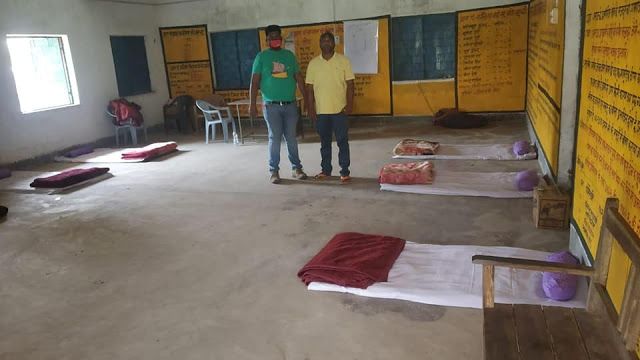 The initiative of making washable and reusable masks, with specific quality checks and supplying them to government departments is one step beyond merely keeping the communities abreast of best practices for a safe and healthy living. Through this initiative, attempt is to create a parallel line of supply of this crucial safety equipment. Apart from Bihar, the teams in Nagri of Chhattisgarh have also arranged similar programmes for the SHG members. Women are making the masks and supplying them to the local banks, panchayat offices and several other government offices.
PRADAN teams have also created information, education and communication (IEC) materials for disseminating correct information among the communities. The team of development professionals in Gumla, Palkot and Mayurbhanj have joined hands with local health departments to co-create IEC materials.
All panchayat halls are being converted into quarantine facilities at Basia block in Gumla district of Jharkhand. If the need arises, school halls will also be used for this purpose. Khichdi will be made available to the patients. In fact, this is now becoming the model for many remote rural areas in other states too.
Along with panchayat and block administration, PRADAN is preparing the status of ration distribution in Basia. A WhatsApp group, including all the administrative bodies and PRADAN professionals, has been created for a seamless coordination of the entire task.
PRADAN partners communities in good and bad times both. And communities see PRADAN as partners in both good times and bad. And like PRADAN, there are many other grassroots NGOs who are well placed to play a role in managing such crises given their long-standing, deep rooted relationship with the communities.
Most of the PRADAN staff and the community based local service providers have been advised to work from home, but spreading the right messages using the latest information and communication technology is crucial in controlling the spread of COVID-19 in remote rural pockets. If being together is no more encouraged during the COVID-19 times, it's only together, with our collective zeal, that we can counter the threat. Because #TogetherWeCan!
Souparno Chatterjee has been associated with PRADAN since 2007 and presently works as Executive (Resource Mobilisation, Communications & Partnership). 
This article has appeared in Counterview here
Posted by
Attachment