Millions of Indian women can take up to six trips a day to gather and transport water, which takes up a major part of their day. During scorching summers when many sources dry up, their drudgery gets even worse. Stories of girls dropping out of school to share the burden of carrying water are also not unheard of. More than 150 million people are at the risk of extreme health problems resulting from consumption of water contaminated with arsenic and fluoride.
This bleak picture of drinking water facilities in India, especially in rural areas, has time and again received a glimmer of hope in terms of drinking water programs, which have historically been an important part of the water investments of several governments since independence. The most recent of these is Jal Jeevan Mission, the flagship scheme of the present government at the centre. The program has taken up a daunting task of ensuring functional household tap connection to every household (Har Ghar Jal), which would mean reaching to the 15 crore rural households which currently do not have piped water supply, with an investment of 3.6 lakh crore rupees.
Old wine in a new bottle?
Currently, only 18% of Indian households have tap water connections. This coverage has been a result of at least a dozen programs over the last 65 years. From the Accelerated Rural Water Supply Programme (ARWSP) launched in 1972 to provide 40 lpcd water to all rural households, to its transformed version National Rural Drinking Water Programme (NRDWP), all major components and design elements of Jal Jeevan Mission have been mentioned previously in one form or the other, including source sustainability (8th Plan, 1992-97); decentralization and community-driven approach (1999-2000 reforms); full coverage of habitations (2008-09); wastewater management; and operation and management (2013).
In spite of all these efforts, the programs have not been able to achieve the desired outcomes i.e. piped water supply to 100% households from a sustainable and safe source. So, how will Jal Jeevan Mission achieve what none of these programs have been able to? Will it be able to do things differently to deliver the promise of functional household tap connection to the remotest villages?
To get different results, Jal Jeevan Mission must do things differently
The local governance body (gram panchayat) will have the most significant role to play in ensuring that the program objectives are met. As per the program guidelines, gram panchayat and/ or its sub-committee, i.e. village water and sanitation committee/paani samiti/user group will be responsible to prepare a village action plan, which will include source sustainability, greywater management, cost estimates, operation and management plan etc., all of which require them to have good knowledge of each component. Jal Jeevan Mission, therefore, needs to shift its focus to the "first mile" i.e. communities, where all the action is supposed to happen.
While ensuring community participation has been in the mandate of past programs as well, commensurate investments to create mechanisms to enable that participation have been missing. Community representatives need to be trained well to be able to take up the task of preparing and executing village action plans, which cannot be done in a few days as a one-time activity.
If the program wants to enable the first mile to leverage resources provided by it to achieve functional household tap connection in their habitations, it has to transform the way it is currently looking at their capacity building.
Past programs have disseminated information, education and communication (IEC), which tends to be generic and common to all first-mile actors.
Now Jal Jeevan Mission can look to repurpose this content to provide those responsible and accountable at the gram panchayat level with learning material which is specific to the tasks they need to perform. If the content is digital and made accessible through smartphones, they will be able to share it in their community and also perform their tasks by referring to it. Additionally, if they face challenges while doing those tasks or if their context is very different from what the standard training skilled them on, they need to be provided with mechanisms to get expert opinion or learn from their peers.
A program of this scale to be implemented in all diverse settings that India has to offer cannot succeed through a top-down rigid approach.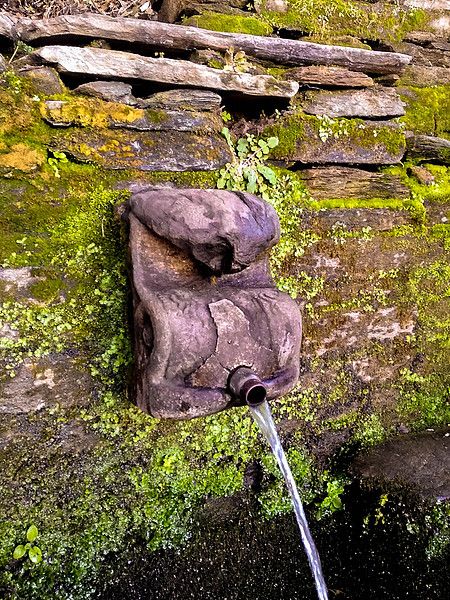 For instance, almost 15% of India's population is dependent on springs for drinking water. Only a handful of experts are available to demystify the science of springs to communities and program functionaries. How will Jal Jeevan Mission ensure that the right knowledge reaches the right people in such a case? Similarly, large parts of the country have severe water quality problems. Resolving water quality issues requires water workers to work in convergence with health workers, whose capacities also have to be built with a different approach. How will Jal Jeevan Mission create such targeted training plans and ensure that conventional capacity building models are supplemented to enable the first mile actors?
Leaving assets and creating convergence beyond the program
As Jal Jeevan Mission is ready to take-off, the water ecosystem is also seeing some other large programs emerging, and these programs have a fairly large overlap with Jal Jeevan Mission. Atal Jal Yojana, for instance, is planned to be implemented in 7 states to augment groundwater resources. This program is also under Jal Shakti Ministry and its objective has a direct overlap with the source sustainability component of Jal Jeevan Mission.
In villages where both Jal Jeevan Mission and Atal Jal Yojana will be implemented, can both programs be designed in a manner that the institutions, cadre of trained resources, plan templates, data etc., get integrated and not duplicated?
Similarly, for water quality affected habitations, a similar convergence mechanism needs to be designed by integrating health and nutrition components as envisioned under the National Programme on the Prevention and Control of Fluorosis.
A lot of public fund gets spent in trying to train people, create infrastructure, institutions, and data that have very low reusability. The new design should look at converting these expenditures into reusable assets that can be used to empower communities as well as future programmes.
In the end, the ability of the local communities to understand and secure their local water resources on a sustained basis would determine if water would continue to flow through the taps and pipes that will inevitably get installed till the dream of having these taps fed through surface water sources becomes a reality. 
Posted by
Attachment