Hanumanthappa Ramanagar from Kushtagi taluka of Karnataka's Koppal district has 15 acres of arid land with two deep wells on two sides of the land. One is a "very old" dug well and the other, a tubewell, is just 10 years old. Both were on the verge of going defunct two years ago. "There were many areas of land around us which were facing a similar fate. It had become a regular feature after the monsoon water receded," Hanumanthappa says.
Then the Raitha Samparka Kendra at the district headquarters, established by the Karnataka department of agriculture, told Hanumanthappa and others about "adda boring". They were referred to a rural mechanic from Rajasthan, Govind Ram Jat, who had devised a simple machine that bores horizontally on the walls of a well or tank to naturally channelise the water veins.
The horizontal boring technique is gaining popularity as vertical borewells face flak for taking subterranean water to abysmal depths. Some borewells are dug so deep that at some places, the water is fluoride-heavy and unfit for human consumption.
"We met Govind bhai in south Goa and invited him to our taluk," says Hanumanthappa.
Adda boring gets popular
The technique worked and in 2016, both his wells had enough water for the initial kharif operations. "There are nearly 100 villages around where I live and farmers from all those villages come to visit my land to see for themselves the benefits of adda boring," he says.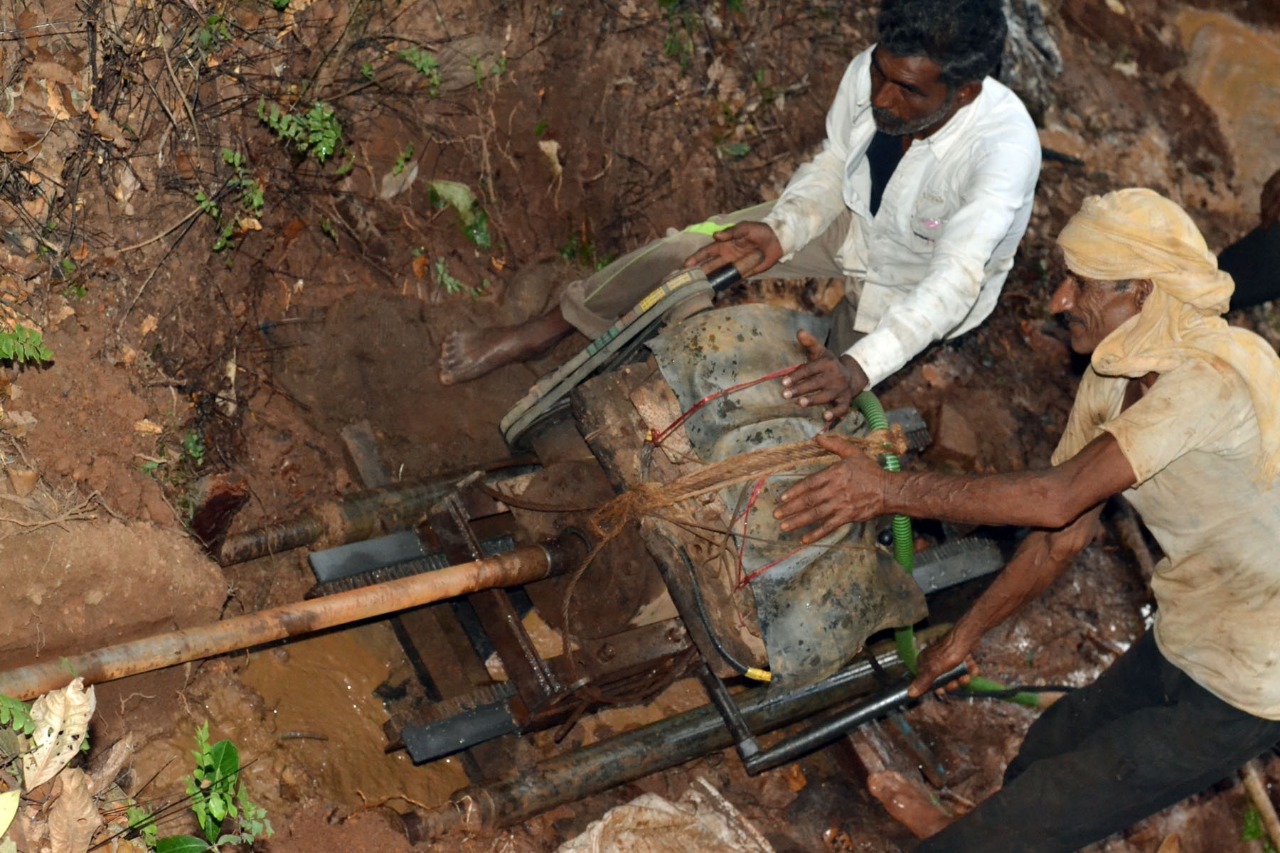 Shree Padre, the editor of Kannada agricultural magazine Adike Patrike, says unlike the vertical boring technique, horizontal boring "does not pierce the rocky strata and extract water from deeper aquifers. Like an open well, it draws water only from shallow aquifers that are easily rechargeable using rainwater."  However, if there are granite stones along the line, drilling has to be stopped. "The existence of many smaller stones on drilling line might jam the movement of the drilling rod."
Inocio Gonzalez, of Majorda village in Goa, too had used the services of Govind bhai and company a decade ago. "My two open wells in my 15 acres of cashew plantation were drying out and I thought it was due to the many borewells being dug around my plot. But a village elder, Gratian Pinto, told me that was not the case, and that the water veins around my wells had been choked."
Water veins of wells can get choked by materials like mud, leaves, rocks, etc. To get the veins opened, the village elder referred Gonzalez to Govind who was working in the next village. "Govind just took a look at my wells and confirmed that the water veins had choked. So in the next three days, he and his three-member crew worked for a few hours and by the evening of each day I could see freshwater oozing into the wells from all sides exactly like it used to 25 years ago," says Gonzalez.
Another farmer from Netravali village in Goa's Canacona, Harshad Prabhu Desai, says his dug well did not have enough water for the water-intensive arecanut he was growing on his 50 acres of land. Desai too heard about the adda boring technique and got it done on his well "by paying Rs 1,00,000, which cost just a fraction of what it would for digging a fresh open well. The bore yielded me 4.5 inches of water, and I have the water for the most part of the year". He says that after people heard about the "success" at his plot, many other farmers have gone in for horizontal boring and reaped a good harvest of water.
Opening water veins safely
Govind, a farmer himself and the source of happiness for many others, says he uses his native knowledge to find water veins. He saw very good scope in reviving failing open wells in the south coastal Karnataka and in the hilly areas of Puttur and Sullia in Karnataka and Kasaragod in Kerala. "These areas are naturally positioned for subterranean water veins. I have the installed capacity of boring 300 feet horizontally. In the last 22 years, I have taken up over 1,500 horizontal boring works and found success in more than 85 percent of it," Govind says.
Will adda boring be the future solution for groundwater crisis? Sudhakar M., a hydrologist working in the irrigation department of Karnataka says studies are yet to be done to determine the sustenance of the water veins found through horizontal boring, but this relatively new method is better than vertical boring. "We know that vertical boring has done its damage in many areas. We have found high traces of flouride and other heavy metals in the water drawn from deep tube wells."
He says that though there are strict guidelines to govern vertical borewells, the rules are being overlooked. "This is bringing on the crises in exploiting groundwater. Adda boring has an advantage as it claims to naturally harvest the water for small bodies," he adds.
Padre agrees but gives a fair warning. "Though adda boring is less exploitative than vertical boring, conscious effort to recharge rain in adda bore's catchment will make it more sustainable. However, this technology has to be used with restraint. Excessive use of this is not advisable," he says.
Govind says it is surprising how water is found even in the most unlikely areas through this method. "I now have three teams of three crew members each and two boring units. It is not at all sufficient to meet the demands."
(M. Raghuram is a Mangaluru-based freelance writer and a member of 101Reporters.com, a pan-India network of grassroots reporters.) 
Posted by
Attachment