India's ever-increasing energy demand is putting a heavy load on energy generating agencies. Shifting towards renewable energy entails a series of judicious steps in consultation with the government bodies, energy developers, market valuation, and consumers. The renewable energy shares 4% of gross energy consumption globally, suggesting that other sources still dominate the energy market.
In India, over 23% of energy production comes through renewable energy sources, out of which wind energy dominance is the highest (43.3%) as of 2019. The Government of India has proposed a target of 60 GW electricity generated through wind power and a cumulative renewable energy mission of 175 GW by 2022.
A recent study 'Changing landscape of India's renewable energy and the contribution of wind energy' indicates that wind energy contribution towards renewable energy sources in India is very promising. The study published in journal 'Cleaner Engineering and Technology' suggests that some critical aspects related to technologies, T&D, regulation, R&D, and social awareness and acceptance which need to be addressed.
India is implementing and operating various modes of electricity generation. The renewable energy developers, particularly wind energy, have gained significant knowledge of this technology over the past few decades. Now it has become a potential player among the renewable energy market competitors.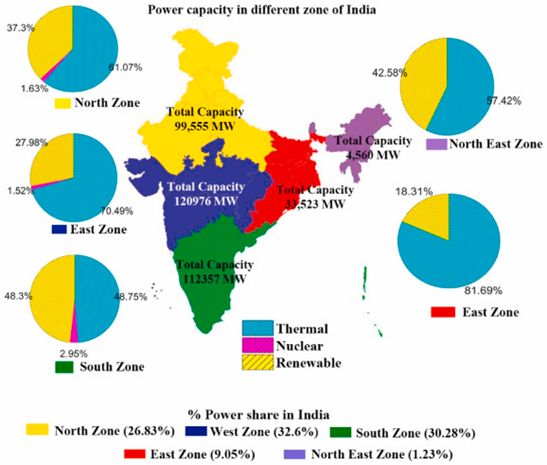 Financial involvement in development of wind potential in India
The sectors that consume the most electricity are domestic, industrial, commercial, traction (railway transport), agriculture, and others. The United Nation Environmental Program (UNEP) report on India has noted that as of 2019, about $90 billion investment has been made by various government funding in renewable energy sectors. This has placed India on the list of countries heavily invested in clean energy technologies.
In particular, wind energy has witnessed a rise in financial mobility since its first induction as a commercial market in 1986. As of 2019, total capital fund and liabilities stood around $0.95 billion (95 Crore Indian Rupees) with an expenditure of $0.28 billion, $0.1 billion on various wind power development projects, and had a total income of about $0.18 billion.
This sector has also witnessed various funding projects, with an average of 3–4 wind-farm development projects every year since the beginning of the 21st century (NIWE, 1998–20). Further, many monitoring stations such as meteorological mast have been installed with required funding, mainly from MNRE. These meteorological masts play a crucial role in power prediction for wind farm development.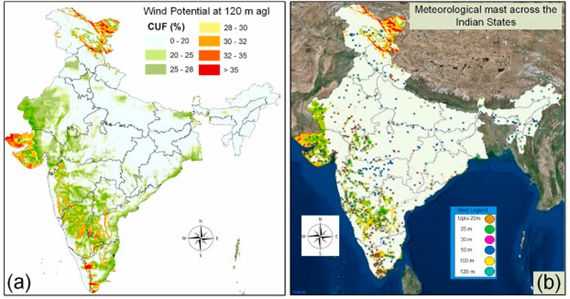 Some of the significant challenges and suggestions in grid connectivity of the wind energy sector in India are (CERC, 2018–19; Irfan et al., 2019; Thapar et al., 2018):
Because of varying wind speed, there is a need for proper scheduling, forecasting, and balancing by the load dispatch centers (LDCs).
There is a need for systematic, synchronous forecasting and regulation under CEA for inter-state electricity T&D of power generated through wind and solar.
Intermittency/variability/uncertainty in T&D, mainly when power plants are located in remote/concentrated locations with a weak transmission network.
Wind power plants provide less grid support during system disturbances/exigencies than conventional MVAR (Mega-Voltage-Ampere Reactive)/active power regulation.
Most wind plants are not FRT (Fault ride through) capable. This may lead to the collapse of a large chunk of renewable energy generation at a time in grid fault situations.
For smooth renewable energy feed-in grid operation, there is a need for real-time tracking of RE generation and its geospatial visualization. Simultaneously, having close coordination with the respective LDC of renewable energy generation would ensure a smooth operation.
Establishment of renewable energy management centers integrated with advanced forecasting tools and reliable communication infrastructure such as SCADA/Control centers.
Incorporate synchro-phasor equipment such as phasor measurement units (PMUs)/wide-area measurement systems (WAMS) on nearby pooling stations simultaneous interconnection with centralized control center through fiber optic cables.
Institutional arrangements with defined roles and responsibilities of various agencies/generation developers.
The need for the renewable energy technical standard requirements (grid code, connectivity standards, real-time monitoring)
Single source information repository and coordination point for renewable energy penetration.
Creating awareness and capacity building.
The project like Green Energy Corridors (GECs) for renewable energy T&D need to be properly implemented.
Some critical observations with its possible strategic implications on wind energy improvement based on the present study are:
Wind turbine developers of India are beginners, and there is need to evolve it into a global standard and self-resilience.
Through knowledge sharing with other international players the quality of the product can be improved, this will also ensure market value addition, employment, and a step towards the "Make in India" initiative.
CEA has to play the lead role in providing crucial juncture for renewable energy generated electricity to make it easily adaptable, reliable, and competitive.
It has been understood that India's north and west zones combined together consume about 60% of total energy produce. Therefore, incorporating wind energy into this regional grid would be a positive step from investment point of view.
There is a need of logical plan layout of renewable energy generation. The proposed smart load assessment (SLA) could provide vital information while operating wind power plant.
Having more than 7500 km of coastline, India's offshore wind energy technology seems to have a bright future. The building of service supports specialized in the offshore turbine, underwater T&D, grid infrastructure, administrative and regulatory body are some fundamental requirements that need to be addressed and must be incorporated in renewable energy policy making.
Fossil fuels being unrecoverable, the prospect of renewable energy in the future is up-and-coming. However, to bring renewable energy into the limelight and to make it acceptable to the general public, a deal of social, economic, and political involvement is needed. One possible approach that the government could take up is through some public missions/schemes/projects.
From India's context, some technical issues would require comprehensive cooperation between wind energy developers, research institutes, and government, where the role of government is mainly towards implementation and funding. Some suggestions for wind power development in India are -
The majority of technical requirements on wind power development is directly or indirectly fulfilled by overseas nations. Therefore, India's wind industry has to evolve into a global standard.
Being technologically self-reliable will ensure its capability of development and self-resilience in technical services; otherwise, any major technical failure may lead to unexpected delays.
Technological lagging can be fulfilled through joint ventures with overseas companies under licensed production, necessary subsidies, and financial assistance. Such steps could help India's wind industry achieve the global standard by sharing technology and a step towards the 'Make in India' initiative.
The establishment of dedicated R&D, international relations, training, economic evaluation, market value addition, and awareness of wind power sectors are vital factors that need to be addressed at the right platform.
Under the guidance of MNRE, Govt. of India has constituted OWESC (Offshore Wind Energy Steering Committee) to provide various policy frameworks for developing offshore wind farms in India.
Policy framework required for offshore wind energy development.
The requirement of inter-agency coordination.
As per draft policy, the geographical coverage of up to 12 nautical miles from the baseline where the sea is relatively shallow could be used for the offshore endeavour.
R&D activities up to 200 nautical miles within EEZ.
NOWA (National Offshore Wind Association) receives an application as a single-window agency for approval from the concerned ministries/department.
Clearances from the Ministry of Defense, Ministry of Shipping, Ministry of Petroleum & Natural Gas, Ministry of Environment & Forest, and some other agencies are required before commencing installation in the sea.
In order to make renewable energy accessible and acceptable for the whole population of India, it would certainly demand a great deal of involvement. Although the road ahead comes with many challenges, there is a need for some positive government initiatives. 
The full article can be viewed here
Posted by