This draft report by the Kerala Paristhithi Aikya Vedi is an outcome of the Kerala State Environmental Convention, a two day convention that was organised in Trivandrum, Kerala by calling upon various environmental and social organisations, concerned citizens, experts,  political leaders in the state to discuss the environmental crisis that the state has been facing in recent years.
The convention aimed at providing a critique of the economic policies and the development path that was being followed in the country in recent years, which had a complete disregard for the negative environmental, ecological and social impacts of these policies on the natural resources, environment and human health.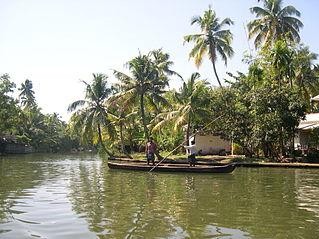 The Kerala backwaters
Image source: Wikimedia Commons
The report highlights the current and very urgent issues in the state that have led to this grave environmental crisis, and to the gradual deterioration of natural resources, which threaten to pose as serious risks to health and to the survival and sustainability of the natural ecosystems, which include:
Loss and degradation of forests
Loss of mangrove ecosystems
Threat to coastal ecosystems
Increased sand and clay mining of rivers, river banks and paddy lands leading to an ecological disaster and a serious challenge to food and water security
Overexploitation leading to fast depletion and degradation of the freshwater and marine fauna
Conversion of paddy fields for cash crops, construction and other development activities, leading to reduction in food production in the state
Deterioration of rivers and river ecosystems on account of sand mining, encroachment, contamination from chemical pesticides and fertilisers and effluent and sewage/solid waste from industries, municipalities and corporations
Increasing scarcity of water
Loss of farmland productivity
Alarming rates of air, water and soil contamination
Increasing menace of garbage disposal as well as medical waste disposal
Increasing threat of industrial pollution
Menace from electronic waste
Growth of urbanisation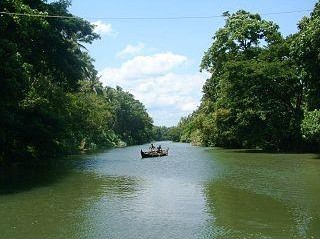 The Kerala backwaters
Image Source:Wikimedia Commons
The report is divided into the following chapters:
Agriculture, biodiversity and food security
Conservation of wetlands and paddy lands
Rivers of Kerala- Time for Revival
Coastal and marine ecosystems of Kerala
Fisheries
Forests and forestry in Kerala
Forest conservation
Quarrying and mining
Green energy policy
Housing
Solid waste management
Transportation
Industrial development
Industrial pollution
Proposed Kerala state green land use policy
Sustainable tourism- Preserving culture and heritage
IT industry
The report argues for a different development paradigm that ensures economic growth based on social, environmental, ecological, secular and democratic systems with a focus on ensuring all citizens clean air, clean water, clean soil, clean food, a roof to dwell, hygienic living surroundings, basic free medical and education facilities.
The report provides an alternative perspective and proposes solutions to deal with the current situation by arguing for a green agenda for Kerala to deal with the burning environmental issues in the state and urges political parties both in the government and in opposition to make an attempt to integrate these basic requirements in their agenda for the benefit of the current populations and the generations to come.
Suggestions are invited/welcome on the draft copy of this report, which can be forwarded to the following address:
Dr. V.S. Vijayan, Salim Ali Foundation
Ayyappankavu Road, Kanimangalam,
Thrissur 680027
Mob: 9446372880
E mail: vsvijayan@yahoo.com
A copy of the report can be downloaded from below:
Posted by
Attachment