Among the countries of the global south, India is one of the most vulnerable nations and is exposed to an increasing trend of forest fires. More than 62% of Indian states are vulnerable to high-intensity forest fire events according to an independent study 'Managing Forest Fires in a Changing Climate' released recently by the Council on Energy, Environment and Water (CEEW).
The study also generates evidence of how the varying and warming climate is intensifying forest fire incidences since most of the forest fire-prone districts are witnessing drought and drought-like conditions with increased dry spells.
India is aggressively marching ahead to achieve its NDCs and enhance its carbon sink; the likelihood of it achieving its Bonn challenge commitment of restoring 26 million hectares of degraded forests looks blurry, especially considering the soaring 10-fold increase in forest fire incidences over the last two decades. Adhering to and applying principles of risk assessment for the effective management of forest fires can help climate-proof forests (CEEW 2015).
The study also highlighted that the instances of forest fires in India have risen by over 10 times in the past two decades. In the last month alone, significant forest fires have been reported in states like Uttarakhand, Madhya Pradesh and Rajasthan.
The CEEW study also found that Andhra Pradesh, Assam, Chhattisgarh, Odisha and Maharashtra are the most prone to high-intensity forest fire events caused by rapid changes in the climate. As global temperatures rise, instances of high-intensity forest fires have surged across the globe, especially in areas with dry weather.
Dr Arunabha Ghosh, CEO, CEEW, said, "Over the last decade, there has been a sharp rise in forest fires across the country. Some of these fires have had severe impacts on fragile ecosystems and local economies. We need to strengthen our predictive and forest fire alert systems further to limit the damage caused by forest fires. State and district-level government officials must also prioritise enhancing the capacity of frontline forest officials and forest-dependent communities to prevent forest fires."
The CEEW study also found that over the last two decades, more than 89% of total forest fire incidences have been recorded in districts that are traditionally drought-prone or have been witnessing weather swapping trends i.e flood-prone areas turning drought-prone and vice-versa.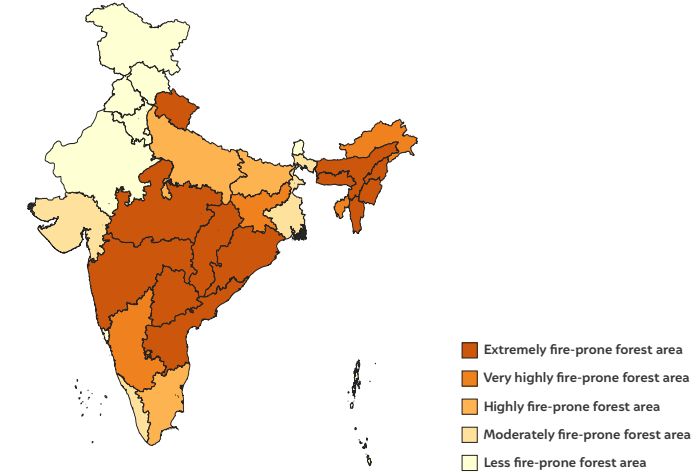 Kandhamal (Odisha), Sheopur (Madhya Pradesh), Udham Singh Nagar (Uttarakhand), and East Godavari (Andhra Pradesh) are some of the forest fire hotspot districts that are also showing a swapping trend from flood to drought.
"Sharp increase in forest fires over the last two decades calls for a significant course correction in our approach to managing forest fires. The recent incident at Sariska forest reserve, the fourth such incident in a week, shows why managing forest fires in a changing climate scenario is a national imperative. Going forward, we should recognise forest fires as a natural hazard and earmark more funds for mitigation-related activities. Restoration of forest lands and efficient mitigation of forest fires could also help protect the food systems and livelihoods of communities traditionally dependant on forests." said Abinash Mohanty, Programme Lead, CEEW.
The CEEW study also found that local air quality could deteriorate significantly during a forest fire. The state governments or state forest departments should repurpose public buildings like government schools and community halls by fitting them with clean air solutions – like air filters – to create clean air shelters for communities worst impacted by fires and smoke from forest fires.
The key recommendations from the study focus on the following four aspects:
Recognise forest fires as a disaster type and integrate it into national, sub-national and local disaster management plans
The National Plan on Forest Fires was launched by the Government of India in 2018 under the flagship National Afforestation Programme. This national plan touches upon a wide range of activities, but financial and operational dynamism remains a challenge.
To provide further policy support, forest fires should be recognised as a disaster type under the Disaster Management Act, 2005. The recognition will enhance and strengthen the National Plan on Forest Fires by improving its financial allocation and creating a cadre of trained forest firefighters under the National Disaster Response Force (NDRF) and State Disaster Response Force (SDRF).
Further, forest fires as a hazard should be integrated and recognised in the NAPCC and State Action Plans on Climate Change (SAPCCs) that can have both mitigation and adaptation co-benefits. The integration will also help in the effective monitoring and financing of India's Bonn challenge commitments and NDCs.
Develop a forest fire-only alert system
As a first step, a forest fire-only alert system needs to be developed that can provide real-time impact-based alerts. There is a need to democratise forest fire data for better projection and incidence reporting and for the creation of an improved response and preparedness system. A forest fire-based alert mechanism is the need of the hour and should be layered with localised weather and climatological variables that can predict ignition events.
Enhance adaptive capacity
This is required to climate-proof forests and forest-dependent populations. The approach for enhancing adaptive capacity should include i) identification of risks (forest fires, their impact on the ecosystem, lives, livelihoods, and the atmosphere), ii) understanding the extent of damage, iii) who could be/are the first set of responders (communities (forest dwellers), forest officers)?
Based on this approach, communities and forest officials should be imparted tailor-made training to tackle forest fire events. Training on high technology-focused equipment (like drones) and nature-based modules (creating effective forest fire lines) should be integrated.
Provide clean air shelters
Forest fires contribute significantly to the local air pollution; hence, real-time air quality monitoring is useful in assessing prevailing air quality conditions and exposure concentrations. Several examples from other countries showcase demonstrate the application of smart monitoring using low-cost sensors and satellite data in tracking to track the impact of forest fires in a real-time fashion (Gupta et al. 2018).
Moving forward, state pollution control boards should capitalise on the use of non-traditional monitoring networks such as low-cost sensors that are cost-effective and to plug in the data gaps.
The study 'Managing forest fires in a changing climate' can be accessed here.
Suggested citation: Mohanty, Abinash and Vidur Mithal. 2022. Managing Forest Fires in a Changing Climate. New Delhi: Council on Energy, Environment and Water.
Posted by