With every passing winter, the need to address Delhi's air pollution grows more urgent. During the winter of 2021, the Supreme Court, the Delhi Government, and the Commission for Air Quality Management in the NCR and Adjoining Areas (CAQM), all sprang into action to arrest rising pollution levels in Delhi.
The interventions ranged from shutting down power plants and restricting the entry of trucks into Delhi to school closures and using forecasts to pre-emptively roll out emergency measures. However, the impact of these interventions on Delhi's air quality begs further investigation.
Forecasting systems helped prevent extremely severe air pollution episodes in Delhi last winter, according to an independent study released recently by the Council on Energy, Environment and Water (CEEW). This happened because short-term emergency measures such as halting operations of power plants, construction activities and plying of trucks were introduced based on the forecasts.
However, to reduce high air pollution episodes further during the next winter, forecasting systems would need to provide more accurate predictions of PM2.5 concentration levels.
Further, the implementation of the Graded Response Action Plan (GRAP) must be based strictly on modelled source contributions obtained from forecasts and timed accordingly. This would eliminate the need for ad-hoc emergency directions to restrict various activities.
The CEEW study 'Improving Air Quality Management through Forecasts: A Case Study of Delhi's Air Pollution of Winter 2021' also found that 64 per cent of Delhi's pollution load came from beyond its borders last winter.
External sources of pollution included burning of agricultural waste and other forms of biomass for heating and cooking needs in the bordering states. Locally, transport and dust, especially from construction activities, were the main contributors of the PM2.5 concentration, along with burning of biomass for heating needs. 
"Our study finds that the crop residue burning phase was not the most polluted time of winter last year in Delhi. Instead, the 30-day period between 15 November to 15 December was the most polluted phase with contribution from transport, biomass burning and dust as the primary causes," said Tanushree Ganguly, Programme Lead, CEEW.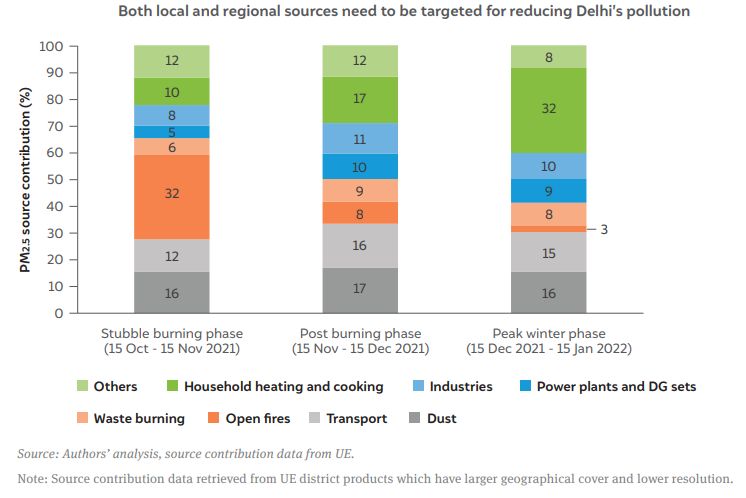 The findings of this study reinforce the need for strengthening both long-term and emergency actions aimed at curbing emissions from these sectors. "Additionally, with multiple forecasting systems, efforts should be made to encourage dialogue between different scientific groups and reconcile differences in varying estimates from the different groups," added Ganguly.
The report also highlighted that air quality in the state of Delhi nosedived to 'very poor' and 'severe' levels on almost 75% of the days during the winter months. Notwithstanding an increase in the instances of farm fires in the neighbouring states, concentration of PM2.5 over Delhi during the stubble burning period (15 October to 15 November) of 2021 did not surpass the levels witnessed in the previous year. This happened due to favourable meteorological conditions.
"Existing forecasts have shown potential for accurate air quality prediction and should be used actively for emission control as well as emergency measures to restrict various activities. Further, authorities should consider using social media platforms to inform residents about air pollutants, contributing sources and related forecasts. This could help limit human exposure and activity levels in the city. The state governments of Delhi and neighbouring states should also conduct surveys on the prevalence of biomass burning for cooking and heating purposes, and offer alternative solutions based on clean fuels," said Adeel Khan, Research Analyst, CEEW.
The lifting of the restrictions was ill-timed with high pollution levels forecasted in the following days.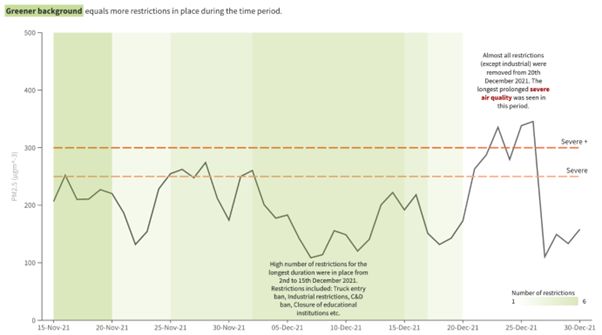 Recommendations
The discussion above highlights that despite the emergency measures taken in winter 2021, the air quality conditions were far from satisfactory.
Calibrating emergency responses to forecasted source contributions may result in a greater impact on air quality. Our study recommends the following to help the Government of National Capital Territory of Delhi (GNCTD) and CAQM plan and execute emergency responses better:
GRAP implementation must be based strictly on modelled source contributions obtained from forecasts and timed accordingly. This will eliminate the need for ad-hoc emergency directions to restrict various activities. For instance, restrictions on private vehicles can be brought in when the air quality is forecasted to be 'Very poor' as transport is a significant contributor.
Surveys or assessments are required in the residential areas across NCR to explore the prevalence of biomass usage for heating and cooking purposes. Based on this, a targeted support mechanism is required to allow households and others to use clean fuels for cooking and heating. There is also a need to assess and promote alternatives for space heating.
Air quality forecasts should be relayed to the public via social media platforms to encourage them to take preventive measures such as avoiding unnecessary travel and wearing masks when stepping out. This will help reduce individual exposure and activity levels in the city.
Ground level data and insights need to be incorporated in forecasting models. Data from sources like social media posts (text and photos), camera feeds from public places, and pollution related grievance portals like SAMEER, Green Delhi, and SDMC 311 can provide near-real time information on pollution sources. Then aggregated representation of polluting activities based on recent days or weeks can be used as an input in models. Ultimately, a crowd-sourced emissions inventory for NCT/NCR will benefit modellers and policymakers alike while also making pollution curtailment efforts transparent.
Combining the available air quality forecasts through an ensemble approach can help improve the accuracy of the forecasts and prompt better coordination within the modelling community.
The study can be accessed here
Posted by