Nearly 85 percent of the Indian population consumes groundwater and this groundwater can get polluted because of a number of contaminants - with fluoride being an important one.
Fluoride contamination of groundwater - a grave risk to health
Fluoride contamination of groundwater can occur due to geogenic causes as well as a range of anthropogenic factors such as industrial and agricultural activities and use of phosphate fertilisers that contaminate ground water sources. Geogenic contamination includes the leaching and dissolution of fluoride-bearing minerals depending on ion exchange, rock-water interaction, weathering processes, evaporation, precipitation of calcite, and type of rock present.
Although fluoride is necessary for the growth and strength of bones and teeth, its high concentrations are linked with serious health hazards. Exposure to high levels of fluoride in drinking water can lead to arthritis, infertility, hypertension, neurotoxicological effects, skeletal cancer, damage to the tissues such as testis, liver, kidneys, and lungs, skeletal fluorosis, and hard tissue deformities.
Around 120 million people in India are at the risk of fluorosis due to groundwater consumption and the northwestern states of Rajasthan, Gujarat, Punjab, Haryana, Delhi and southern states of Andhra Pradesh, Telangana, Karnataka, and Tamil Nadu have groundwater fluoride concentrations to be many folds higher than the maximum permissible limit (>1.5 mg/L).
Fluoride contamination, on the rise in Punjab
A paper titled 'Fluoride contamination in drinking water and associated health risk assessment in the Malwa Belt of Punjab, India' authored by Vikas Duggal and Samriti Sharma published in the journal Environmental Advances informs that decline in groundwater quality is of significant concern in Punjab and what is worrying is that residents use groundwater for drinking and other domestic purposes without prior treatment.
While few studies have investigated the fluoride concentrations in groundwater of the Jalandhar, Bathinda, and Ropar districts of Punjab, no studies exists that evaluate the health risks posed by high levels of fluoride in groundwater in the Malwa Belt of Punjab. The paper discusses the findings of a study that aims at:
Determining groundwater fluoride levels and comparing them with national and international standards/guidelines and data
Evaluating the non-carcinogenic risks for infants, children, teenagers, adults, and senior citizens
Determining the physicochemical parameters (EC, TDS, and pH) in groundwater.
Seven districts namely Bathinda, Mansa, Faridkot, Barnala, Moga, Muktsar and Fazilka of the Malwa Belt were selected for the present study, which form a part of the Indo Gangetic alluvial plain and is made up of sand, gravel, pebbles, kankar, and clay. The soil type in the region is calcareous and the soil in the region shows high alkalinity and salinity. The area also includes sand dunes that spread over about 10 to 15 percent of Malwa and cover parts of the Faridkot, Muktsar, Bathinda, Mansa, and Fazilka districts forming a thin layer over the alluvium.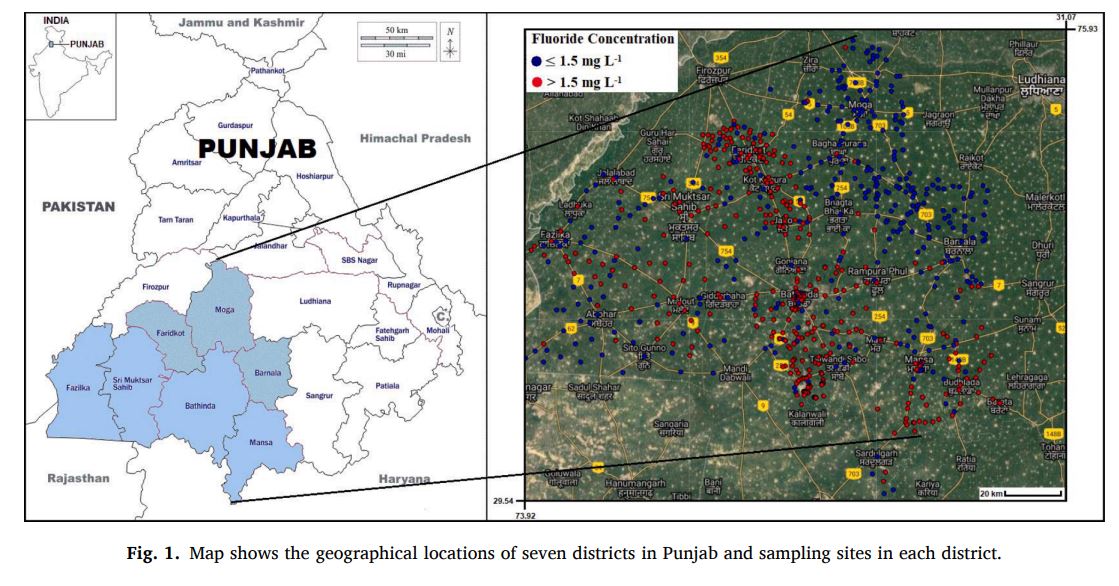 The climate of the region is subtropical steppe, semi-arid, and hot and the region has four seasons, i. e. the monsoon season (Jul-Sept), post-monsoon (Sept-Nov), winter (Nov-Mar), and summer (Apr-June). Groundwater occurs in the deeper aquifers in semi-confined to confined conditions and also in unconfined form in the shallow aquifers.
Agriculture is the main occupation of Punjab State and consumption of phosphate fertilisers in the region is ten times higher than the national average. Major industries in the Malwa Belt of Punjab include chemical factories, cement factories, Guru Gobind Singh Refinery, national fertilizer limited, textiles, basic metal, and metal products, electronic industry, and thermal power plants. Samples were taken from electric motors, tube wells, and hand pumps in the region.
The study finds that:
The fluoride levels in groundwater are much higher than the WHO and BIS permissible limits. Almost 50 percent of the samples are found to exceed the WHO guideline value of 1.5 mg L−1
Bathinda shows the highest concentrations of fluoride in groundwater followed by Muktsar, Faridakot, Mansa, Fazilka, Barnala and Moga.
High fluoride levels are found in shallow groundwater sources rather than deep sources.
Industrial and agricultural activities such as coal-fired thermal power plants, transformer industries, aluminum industries, oil refineries, chemical factories, national fertiliser limited, cement factories, and phosphate fertilisers are responsible for the high levels of fluoride in groundwater.
Fluoride shows a positive correlation with TDS (EC) in groundwater in almost all of the districts except in Moga. The positive correlation indicates that TDS (EC) controlled and influenced the mobility of fluoride in groundwater.
It was found that the risk of dental and skeletal fluorosis for all age groups is very high in Bathinda, Mansa, Faridakot and Muktsar districts. Children and teenagers are the most vulnerable.
Another study published in the paper titled 'High levels of fluoride in groundwater from Northern parts of Indo-Gangetic plains reveals detrimental fluorosis health risks' authored by Nizam, S., Virk H.S, Sen, I.S. published in the journal Environmental Advances assesses the concentration and spatial distribution of fluoride and its associated risks among populations from Patiala district in Punjab.
Patiala district is among the worst affected fluoride endemic region that documents 65 percent of the total fluorosis cases of Punjab due to groundwater fluoride intake. Samples for the study were collected from shallow and deep aquifers from different localities in the Patiala district of Punjab, India.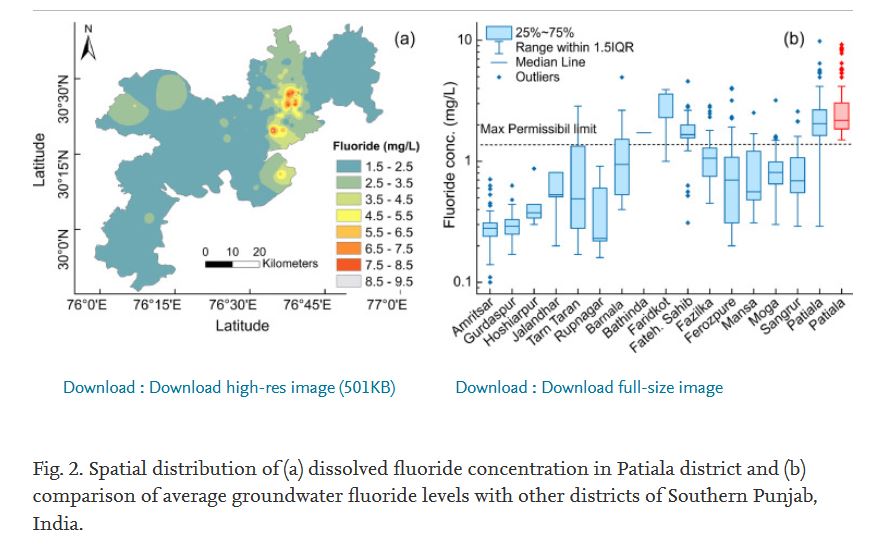 The study finds that:
While fluoride concentrations of 1.5–2 mg/L are common throughout the region, higher fluoride levels (> 2.5 mg/L) in groundwater are mainly concentrated in eastern parts of the district with few discrete patches in central and western parts.
Groundwater fluoride contamination in Patiala district has drastically increased over the past two decades and the fluoride concentration has increased from the permissible limit of (range: 0.06–0.66 mg/L) during the year 2003 to 1.5–9.8 mg/L in 2021, which poses a serious threat to the health of local residents.
The fluoride levels in the groundwater samples are found to be almost six-fold higher than the maximum permissible limit prescribed by WHO and BIS.
Most incidences of elevated fluoride concentration observed in the southeastern part of Patiala are consistent with the transfer of fluoride through groundwater movement along the gradient of the land surface elevation.
Excessive groundwater abstraction for irrigation and intensive fertiliser application practices to increase agricultural production, have most probably led to leaching of fluoride into the groundwater under favourable oxygenated environment.
About 98 percent  of samples show fluoride concentrations >1.5 mg/L. Deeper aquifers show more fluoride contamination.
Children and teenagers are the most vulnerable to fluoride toxicity followed by males and females.
About 23 percent of the samples contain >4 mg/L fluoride that show a high probability to the risk of skeletal fluorosis and other chronic health diseases with continued consumption of the untreated groundwater.
The situation requires urgent attention from policymakers and government agencies, proper water management and cost effective fluoride remedial measures and exploration of alternative sources of drinking water such as surface water, municipal reverse osmosis water, and bottled water to meet the immediate needs of the population and prevent health risks among the people, argue the papers.
Posted by