Bihar's annual floods are right around the corner and there is a fear that the flood hazard will collide with the Covid-19 pandemic and amplify it in a manner that emergency responses to both will get disrupted. The state's strategy to mitigate the effects of flooding needs to be updated in light of the deadly pandemic.
"The state has battled floods each year during 2000-2019, as water level in the rivers swelled up after heavy rains lashed the region," says Eklavya Prasad, Managing Trustee, Megh Pyne Abhiyan. Prasad was hosting the webinar on 'Flood Preparedness in Bihar at the time of Covid-19' held on 13th June 2020 by VikasAnvesh Foundation and Megh Pyne Abhiyan. The session was addressed by a diverse group of experts, who have been working on flood preparedness in Bihar.
While, every monsoon season comes with its own set of variations, extreme rainfall events are on the rise in Bihar. "Further, as per the South Asian Seasonal Climate Outlook Forum (SASCOF), a consortium of meteorologists and hydrological experts from South Asian countries, the southwest monsoon of 2020 will be normal for the whole of South Asia," says Prasad. Normal monsoon is not good news for north Bihar as it increases the volume of water in the Ganga and its numerous big and small tributaries that crisscross the state.
Bihar stares at flood crisis while dealing with the spread of Covid-19
"In the coming weeks, simultaneous increase of infection and increased distress due to flooding, resulting from overlapping hazards could result in an unprecedented disaster. If this happens then the state machinery might find it difficult to respond to the crisis," says Nirmalya Choudhury, Senior Researcher, VikasAnvesh Foundation moderating the webinar.
Sharing his thoughts on various components of flood preparedness in times of Covid-19 Anand Bijeta, DDF-AKDN (JV) said that setting up safe shelters for flood victims and ensuring of social distancing needs to be followed in the relief camps. The flood preparedness plans of the districts should reflect this.
"As incessant rains flood hundreds of villages in north Bihar and Nepal, people cross the border looking for a safe haven. The building of barriers and not allowing movement of people from across the border amid growing tensions between the two countries will add to the challenge," says Bijeta.
"The eighteen districts of north Bihar experience different kinds of floods with multi-layered inequities involving social, cultural, and economic dimensions and leading to differential impacts. The diverse typologies of flood affected parts of north Bihar include - waterlogged regions, flashfloods in riverside of the embankments, flash floods in regions without embankments, riverine floods in the embankment-less region and many more. The state's preparedness strategy should be tailor made to these differences, more than to the intensity of floods," says Prasad speaking about the floodscapes of north Bihar.
This time the preparation should be of the highest order considering that during 2019 floods much of the city of Patna had remained flooded for three weeks. Flood readiness in the state should be goog and issues like lack of coordination on the ground should be avoided as Covid-19 slows execution.
"The government needs to prepare for worst-case scenarios as large parts of the state grapple with the likelihood of a flood situation and a worsening Covid-19 spread. It also needs to put in place standard operating procedures (SOPs) applicable to specific context of flood prone Bihar amid the current phase of Covid-19 pandemic," says Anil Kumar Sinha, Founder Vice-Chairman, Bihar State Disaster Management Authority. He also stressed the need for launching a scheme to boost measures to develop immunity and self-care in the community during Covid-19 crisis.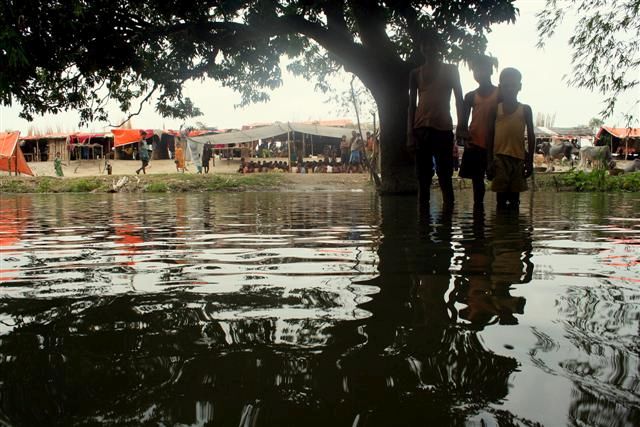 "There is a need to make provision for safe and nutritious food to the displaced flood affected community in the temporary flood shelters and relief camps," says Sunita Devi, Jeevika didi from Madhubani. She highlighted the calamitous disaster that occurs in her village Thahar in the riverside of Kamala annually displacing villages and causing huge damages.
"Bihar gets the second highest domestic remittance in the country and with the sudden imposition of the national lockdown its remittance economy got badly hit as migrants were rendered jobless and were compelled to come home," says Vivek Rawal, Director, People in Centre. The overlapping challenge of floods and Covid-19 means that the financial struggles of the people will be huge this year. "MGNREGA program for implementing the preparedness strategies and active use of temporary rainwater harvesting techniques to provide household level safe drinking water must be promoted to generate livelihood options," he says.
The population density in north Bihar stands at 1300 people per sqkm, which is very high. During floods land becomes scarce and people seek refuge on the embankments, elevated roadways or railroads, refugee camps etc. "The land available per person reduces drastically during floods and ensuring that norms for physical distancing are followed becomes a challenge," says Prasad.
"There is a need to plan, design and implement alternative practices for water, sanitation and hygiene interventions through locally made individual household filters and disaster-resilient sanitation technologies such as temporary toilets etc., across the flood-prone region," says Ramesh Kumar, CEO, GPSVS, Madhubani.
"Plans must also be developed to reduce the possibility of crowding in the points of congregation (water collection points, sanitation, ration shops) and advance plans should be made to ensure easy and safe access to essential services at the household level," says Prasad.
There is a need for a carpet area approach at scale and district administration must involve the panchayati raj institutions and elected representatives at the ward level such as in Kerala to prepare and execute ward level plan," said V Kurien Baby, Advisor to Kerala Government, Water Resources Department. Bihar should follow the Kerala model and the ground level works of rehabilitation and reconstruction should be left to the local panchayats.
Apart from the local bodies, Kerala also used the efficiently-run 'Kudumbashree' network in the flood-ravaged regions in 2018. Kurien also stated how the flawed engineering solutions such as embankments put in place in Bihar to tackle the issue of floods have created more problems than solutions in Bihar.
"There is a need for adequate number of temporary and permanent shelters and relief camps, equipped with adequate and safe water and sanitation facilities in the wake of the impending floods. These places need to be demarcated urgently," says Prem Verma, Secretary, Samta, Khagaria.
 "Pre-emergency evacuation remains a challenge in flood affected areas and hence, there is a need for proper management at the ward level in terms of provisions for adequate number of boats to move the flood affected community to safer locations. An important thrust of the flood preparedness should be to map population centers, flood inundation risks and plan evacuation routes," says Bijeta.
"At the local level such as ward, groups should be formed to shoulder diverse responsibilities with regard to flood preparedness and response such as flood shelters and health services as well as for surveillance of containment norms for the community," says Prasad.  The consequences of unpreparedness and not having contingency plans for the overlapping hazards of flood and Covid-19 can be devastating. There is a need to re-examine the district disaster management plans in view of the twin challenges.
Posted by
Attachment