Groundwater irrigation covers more than half of the total irrigated area in India and is responsible for 70 percent of the agricultural production, making India one of the largest users of groundwater in the world.
India, hurtling towards a groundwater crisis
But India is drying up fast! And with groundwater being neither regulated nor priced, with even electricity used for pumping being heavily subsidised and often priced at a flat tariff, the situation is getting precarious day by day warns this report titled 'Efficient irrigation and water conservation: Evidence from South India' by the World Bank.
Pricing of water and electricity can be one of the efficient ways to manage groundwater. However, political and technical constraints prohibit pricing in India. As an alternative, India is now promoting and subsidising water-efficient cultivation technologies to cope with this situation.
Water efficient cultivation technologies to cope with the groundwater crisis
India's National Mission on Sustainable Agriculture (NMSA) encourages use of drip and sprinkler irrigation that increase crop productivity and reduce water requirements per acre, and offers 50 to 90 percent subsidies on their use.
However, there has been no study that has evaluated the impact of drip irrigation on groundwater use in India. This study looks at the impact of drip irrigation on groundwater use in Andhra Pradesh, a south Indian state where the NMSA is implemented through the Andhra Pradesh Micro Irrigation Project (APMIP) with the assistance from the government of India and state government.
The central government provides forty percent of the cost and state governments take care of the additional ten percent for the drip irrigation system. Andhra Pradesh offers a subsidy of fifty percent and the total subsidy thus comes to around ninety percent.
The maximum amount that farmers can receive depends on their landholdings with the smallest being less than ten acres for which the maximum amount received is 100,000 Rs per farmer for a 2-acre drip system.
What is drip irrigation
Drip irrigation or trickle irrigation uses small diameter plastic pipes fitted with outlets called emitters or drippers that release drops of water into the soil at a slow rate. The drops are released very close to the plants so that only the roots receive water, unlike surface and sprinkler irrigation, that wet the whole soil.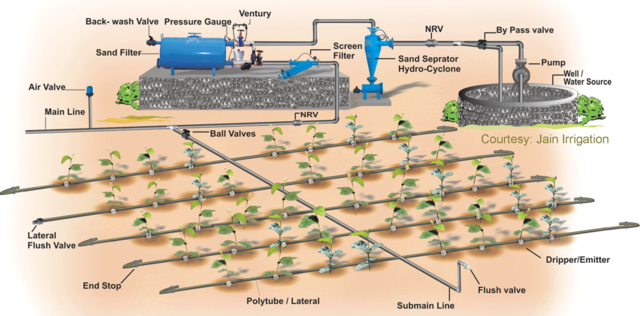 Drip irrigation is most suitable for crops that are grown in rows like vegetables, soft fruits, tree and vine crops where one or more emitters can be provided for each plant. Generally only high value crops are grown using drip irrigation as the costs of installing a drip system are very high.

A typical drip irrigation system consists of:  
Pump unit
Control head
Main and submain lines
Laterals
Emitters or drippers
Drip irrigation saves water by reducing the amount used by the crop and by reducing deep percolation, surface runoff and evaporation from the soil. It is best suited to areas where water quality is marginal, land is steeply sloping or undulating and of poor quality, where water or labour are expensive, or where high value crops require frequent water applications.
Drip irrigation helps in improving irrigation efficiency (crop yield per unit of water applied), helps in maintaining stable levels of soil moisture that helps plant growth, limits weed growth, helps in the use of fertilisers that can be applied directly into the water flow ("fertigation"), enhances yields and reduces labor costs.
The study
The study was conducted in three districts of Andhra Pradesh namely Anantapur, Kadapa, and Guntur and aimed at evaluating the productivity and water-savings benefits of small-holder drip irrigation. A group of well-owners was encouraged to adopt drip irrigation through a subsidy scheme for the study while the control group included faremrs who had not opted for drip irrigation.
The study found that adoption of drip irrigation led to shifts in cropping patterns where farmers adopted more remunerative and irrigation reliant crops that helped in increasing their revenue. However, this did not stop farmers from pumping more groundwater from their treated plots. Rather, farmers sold this water to adjacent plots indicating that drip irrigation did not serve to reduce groundwater pumping.
Thus in settings where groundwater and the electricity required to extract it are unpriced, and in situations where cultivation is severely constrained, the adoption of water-saving technologies may not lead to much water saving, argues the report.
The report can be accessed here
Posted by