Delhi's Jor Bagh metro station is the site of an ongoing photographic exhibition with thought-provoking images and narratives exploring escalating water crises Indian and Nepal Himalayas face. Titled "Pani, Pahar: Waters of the Himalayas", the exhibition combines contemporary work by photojournalist Toby Smith with academic research led by Dr Bhaskar Vira and Dr Eszter Kovacs at Cambridge University's department of geography, in association with collaborators in India and Nepal.
The exhibition's spotlight is on water problems in hill towns such as Nainital, Mussoorie, Dehradun and Rajgarh in India and Dhulikhel and Bidur in Nepal. Prof Vira's research on the "political economy of water security, ecosystem services and livelihoods in the western Himalayas" looks at the ways in which small towns in the hill and mountain regions of India and Nepal depend on springs, streams and rivers for the supply of water.
It deals with how current infrastructure planning tends to focus on large urban settlements, neglecting the needs of small towns with a population less than 100,000 people. This is important as almost half the urban population in the Indian states of Himachal Pradesh and Uttarakhand, and in the hill regions of Nepal, live in small towns.
How human settlements change landscapes
The research team is undertaking an assessment of the hydrological dependence and water flows in the hills to understand the synergies and trade-offs associated with securing water supply for smaller towns.
Urbanisation and a rise in tourism are all putting immense pressure on the water supply in the Himalayas and the images help one understand the changes in the ecologically fragile landscapes. Very often, the smaller towns are resource-poor compared to larger settlements. Their populations and settlement patterns usually display peri-urban and semi-rural characteristics, making infrastructure planning particularly challenging.
Toby Smith, an associate scholar at the University of Cambridge's Conservation Research Institute has, through his gripping imagery, breathes life into the research to make it more accessible to the audience in a metro. Several of his images deal with the changing needs for water in the rapidly urbanising small towns of the Himalayas.
"Water is perhaps the most important natural resource of the lower Himalayas. It is the main concern of all cities, townships and villages. Its availability throughout the seasons also dominates the yearly cycle from dry season to monsoon. All of these complex systems can be revealed through visual documentation as there are tangible things to photograph and stories to follow. Photography and illustrated news articles are the perfect way to make the academic work more accessible to a wider audience and increase its impact and reach," says Smith.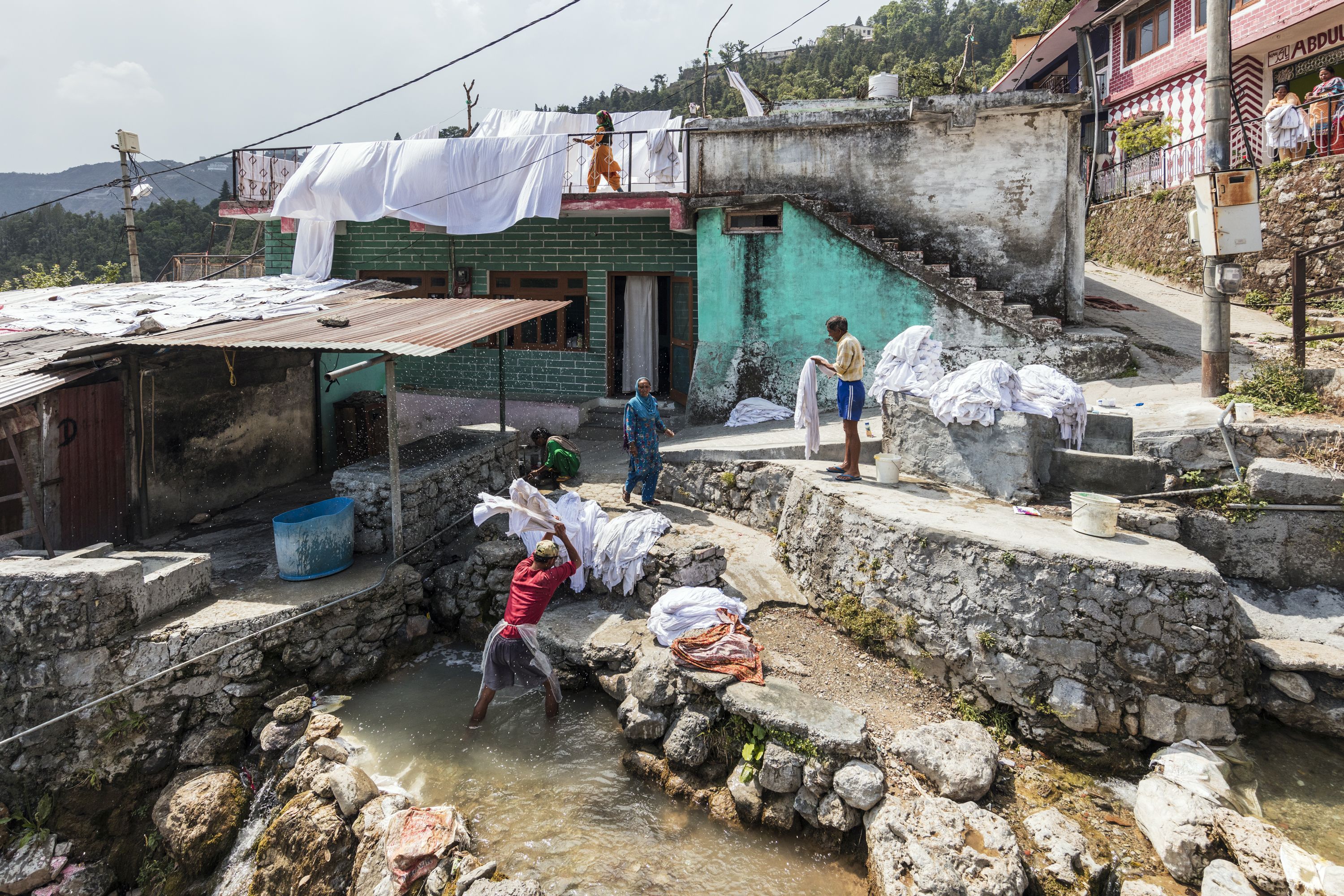 The dhobi ghat in Mussoorie road is one such photograph where the traditional dhobi (washer people) are seen washing clothes in a natural stream in their 80-year-old settlement. This, at a time when mechanised solutions to laundry work like washing machines are increasingly rendering their services obsolete.
Hill communities depend on springs, lakes, ponds and glacier-fed rivers for not just agriculture and allied livelihood needs but for domestic and drinking water as well. While dealing with the communities, Smith tried to explore the changing water needs as well as the access to it.
Change in infrastructure to support altering water needs
"An individual's needs and desire for water depend on many factors including their economic status, cultural habits or perhaps, land-use of the household. A higher income household expects and often pays for high volumes of good quality water for domestic uses, toilets and washing appliances. This puts an enormous burden on the infrastructure of growing towns such as Nainital and Mussoorie," he says.
"This is, apart from the often unreasonable demands of the visiting tourists in peak season. A lower-income household might have a lower demand and be more efficient with potable water from a spring or unreliable local tap. However, they might have an enormous demand on water for irrigation of household or cash crops," says Smith. 
Human impact on climate change in the Himalayas is leading to changes in the cultural and physical landscapes as well which Smith captures in a contemporary image and its comparison with curated archival prints from the University Library and the Centre for South Asian Studies. The collapse of the built-up hills around lake Naini following heavy rain in 1880 that killed over 150 people captured in a sepia image by an unknown photographer is also on display at the exhibition.
Just below this is a photograph of a flat area converted to a sports ground which shows how human settlements are altering the vulnerable hillside to accommodate the residential and commercial demands. With built-up areas mushrooming on the highly eroded and unstable slopes, the risk of hazards due to landslides and earthquakes remain high. After all, Nainital being in a seismic zone is prone to landslides. The construction quality of houses continues to be poor and they are exposed to these risks, while the residents are unaware of the dangers.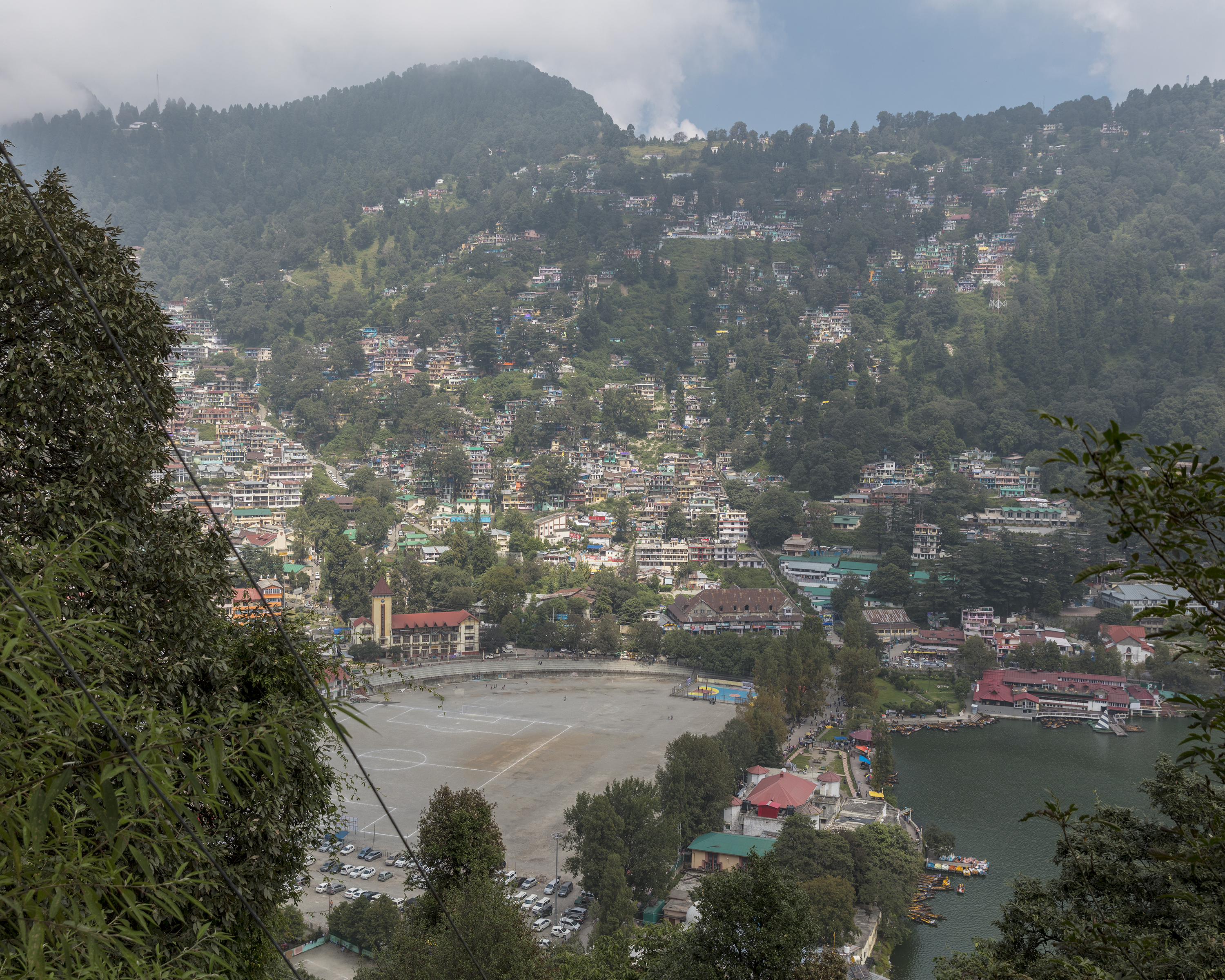 "Across our different research sites, the level of water bureaucracy, politics and physical infrastructure varied enormously. Sometimes a single household would collect or obtain water in up to four different ways. This can vary from a state supplied connection, to a local paid water cooperative or traditional free 'fetch and carry' from natural springs. Each of these different systems has advantages and disadvantages throughout the seasons. This complexity is both a metaphor and illustration of water story in India," Smith says. 
Speaking about the consequences of taming rivers through risky mega projects, Smith says, "Tehri and the communities affected by the dam were beyond the scope of our academic work. However, I still felt it important to illustrate the enormous scale and long-term environmental effects of big hydro projects." 
The photo exhibition is on until June 29. Further details and analysis of the subject, as well as images, can be found on the project website www.panipahar.com. 
How 30 run-of-the-river power projects planned in the fragile ecosystem of Kinnaur raises concerns about impending disasters - a film by Manu Moudgil, India Water Portal
Posted by
Attachment