Recently, Delhi saw an urban Chipko movement of sorts with the people coming out in large numbers with a single agenda—save the last of the trees left in the city. In the famous Chipko movement of 1973, local communities in Tehri Garhwal, Uttarakhand emblematically embraced trees to demand an end to deforestation through forest exploiting contractors.
The redevelopment project
Delhi has lost lakhs of trees to developmental projects. As many as 50,000 trees were felled for the Delhi Metro project from 2003 till date. As per the redevelopment plans proposed in the Delhi masterplan 2021, 16,000 trees are to be chopped for various redevelopment projects by the National Buildings Construction Corporation (NBCC), an agency that has been tasked with the job by the Union Ministry of Housing and Urban Affairs. The union cabinet approved the project in 2017 and soon, environmental clearances were provided by the Ministry of Environment, Forest and Climate Change.
Spontaneous protests erupted. People gathered to hug the trees. Citizens groups and resident welfare associations posed questions to the government and held tree walks to sensitise people on what trees mean to the city's ecology, flora and fauna. Many citizens who came forward for these were worried that the loss of thousands of trees would lead to a hike in air pollution, dust storms and water crisis.
Citizens groups also approached the high court and the National Green Tribunal (NGT) upon which the high court temporarily put a stop to all tree felling across Delhi until the next hearing. In the recent hearing on August 16, 2018, the high court refused to issue any direction allowing the commencement of 'redevelopment' work at Nauroji Nagar. The court also asked the Centre why it should allow the redevelopment of seven south Delhi colonies after it came to its notice that the clearance for the project was granted on the basis of an EIA (Environmental Impact Assessment) report that had "copy-pasted" its contents from another project report in Tamil Nadu.
The NGT on its part suggested compensatory planting of 10 trees for one felling, preferably in the same location. If the land is not available on the site, then replanting can be done elsewhere at a site designated by the Delhi Development Authority, as per the NGT.
Sub-optimal housing policies in Delhi
Delhi's housing policies are sub-optimal with inadequate provision for infrastructures like roads, sanitation, water, energy, transport etc for slums and low-income housing. Dunu Roy, the director of Hazards Centre, a community support organisation based in Delhi while talking about the recent tree-felling drive in south Delhi's colonies like Sarojini Nagar, Nauroji Nagar and Netaji Nagar lays emphasis on the environmental politics in Delhi, especially the position taken by environmental social movements and major political parties.
Pointing at how the liberalisation policies of the 1990s brought about a fundamental shift in urban India's economy and society, he says, "It is true that resource-intensive urban development and planning have affected the everyday lived environments in cities. The issue of tree felling is a case in point. Discussions on urban environmental issues often ignore how the poor bear the greatest burden of environmental degradation and the lack of amenities like housing. Most of these (urban environmental) movements are myopic in nature and are often not backed by sufficient technical and scientific information." 
Roy was one of the panelists at a discussion on "Urban Planning and Redevelopment: Political Economy of Tree Felling" at Indian Social Institute, Delhi recently. The discussion dealt with how the expansion of government housing and the development of commercial infrastructure affect the environment adversely.
Need better urban planning
"Nowadays planners and architects do not treat trees as an integral part of city's infrastructure," says Moulshri Joshi, an assistant professor at the School of Planning and Architecture. Joshi says that the traditional Indian architecture always honoured trees and designed buildings around them. "People always lived in the shade, not too inside or too outside but the in-between space. And now we don't know about in-between spaces. Today, we have embraced the post-war Soviet idea of multi-storied buildings and mixed it with car spaces. We need urban design solutions that do not ignore trees," she says.
"The country has failed to come to grips with its urban explosion and urban planning has neglected the poor, the heritage and the environment," says Prof K.T. Ravindran, founder-president, Institute of Urban Designers India. Delhi's building codes and zoning laws were developed for a smaller population. Urban infrastructure continues to be poor and formal housing is very expensive and people are forced to live in squalid slums. The problem is that as property prices rise, slums become invisible and are forced to make way for real estate.
"The last zonal plan for Sarojini Nagar was made as far back in 1969. This is a legal document that marks out the number and position of buildings, roads and other details, and was created after the approval of the master plan. The planning of the redevelopment project has completely ignored this aspect," says Ravindran.
"If the redevelopment plan has its way, the city would lose 90 acres of tree space, equivalent to the area of Lodhi Garden," says Joshi.
Contestation on urban spaces
Pointing to the acute shortage of housing in Delhi, Roy says that "figures from the previous master plans of Delhi, from 1982 to 2001, say that the Delhi Development Authority was supposed to build 16.3 lakh houses. They, however, built only about a third of it. In the 2021 master plan, 25 lakh houses are meant to be built, though only two lakh have been built so far."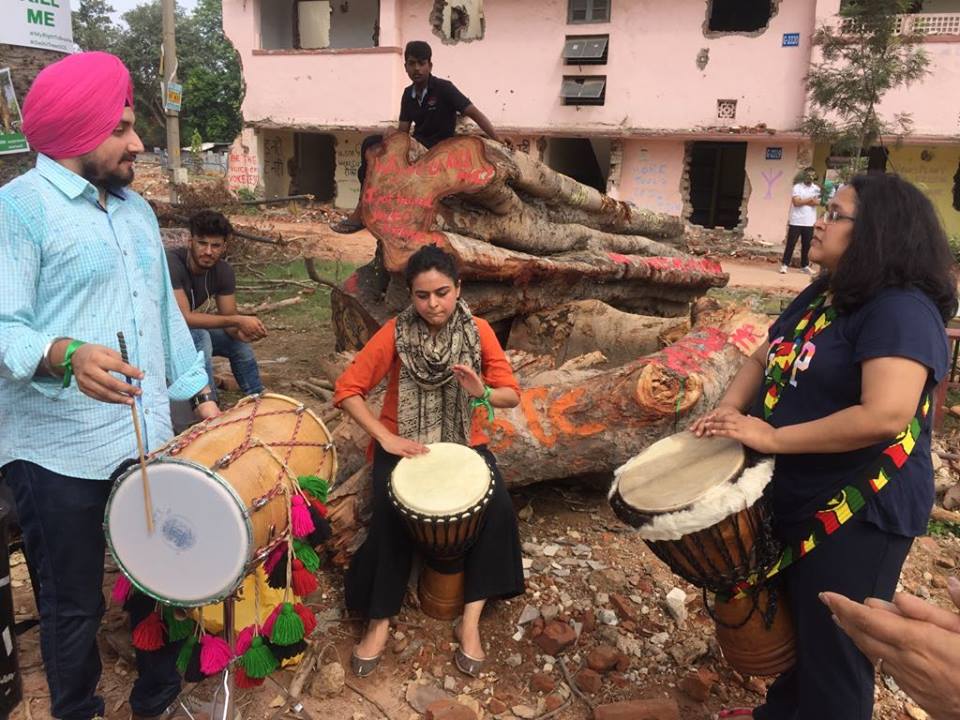 "Acute shortage of housing for the poor is an issue we need to stand up for. Not just environmental problems, even issues of poor in urban areas need to become the focus of governance efforts," says Roy.
The need for low-cost housing is ignored and the poor continue to be overlooked. "Relocation of slum dwellers to the outskirts has disrupted the lives and livelihoods of the urban poor. There are clashing claims to urban spaces and upper-class concerns regarding the environment are getting louder. Lakhs of working-class homes have been razed to the ground in Delhi in the last few years for 'public purposes' but there have been very few voices of protest," says Roy. "Low-cost housing is indicative of great optimisation of existing resources but the redevelopment projects are going to exclude it," he adds.
Environmental assessment of redevelopment projects
"Large-scale real estate development projects like these ideally require a range of approvals—environment clearance, permission for cutting trees, approvals related to pollution and an approval on the provision of water supply. But these government housing projects were approved in one sitting of the EIA approval committee which also approved 21 other projects in the same meeting. A world trade centre, shopping complexes and government training centres are being built in 'public interest', but where was the public hearing?" asks Kanchi Kohli, environmental researcher, Centre for Policy Research.
Public hearings are exempted as real estate projects enjoy a special "appraisal" process, which exempts it from public hearings. "The traffic assessment of the project was done post facto after the project was approved. This is a violation. Not just that, the tree felling permission by the Delhi forest department for Netaji Nagar and Nauroji Nagar was provided by bypassing the detailed enquiry by a Tree Officer. Considering all this, the project needs to be reassessed to ensure that it is ecologically sound and socially robust," says Kohli.
"Compensatory afforestation or replanting of trees as suggested by the authorities is a complete hoax and cannot make up for the loss of a mature tree. The forest department in Delhi has no clue about the loss to ecology. Nor does it have any experience of carrying out ecological restoration work or 'rewilding' of any kind. This is evident from the nursery of forest department which has hardly any native trees when Delhi, in fact, has 2590 native trees," says Pradip Kishen, environmentalist and author of Trees of Delhi.  
As Delhi moves towards master plan 2041, citizens groups need to get together and assess the progress of Delhi's master plan 2021, analyse issues responsible for the failure in enforcement and implementation and provide inputs for the new master plan 2041," says Roy.
Chipko became a benchmark for socio-ecological movements when it took up a more radical tone. In the case of Delhi, there is a need to integrate ecological issues with those of social justice.
Posted by
Attachment