A World Health Organization (WHO) report, 2012, states 13 of the world's top 20 most polluted cities are in India. In 2014, researchers of Yale University, USA and WHO declared Delhi as the world's most polluted city. In 2019, World Air Quality Report by Air Visual Institute reveals that 21 of the top 30 most polluted cities of the world are in India.
Delhi's air pollution has been mounting constantly for more than two decades but gets worse in winters. Delhi, as usual, is engulfed in a fog-like blanket of toxic air with the onset of every winter. The Delhi government immediately started blaming the practice of burning crop stubble in neighbouring states for the air pollution in Delhi. The central government which was already not aligned with farmers' interest, issued a new ordinance on October 29, 2020, stating that the farmers are responsible for Delhi's smog. 
Violators of this ordinance are liable to either imprisonment for five years or a fine of one crore rupees or both. This ordinance has been implemented immediately in Punjab, Haryana, Delhi, Rajasthan, and Uttar Pradesh. The farmers termed the ordinance as an act of vengeance of the central government, but they are struggling to repeal the three agricultural laws passed by the centre during the COVID-19 lockdown.
Every year at the beginning of winter, not only Delhi but the whole of north India is enveloped in 'smog', a combination of 'fog' and 'smoke'. Fog is a natural phenomenon during winters, and it disappears soon after sunrise. Smog is formed when the air is contaminated with a huge amount of pollutants and it gets thicker after sunrise.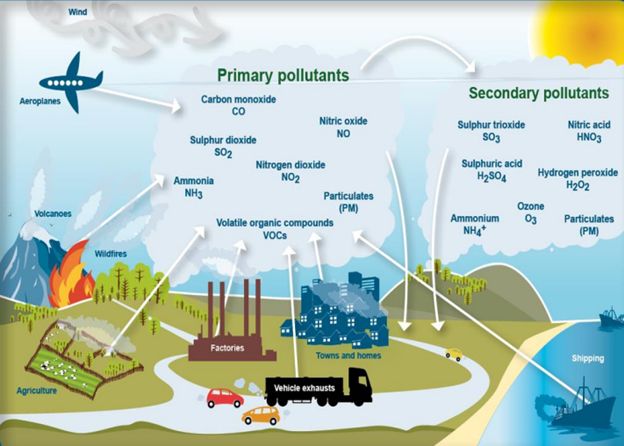 In 1990-2000, when the air in Delhi was heavily polluted, the then central government was impartial, saved Delhi's air from being polluted by diesel-driven motor vehicles by using CNG in place of diesel.
From the last decade, air pollution has been causing havoc in Delhi and the National Capital Region. The actual reason of increasing air pollution in Delhi is its increasing number of vehicles, industries, a rapid increase in construction activities, thermal power plants, brick kilns, burning of garbage dumps, indiscriminate cutting of trees and air flights.  
In recent years, the number of cars increased from 34 lakh (2000) to 1 crore and 12 lakh (2018), releasing carbon dioxide (CO2), carbon monoxide (CO), sulphur dioxide, ozone and other gases, which pollute Delhi's environment.
According to the Meteorological Department of Delhi and the Center for Science and Environment, in 2012, 70% of the air pollution in Delhi was caused by vehicles only. Research by the IIT Kanpur highlighted industrial units release 98% of nitrogen oxide, 60% of sulphur dioxide, 14% of particulate matter 10 (PM 10) and 10% of PM 2.5.
No doubt burning of paddy and wheat residues pollute the air, but it only lasts for 20-25 days in a year and contributes to only 4-6% in the prevailing pollution. Besides, paddy was not the crop of Punjab and Haryana and was imposed on these states for meeting the requirements of the central pool of foodgrains through favourable minimum support price (MSP) and assured procurement.
Paddy plantation season in Punjab and Haryana was pushed from May to June to coincide with India's monsoons to conserve groundwater levels as directed by the central government. This has shortened the time between the harvesting of paddy and sowing of wheat. Farmers are forced to burn paddy and wheat stubble to prepare their fields for the subsequent crop due to the economic reasons and lack of clarity about the profitability of alternate, no-burn farming.
Research by Punjab Agricultural University (PAU), Ludhiana highlighted that in 2017, 2018 and 2019, the wind speed was below five kilometres per hour which could not have drifted localized smog from Punjab to Delhi and the National Capital Region. Thus, smoke from burning paddy straw remains trapped in Punjab and disperses when the speed of the wind is high but when air is still, the smoke leads to a build-up of smog in its proximity.
Neither the central government nor the state government refutes that these internal activities of Delhi are responsible for pollution in Delhi because, during the COVID-19 lockdown, the skies had cleared up. At the same time, farmers of Punjab, Haryana and Uttar Pradesh were harvesting the wheat crop and burning wheat straws.
The central government should not deny national and international reports of air pollution or find a scapegoat to blame it on rather should have a solid strategy to mitigate the existing issues and tackle future risks related to air pollution. Air pollution is on the rise not only in Delhi and the National Capital Region but also in the other states of the country.
According to a report by Greenpeace India (January 2020), 80% of Indian cities have pollution levels exceeding particulate matter standards. So, both the Delhi government as well as the central governments should take initiatives as they did in 2000 to mitigate the grave problem of air pollution. The air in Delhi was heavily polluted in the decade of 1990-2000, and the government then tried to protect Delhi's air from being polluted by diesel-driven buses and auto-rickshaws and by directing them to use CNG in place of diesel.
The way forward
The central government should look for feasible solutions to the air pollution problem and instead of penalizing farmers, cooperate with them, understand their problems and provide helpful solutions.
The government needs to streamline public transport services to decrease the use of private vehicles. Pedestrian walkway and bicycle lanes should be constructed on the roads. Purification devices should be installed in industrial units so that the hazardous gases emitted from the industries do not endanger the health of the people. Diesel engines should be replaced with energy from natural sources. Pollution from soil, sand and gravel etc., during construction work, should be reduced.
Both domestic and international airports should be facilitated in states to distribute air traffic more uniformly and help reduce the extreme build-up of air pollution in Delhi. Programmes like National Clean Air Programme (NCAP) should be implemented. Appropriate fines on any polluting industrial units, vehicles, construction unit should be imposed. Instead of playing a blame game, immediate steps need to be taken to ensure that innocent people do not become a victim of air pollution.
PowerPoint Presentation by Dr Kaur can be accessed here
Event Page: https://www.impriindia.com/event/delhis-air-pollution-and-its-solutions/
Facebook Live Link: https://www.facebook.com/watch/?v=437377347278191
Dr Gurinder Kaur is Professor at Punjabi University, Patiala. She was speaking at a webinar organized by the Center for Environment, Sustainable Development and Climate Change, Impact and Policy Research Institute (IMPRI) and India Water Portal on 'Delhi's air pollution and its solution'.
Please see the article in Punjabi attached below.
Posted by
Attachment
~$ੱਲੀ ਵਿਚਲਾ ਹਵਾ ਦਾ ਪ੍ਰਦੂਸ਼ਣ ਕਿਵੇਂ ਕੰਟਰੋਲ ਕੀਤਾ ਜਾਵੇ.doc